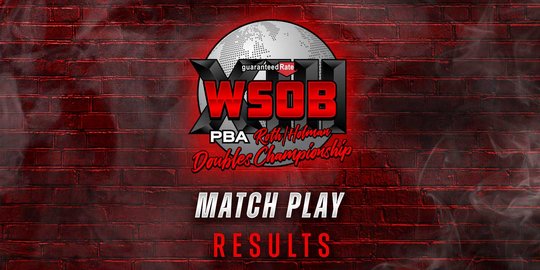 Shawn Maldonado and DJ Archer Lead Five Teams into PBA Roth/Holman Doubles Championship Stepladder Finals
March 5, 2022
Nolan Hughes
Shawn Maldonado carried over his stellar performance at the Kia PBA Tournament of Champions to the Guaranteed Rate PBA World Series of Bowling. Maldonado and teammate DJ Archer secured the top seed for the PBA Mark Roth/Marshall Holman Doubles Championship stepladder finals on Sunday.
The duo averaged more than 232 across 40 games to lead the talented field, rising from sixth to first during 16 games of round robin match play today.
Yesterday's leaders, Osku Palermaa and Jakob Butturff, earned the two-seed for the show at +1,522. The 2019 champions, Sean Rash and Matthew Ogle, took the third seed.
The powerful one-handed team of Marshall Kent and EJ Tackett will look for redemption after last year's third-place finish, earning the fourth seed. Tom Smallwood, who has a CBS television series based on his life and legendary 2009 breakthrough WSOB performance airing later this month, and Jason Sterner round out the finalists for Sunday's show.
Smallwood and Sterner will face Kent and Tackett in the first match of Sunday's telecast, airing at noon p.m. ET on Fox Sports' FS1.
Everybody's favorite YouTubers, Brad Miller and Kyle Sherman, finished in sixth place at +1,340. They missed the show by 44 pins.
Tim Mack and AJ Johnson began the day with back-to-back 300 games, but settled for a 14th place finish.
Roth/Holman Doubles Championship Stepladder Finalists
DJ Archer / Shawn Maldonado +1,582
Osku Palermaa / Jakob Butturff +1,522
Sean Rash / Matthew Ogle +1,482
Marshall Kent / EJ Tackett +1,419
Tom Smallwood / Jason Sterner +1,384
Roth/Holman Doubles Championship Remaining Schedule
Bowlero Wauwatosa - Wauwatosa, Wis.
All rounds streamed live on FloBowling
Sunday, March 6
Stepladder Finals: Noon ET
About the PBA
The Professional Bowlers Association (PBA) is the world's preeminent organization dedicated to the sport of bowling and its professional competition, with thousands of members and millions of fans throughout the world. The PBA plays host to bowling's biggest tournaments from the PBA Tour, PBA Regional Tour, and PBA50 Tour. In 2020, the PBA launched PBA Jr., a club for elite youth bowlers under the age of 17 and the PBA Pinsiders, a membership for fans of the sport. For more information, please visit PBA.com.