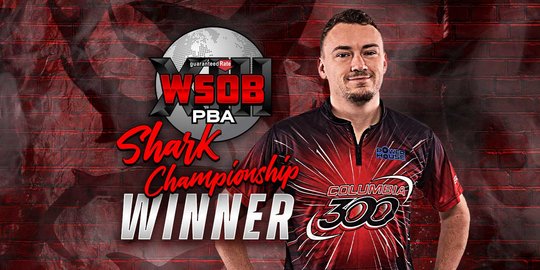 Keven Williams Feelin' Good After Winning First Career PBA Title
March 17, 2022
Nolan Hughes
In the final professional event of the Guaranteed Rate PBA World Series of Bowling XIII emerged a first-time winner on the PBA Tour. Keven Williams, who earned the top seed for the PBA Shark Championship, delivered three clutch strikes to secure his first career PBA title.
"I've had a couple days of not bowling and rooting on my boys that were in the cuts," Williams said. "All those nights I was envisioning exactly that moment: getting up there, making the shots to strike and holding that trophy."
Williams defeated AJ Chapman 225-223 in the championship match. Chapman, who was also seeking his first career title, could have struck on his fill ball to place more pressure on Williams, but only knocked over eight pins.
"The one thing I would like back is that fill ball," Chapman said. "I was really happy with how I threw it tonight. Kevin just came up clutch."
Chapman halted the run of Jason Belmonte, who sought to climb the ladder for the second time in as many nights. According to Lanetalk, Belmonte struck on 76% of his total shots, but Chapman managed to stay clean to take a 237-225 victory.
Belmonte's defeat of Jason Sterner in the previous match felt inevitable after Sterner left consecutive pocket 7-10s in the second and third frames. Though Sterner nearly converted the first attempt, there was no stopping Belmonte as he cruised to a 236-203 victory.
In the opening match, Belmonte won a rematch of the PBA Scorpion Championship finals from the previous night; he took down Anthony Simonsen in a thrilling 264-250 affair. Belmonte aimed to tie Mike Aulby with a 29th career PBA title, but the night belonged to Williams.
"This is what entertainers and competitors live for," Williams said. "Stepping up, even if I wasn't the way I wanted to, having the opportunity to step up and make it count is what we live for. It's what we do."
"It's nice to get one," Williams added. "I've had a couple breaks go the wrong way. AJ bowled phenomenal and I don't want to take that away from him at all. It's just good to step up and get one."
One of Williams' closest friends on tour, Packy Hanrahan, who came close to winning a title of his own this week by making all five cuts, stayed in support of his tour roommate. Hanrahan summed up the week of the World Series of Bowling well:
"That's a pretty good way to end it," he said. "Really, really, really cool final frames to the last game of the tournament. It was exciting the whole way through."
PBA SHARK CHAMPIONSHIP FINAL STANDINGS
Keven Williams $20,000
AJ Chapman $11,000
Jason Belmonte $9,000
Jason Sterner $7,000
Anthony Simonsen $5,000
MATCH SCORES
No. 5 Belmonte def. No. 4 Simonsen, 264-250
No. 5 Belmonte def. No. 3 Sterner, 236-203
No. 2 Chapman def. No. 5 Belmonte, 237-225
No. 1 Williams def. No. 2 Chapman, 225-223
GUARANTEED RATE PBA WORLD SERIES OF BOWLING XIII TV SCHEDULE
PBA Collegiate Invitational presented by Storm – Mar. 20, 2:30 p.m. ET on FS1
About the PBA
The Professional Bowlers Association (PBA) is the world's preeminent organization dedicated to the sport of bowling and its professional competition, with thousands of members and millions of fans throughout the world. The PBA plays host to bowling's biggest tournaments from the PBA Tour, PBA Regional Tour, and PBA50 Tour. In 2020, the PBA launched PBA Jr., a club for elite youth bowlers under the age of 17 and the PBA Pinsiders, a membership for fans of the sport. For more information, please visit PBA.com.