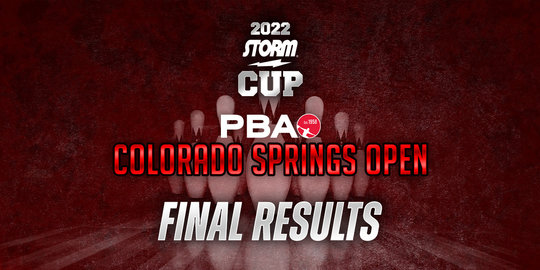 Dom Barrett Wins THE STORM CUP: PBA Colorado Springs Open for Second Title of 2022, 10th of Career
March 24, 2022
Jef Goodger
Defeats Santtu Tahvanainen in the championship match
Dom Barrett qualified as the top seed for the stepladder finals, then defeated Santtu Tahvanainen to win THE STORM CUP: PBA Colorado Springs Open. It's the second Guaranteed Rate PBA Tour title of the season for Barrett, who completed the Triple Crown by winning the Kia PBA Tournament of Champions in February, and the 10th title of his career.
Barrett was in 11th place after the first round of qualifying, then led every round after that, averaging 231 over 24 games to claim the No. 1 seed.
Tahvanainen qualified second and earned his way into the championship match by defeating PBA Tour champion Darren Tang, who qualified fourth and eliminated 19-time winner and PBA Hall of Famer Chris Barnes in the opening match on the stepladder.
In the title match, Barrett needed two strikes and three pins in the 10th frame to shut out Tahvanainen. Barrett doubled and got eight to clinch is 10th PBA Tour championship.
Although the same would be true had Barrett lost, the win also earned him an additional $5,000 for finishing second in THE STORM CUP race. As the PBA Colorado Springs Open was the last of the four THE STORM CUP events, the top five players through all four events earned a bonus.
Jason Belmonte clinched THE STORM CUP prior to Round of 12 qualifying, earning a $10,000 bonus. When Barrett qualified as the top seed in Colorado Springs, guaranteeing him a second-or-better finish in the event, he also locked himself into second place in THE STORM CUP. Jesper Svensson, who won the first THE STORM CUP event, placed third for $4,000. EJ Tackett and Nick Pate landed fourth and fifth, respectively, each receiving $3,000.
Final THE STORM CUP: PBA Colorado Springs Open Standings
Dom Barrett, earns $20,000
Santtu Tahvanainen, $12,000
Darren Tang, $7,000
Chris Barnes, $5,500
Match Scores
Match 1 – No. 4 Tang def. No. 3 Barnes, 237-206
Match 2 – No. 2 Tahvanainen def. No. 4 Tang, 233-213
Match 3 – No. 1 Barrett def. No. 2 Tahvanainen, 244-234
Final THE STORM CUP Standings
Jason Belmonte, 11,850 points, earns $10,000
Dom Barrett, 9,880, $5,000
Jesper Svensson, 7,690, $4,000
EJ Tackett, 7,380, $3,000
Nick Pate, 7,310, $3,000
About the PBA
The Professional Bowlers Association (PBA) is the world's preeminent organization dedicated to the sport of bowling and its professional competition, with thousands of members and millions of fans throughout the world. The PBA plays host to bowling's biggest tournaments from the PBA Tour, PBA Regional Tour, and PBA50 Tour. In 2020, the PBA launched PBA Jr., a club for elite youth bowlers under the age of 17 and the PBA Pinsiders, a membership for fans of the sport. For more information, please visit PBA.com.