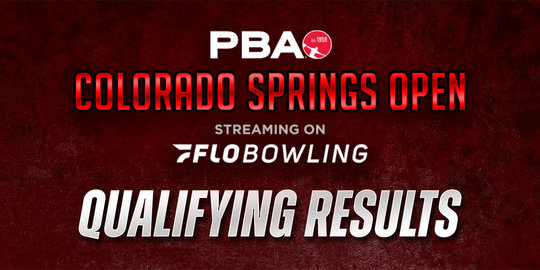 Barrett Bowls 787 in his Final Three Games to Lead THE STORM CUP: PBA Colorado Springs Open
March 23, 2022
Jef Goodger
The Triple Crown winner is looking for his second title this season
Dom Barrett rolled 244, 298 and 245 in his final three games to lead all players through 12 games of qualifying in THE STORM CUP: PBA Colorado Springs Open at Harmony Bowl in Colorado Springs, Colorado. The 2022 Kia PBA Tournament of Champions winner averaged 236 and holds a 34-pin lead over second-place Jakob Butturff into tomorrow's competition.
Eight pins behind Butturff is Finland's Santtu Tahvanainen, who is seven pins ahead of 2022 PBA World Championship winner Kris Prather. Brad Miller is in fifth and EJ Tackett, now one of only two players who can win THE STORM CUP, is sixth.
Jason Belmonte, who leads THE STORM CUP chase entering this final event, qualified 13th for tomorrow's Round of 24. If Belmonte finishes 11th or better, he clinches THE STORM CUP. The only way he can fail to win THE STORM CUP is if he finishes 13th or lower and Tackett wins the Colorado Springs Open. If Tackett wins and Belmonte finishes 12th, they tie for THE STORM CUP.
The top 24 players in THE STORM CUP: PBA Colorado Springs Open will bowl six more games beginning tomorrow at noon ET before a cut to the top 12. Those players will bowl six more games to determine the four players advancing to the stepladder finals that begin at 8:30 p.m. ET.
Top 10 Through 12 Games
Dom Barrett +432
Jakob Butturff +398
Santtu Tahvanainen +390
Kris Prather +383
Brad Miller +359
EJ Tackett +347
Richie Teece +344
Jake Peters +311
Nick Pate +291
Matthew Russo +255
THE STORM CUP: PBA Colorado Springs Open Remaining Schedule
Harmony Bowl – Colorado Springs, Colo.
All rounds streamed live on FloBowling
Thursday, March 24
Noon ET – Round of 24 (6 games)
4:30 p.m. ET – Round of 12 (6 games)
8:30 p.m. ET – Stepladder Finals
About the PBA
The Professional Bowlers Association (PBA) is the world's preeminent organization dedicated to the sport of bowling and its professional competition, with thousands of members and millions of fans throughout the world. The PBA plays host to bowling's biggest tournaments from the PBA Tour, PBA Regional Tour, and PBA50 Tour. In 2020, the PBA launched PBA Jr., a club for elite youth bowlers under the age of 17 and the PBA Pinsiders, a membership for fans of the sport. For more information, please visit PBA.com.