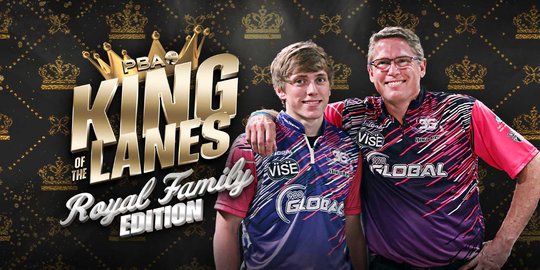 Ryan and Chris Barnes new Royal Family at PBA King of the Lanes
June 6, 2022
Jill Winters
Jupiter, Florida – Bowling reigns supreme in the households of players on the PBA and PWBA Tours. Inside Bowlero Jupiter, parent-kid duos teamed up for the inaugural PBA King of the Lanes: Royal Family Edition.
After seeing his basketball career come to an end, Ryan Barnes has only recently turned his full attention to bowling. He is now following his father, Chris's path bowling collegiately at Wichita State University. Their initial postures on the lanes are similar, each with a slight shifting of their shoulders to the right. But then Ryan delivers his powerful two-handed style.
Twenty-year-old Ryan, who bowled with one hand until about the age of 13, is part of the growing number of two-handers destroying pins on lanes across the world. In the opening match, they faced Jordan and Wes Malott.
Both Jordan and Ryan, who are members of the 2022 Junior Team USA, started off with single-pin spares and the Barneses threw the first double of the match in the third and fourth frames. The Malotts put together a six-bagger heading to the 10th frame. Wes, who was inducted into the PBA Hall of Fame in February, picked up a 10-pin and struck for 237.
"I have always wanted to bowl with my dad," 18-year-old Jordan said. "Especially on TV, which is a dream come true. It is pretty cool to be under the lights instead of in the bleachers. To enjoy that experience with my dad is another level of joy."
Jordan is leaning more toward a baseball career but likes the fact that bowling is an option too. He will be a freshman with the bowling program at Huntington University in Indiana.
Chris, who had struck two out of four times on the right lane, rolled a double and 7 for 243.
"That was the most nervous I have been in a long time," Chris said on his 10th frame performance. "There is something different about bowling with your family. To be here is a little surreal and it was an experience I didn't think was going to happen."
"I was pretty nervous at first but it kind of felt like a basketball game," Ryan said. "After the first couple of shots, I settled in. It was really awesome."
Chris and Ryan then moved on to face two of the biggest names and most colorful personalities in bowling, Guppy and Kyle Troup were dubbed the reigning Royal Family with their combined 17 PBA Tour titles. To nobody's surprise, the Troups showed up in style. Their jersey and pants combination were inspired by a similar look Guppy sported while bowling on the PBA Tour in the '80s.
Back then Guppy had a seamstress sew together two separate pairs of pants, one yellow and one green, to create the look he sported on TV multiple times.
"He wore them when he won the 1985 Austin Open," Kyle said. "That was the only show that I was alive for that he made, so I thought it was only fitting for him to wear that outfit again. Pay tribute to Guppy."
Guppy pumped up the crowd after converting a 4-pin in his first frame, but the Troups found themselves behind quickly as the Barneses started off with four straight strikes. Despite two missed single-pin spares in back-to-back frames by the Barnes clan, they refocused and stayed clean over the final four frames for 223.
Kyle got his team's first strike in the sixth frame followed by 72-year-old Guppy converting the 3-10 split in the seventh frame. Kyle enjoyed one final moment as he threw his dad's ball on the final shot with his thumb in the ball for a strike and a 169 game.
"That was a dream come true," Kyle said about the experience. "We got to compete together when I was younger in the PBA regional level, but just knowing where our careers are at in bowling now, I never would have thought I would get to bowl with my father on television."
"He bowled great, and he put on a show," Kyle added. "That was the thing that I enjoyed watching more than anything because as a kid that is what I watched. That is where I learned my flair and style from."
"Just a chance to bowl with him on national TV, you can't ask for anything better," Guppy said. "It was just unbelievable."
Ryan, who bowled on the left lane against the Malotts, struck four out of five times on the right lane in the match against the Troups.
Chris and Ryan now hold the title of PBA Kings of the Lanes: Royal Family Edition. Next up, Cayden and Ronnie Russell will face Brady and Tom Smallwood at 9 p.m. ET Tuesday on FS1. The winner will aim to dethrone Chris and Ryan.
"Bowling is a big family and now everyone gets to see that," Kyle said about this inaugural event. "I think a lot more people are going to be able to relate and we get more people interested in bowling."
MATCH SCORES
Match 1 – Ryan and Chris Barnes def. Jordan and Wes Malott 243-237
Match 2 – Ryan and Chris Barnes def. Guppy and Kyle Troup 223-169