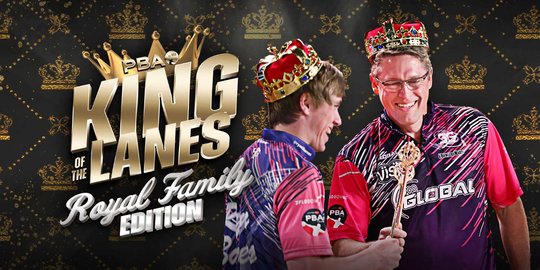 Ryan and Chris Barnes maintain the throne at PBA King of the Lanes: Royal Family Edition
June 7, 2022
Jill Winters
Jupiter, Florida – The two-handed revolution of the sport of bowling was once again on display during the PBA King of the Lanes: Royal Family Edition.
Ronnie Russell's son, Cayden displayed his 500-plus rev rates against family friends, Brady and Tom Smallwood inside Bowlero Jupiter.
It was nothing short of impressive as the 17-year-old was a perfect five-for-five in his attempts throwing a Radical Conspiracy Scheme.
Ronnie picked up three straight 7-pins before Team Russell was able to put together a late five-bagger, as they cruised to a 238-160 victory.
"It was a little nerve racking my first time under the lights," Cayden said. "I threw one shot at a time, didn't overthink any shots, and let the ball do the work."
"It was amazing just watching him perform under that environment," Ronnie said about bowling with his son. "He posted almost every shot. And watching the two boys interact was pretty cool."
Ten-year-old Brady had the crowd on his side. He got three marks which included the conversion of the 1-2-10 in the fifth frame. Tom and Brady bowl together as much as they can, and they were thrilled to participate.
"My first shot was nerve racking but the rest of them I felt pretty good," Brady said. "I'm only 10 years old, and I am hoping I can get a little bit better, if they have this again."
"I've been fortunate to do a lot of stuff in bowling, but this is the pinnacle of it," Tom said. "It is a dream come true to bowl with my son especially on TV. I hope it happens again, and we are invited back, because this is the most fun I have ever had on TV."
The Russells next challenge was a match against Chris and Ryan Barnes. The two-handed youth bowlers were both nearly perfect.
Cayden managed the left lane rolling four out of five strikes while Ryan once again controlled the right lane with four out of five strikes. The Russells held a 11-pin lead through four frames when the Barneses reeled off eight consecutives strikes for 267. The Russells finished strong with 242.
After experiencing his first televised tournament, Cayden can't wait to do it again.
"It is something I definitely want to do in the future," he said. "Hopefully, I'll be out here one day competing for a title. Bowling the Mark Roth/Marshall Holman Doubles maybe one day in the future with my dad."
Chris and Ryan maintained their seats on the throne.
"His level of talent has exploded, and he looks like the better bowler of the two of us out here right now," Chris said about Ryan.
"Great experience," Ryan said. "On the right lane, I played tighter and slowed down my speed. Trying to keep throwing strikes, keep dialing it in and do what we do."
Up next, Brandon and Parker Bohn III will bowl Alyssa Ballard and Carolyn Dorin-Ballard at 8 p.m. ET Thursday on FS1. The winning team will again take on Team Barnes.
MATCH SCORES
Match 1 – Cayden and Ronnie Russell def. Brady and Tom Smallwood 238-160
Match 2 – Ryan and Chris Barnes def. Cayden and Ronnie Russell 267-242