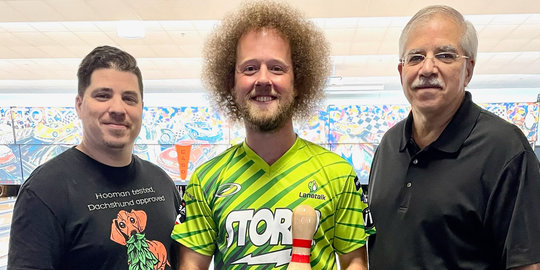 PBA Regional Recap: Graham Fach Wins 3rd Regional Title in 2022, Takes Commanding Points Lead in Central Region
June 30, 2022
Chase Kaufman
We are about halfway through 2022, many events have come and gone, but plenty of regional action remains before the RPI kicks off in about six months. More opportunities to gain points in their respective standings passed over the last two weeks, so let's run through our latest champions.
PBA Pro Bowl West Central/Midwest Challenge
A non-champions, one-day event in Fort Wayne, Indiana eventually made someone a champion after seven games of qualifying and bracket play. The cut sat at +83 on the Dragon pattern, giving anyone who reached that mark a fresh start as they entered the next round. Plenty of close matches took place in the first two rounds, but in the end, Scott Matthies, Brent Boho, Alex Acosta, and Corey Kistner remained. In the one-game semifinals, Boho breezed past Matthies as the two-hander from Wisconsin delivered a 277 to move onto the finals. Meanwhile, Acosta and Kistner were grinding in the other semifinal, but Acosta got it done, 188-164. In the two-handed finals, Acosta got the win over Boho 215-189 to take the Pro Bowl West title.
PBA Pro Bowl West Central/Midwest Challenge Final Standings
Alex Acosta, $1,500
Brent Boho, $1,100
Scott Matthies, $875
Corey Kistner, $875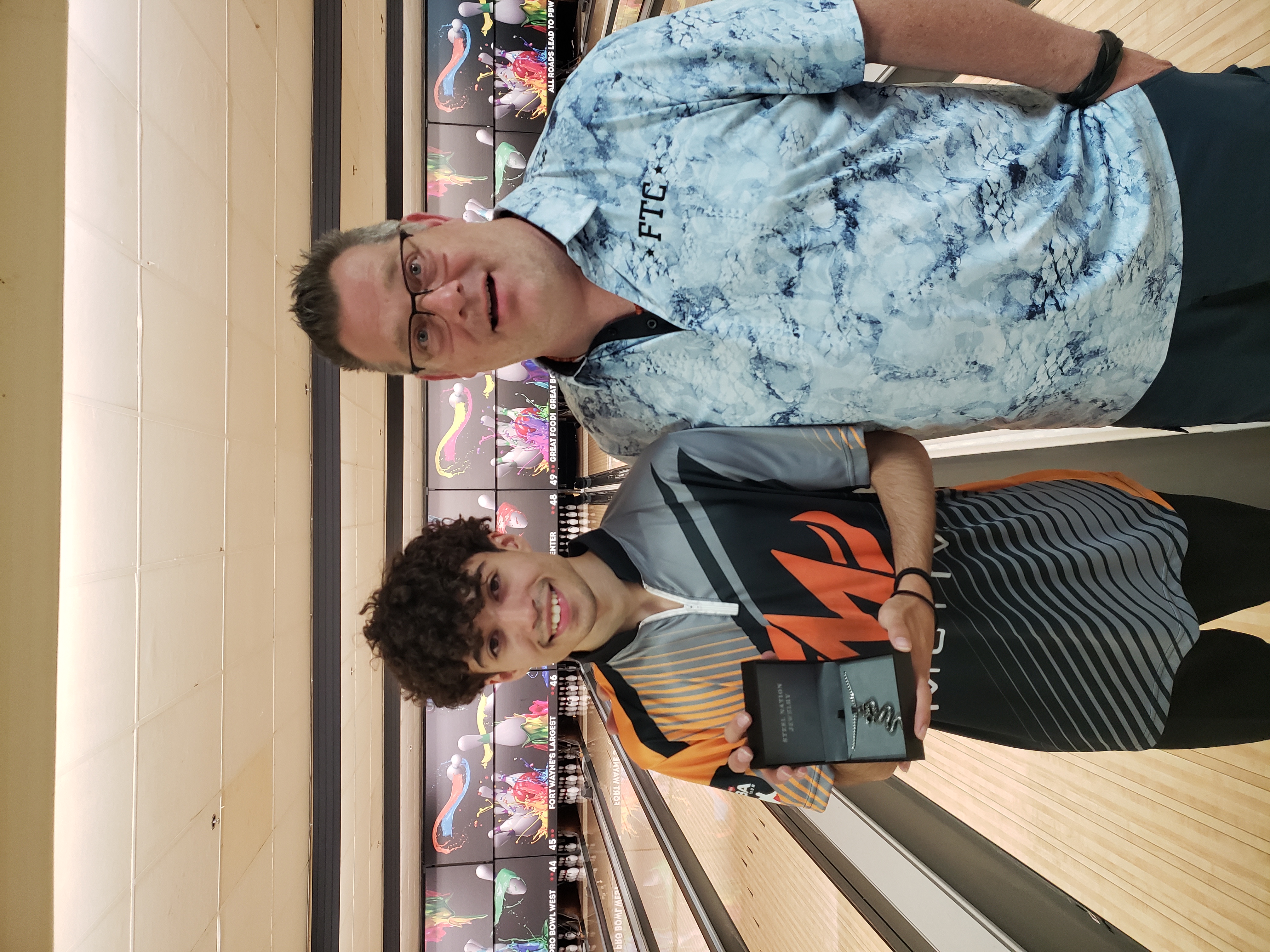 PBA Victory Lanes Mooresville Open
Victory Lanes in Mooresville, North Carolina, took in over 100 entries for the East Regional in mid-June, and bowlers worked a bit to sneak into that cut line. With 107 players in the field, the top 35 moved onto the first advancers round at -40. Kyle Troup caught the lead early on and held it when going into the second advancers round. However, a 567 three-game series in said round dropped him to second place thanks to Eric Jones, who delivered a 738 to pass Troup by 61 pins in the overall standings. The lead flipped again and again, but in the end, the pair faced each other in the finals.
Troup grabbed the early lead with a four-bagger, but after Jones started with two spares, he delivered a four-bagger of his own. Troup's run of four strikes ended with a spare in the fifth frame, but Troup came back with yet another string, this time of five. Jones couldn't match Troup any longer as Troup walked away with the victory 266-220.
PBA Victory Lanes Mooresville Open Final Standings
Kyle Troup, 2,500 points. $2,500
Eric Jones, 1,500, $1,500
Colin Champion, 1,150, $1,220
Cristian Azcona, 950, $1,220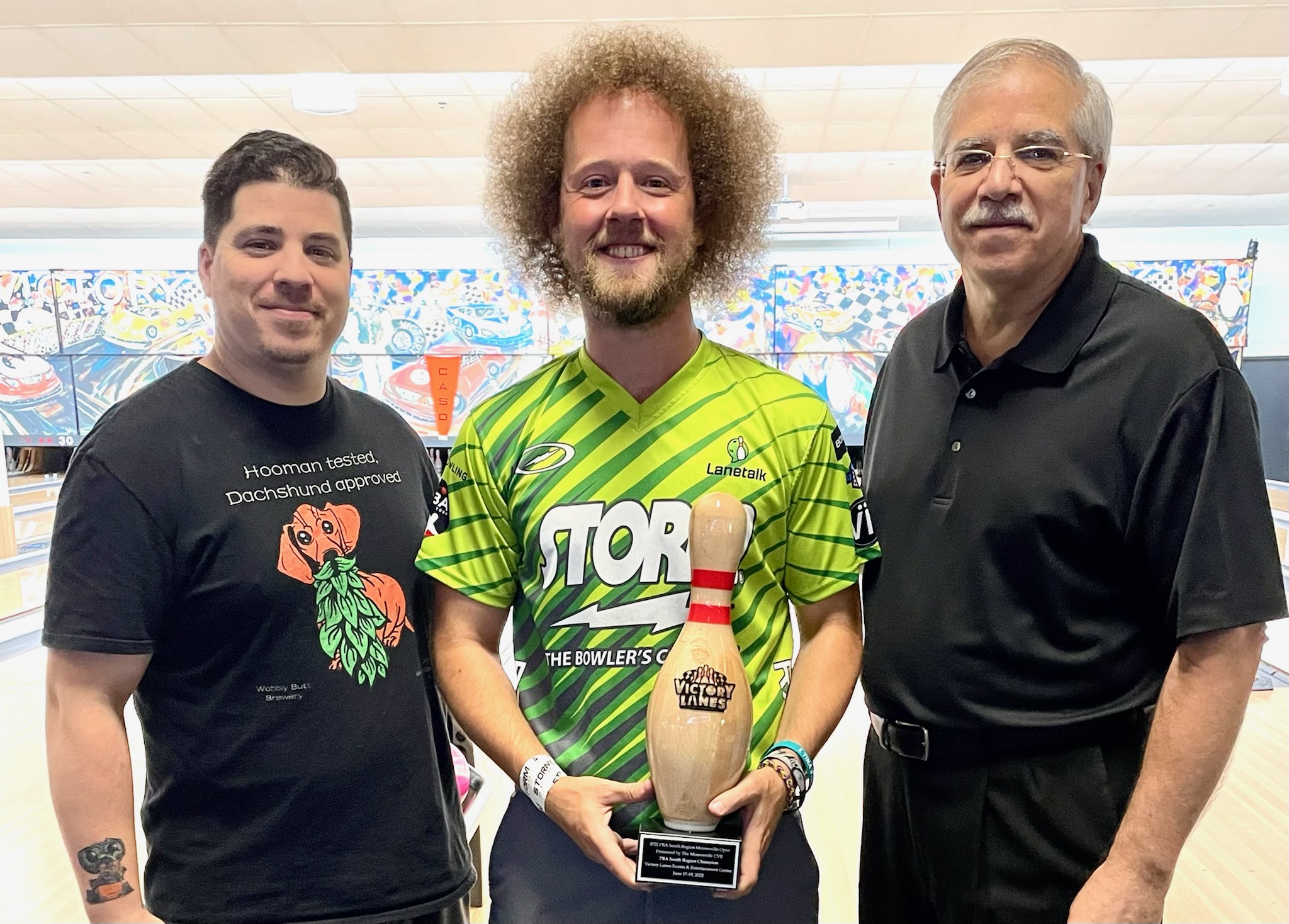 PBA Norfolk PBA Booster Club of Hampton Roads Open
The following weekend, many of the same bowlers headed to Norfolk for yet another South Region battle, this time on the Chameleon pattern. Dick Allen led qualifying at +122 but didn't run away with the tournament, as 16th place finished at -15. Everyone bowled everyone during match play the following day, along with position round for a total of 16 games. Since everybody sat at least 137 pins behind the leader, it was no surprise to see some big moves on Sunday.
Trevor Roberts made the most significant move, cruising through match play with just three games under 200. Two of those sub-200 games came later in the day, putting a bit of a halt to his run to the podium, but Roberts fought back and won his final three games before the position round, going 232, 243, and 211 for a solid 686. Trevor took a victory lap during the final game, holding a 150-pin lead with just one match remaining. He didn't need the win in the last game, but he got it anyway to win by over 200 pins. This title marks Roberts' second regional title of his career.
PBA Norfolk PBA Booster Club of Hampton Roads Open Final Standings
Trevor Roberts, 2,500 points, $2,500
Matthew Woodall, 1,500, $1,500
Ryan Lane, 1,150, $1,000
Ryan Lopano, 950, $814
Dwight Adams, 850, $804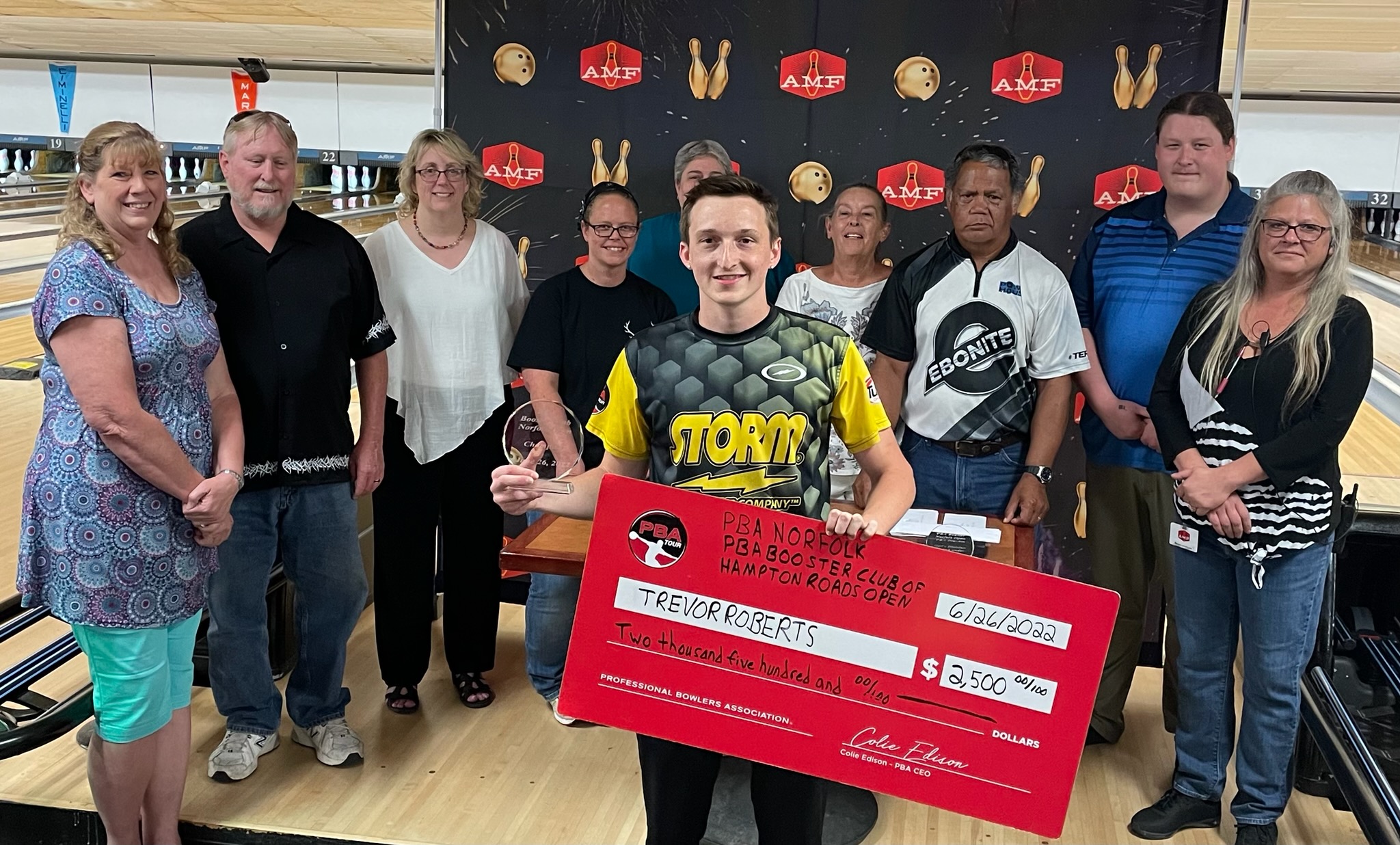 You can view the South points leaders here.
PBA Park Lanes Central Open
Seventy bowlers came out to Park Lanes for another Central Region event for a classic qualifying, match play, and stepladder format. Tim Pfeifer found the lead after eight games of qualifying at +199, but plenty of big names followed behind him, such as Graham Fach, Mike Eaton Jr, Patrick Dombrowski, and many more. Of course, what's a match play round without some movement before the top five sets? Fach moved up to grab the one-seed, Brandon Novak moved up to snag the two, followed by Chris Via, Dombrowski, and Cory Hersha.
In a battle of the two-handers, Via and Hersha kicked off the stepladder where Via shot a 286 to Hersha's 215. Seven-time titlist Dombrowski stepped up next and fought hard to take down Via 224-211. In another close match, Dombrowski faced Novak and took the win 225-221. But when the finals rolled around, Dombrowski couldn't finish the job, dropping the final match to Fach 222-203. Fach picked up his ninth career regional title, all in the Central Region, and took home an extra $2,600 for his work. Fach also maintains a solid 2,600-point lead in the Central Region.
PBA Park Lanes Central Open Final Standings
Graham Fach, 2,500 points, $2,600
Patrick Dombrowski, 1,500, $1,400
Brandon Novak, 1,150, $1,250
Chris Via, 950, $1,100
Cory Hersha, 850, $1,000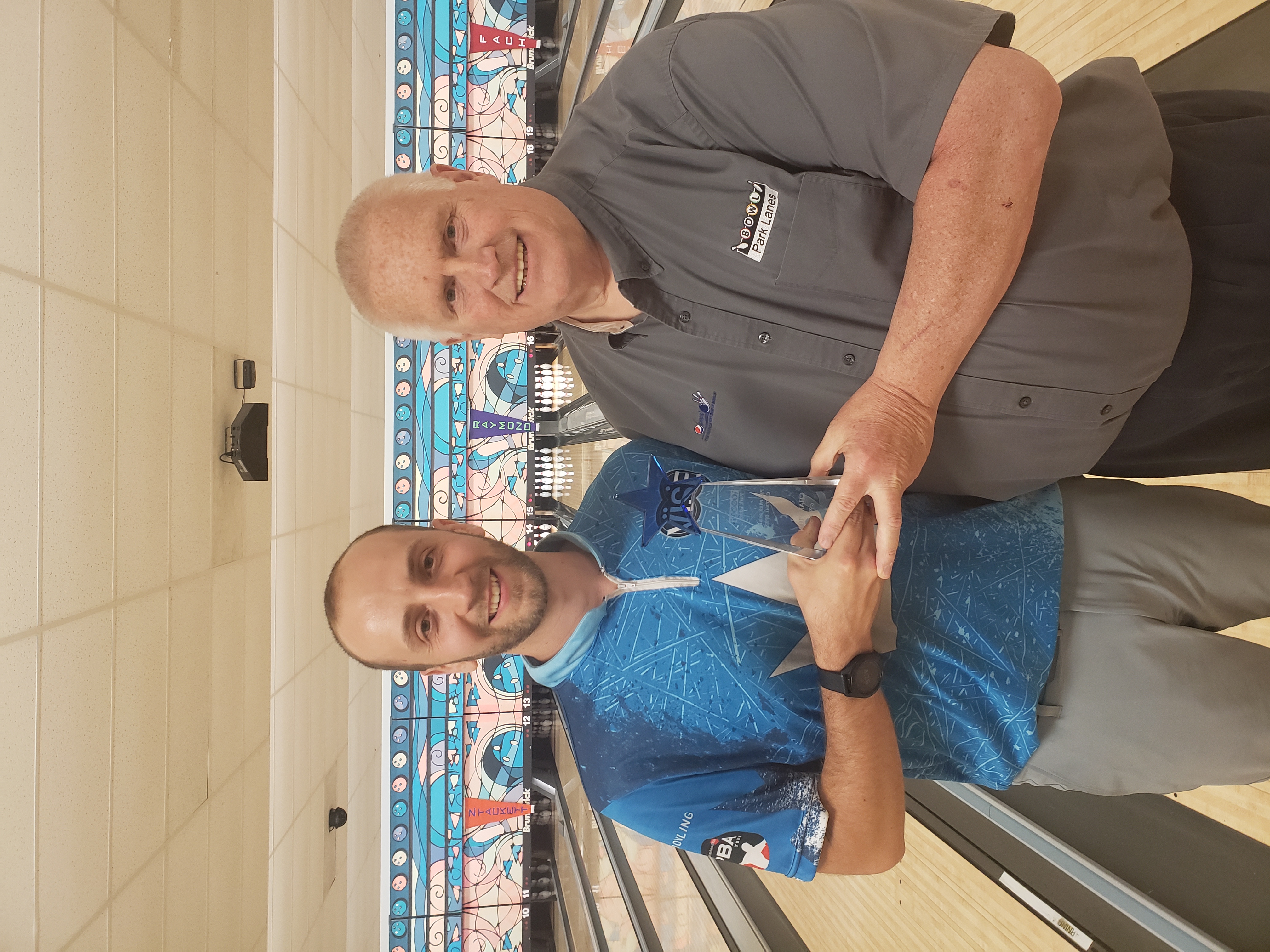 You can view the Central points leaders here.
PBA Beehive Open
Jack and Jill jumped over the hill to fetch a regional title at Jack and Jill Lanes in Lehi, Utah. Darren Tang, a familiar regional name over the past couple of months, did what he does best once again and led qualifying. The West Region points leader averaged 221 for his eight games, with the next highest averaging 209. Tang maintained his lead after the first advancers round, but Jake Peters was hot on his trail, just 15 pins behind Tang. Three more games, and Peters closed the gap some more, cutting it to a three-pin deficit.
The battle between Peters and Tang continued with just two games to go in the final advancer's round. Peters began with a solid 236, but Tang still narrowly held onto his lead by shooting a 234. With just one pin separating the two after a full day of the two duking it out, the center sat in anticipation for one last match. Both began with a spare and a double, but after Tang left a flat 10 in the 4th frame, Peters pounced. The now five-time regional champ extended his string to six, while Tang couldn't find another double throughout the match.
PBA Beehive Open Final Standings
Jake Peters, 2,500 points, $2,500
Darren Tang, 1,500, $1,700
Cameron Henning, $1,400
Chad Lusche, 950, $1,200
David Woods, $1,100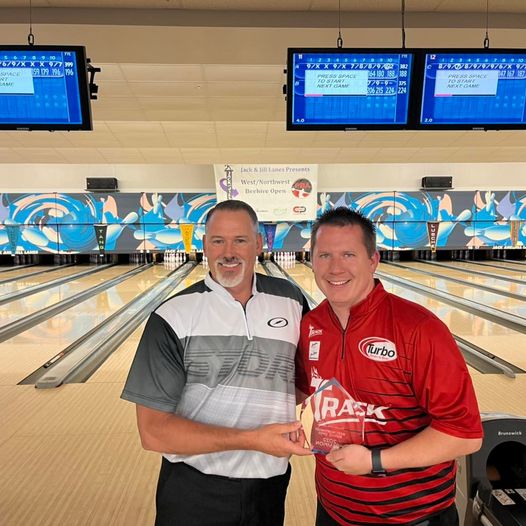 You can view the West points leaders here.
PBA50 Loveland Southwest Open
Just 20 miles from the next PBA50 National Tour stop, the PBA50 Loveland Open gave a handful of bowlers a perfect "bullpen session" before the Highland Park Open. Chris Barnes was one of two players to go plus, leading the way at +145, while Kristofer Woolsey followed at +45. The top eight moved onto the single-elimination bracket to determine who would add a regional title to their stats. The one-seed Barnes moved on, along with Glenn Smith, Kenneth Harlan, and Brad Angelo. In the top half of the bracket, Smith upset Barnes two games to none, while Angelo defeated Harlan two games to none also. In the final match, Smith shot a 255 to Angelo's 234 to pick up his second regional title and $2,000.
PBA50 Loveland Southwest Open Final Standings
Glenn Smith, 2,500 points, $2,000
Brad Angelo, 1,500, $1,200
Chris Barnes, 1,150, $900
Kenneth Harlan, 950, $900
You can view the Southwest points leaders here.
With the 4th of July Weekend coming up, all bowlers will get a break from regional action until July 8. You can check out the rest of the regional schedule here. You can also check out all the regional standings here.