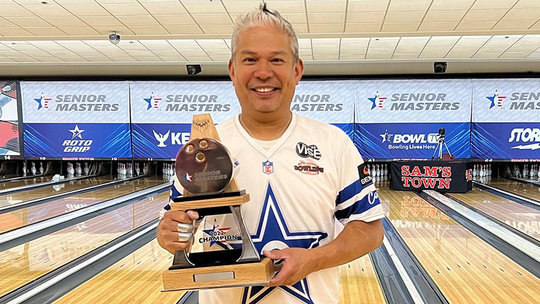 Dino Castillo rejuvenated by PBA50 Tour and first PBA50 Major Win
June 19, 2022
Jill Winters
As the PBA50 Tour kicks-off in Lubbock, Texas today at the PBA Senior U.S. Open, Dino Castillo is coming in confident after his dominant stepladder performance at last week's 2022 USBC Senior Masters in Las Vegas.
Building off of his first title, the 2022 PBA50 Rookie of the Year frontrunner now plans to rely on his experience at South Plains Lanes to get himself in contention. In 2020, Castillo finished in fourth place at the PBA Lubbock Sports Open.
"It is one of my favorite places to go to," Castillo said. "The proprietor, Jimbo Evans loves the game and does everything for bowling. He brought in the senior tour, the women's tour, he has brought the national tour. He is bringing in a super regional this year. He just does it right for bowlers."
Castillo admits he would jump over the moon to support Jimbo and Sunday Evans. As it turns out, Castillo who is a hands-on owner of five pro shops, understands the importance of having support behind you. If it weren't for the guys in his pro shop kicking him out of the shops, his wife, Stacy and five kids encouraging him to commit to the PBA50 Tour, and his Brunswick employers doing the same, Castillo wouldn't even be out here competing at such a high level.
He also credits the support he received from a fellow Texan for helping him with his masterful showing at the USBC Senior Masters, defeating Chris Barnes (300-222), Jack Jurek (257-196), and fellow Brunswick teammate Parker Bohn III (255-219), then defeating top seed Chris Warren twice to win his first PBA50 title and a major at that.
"I actually called one of my very good friends, Shawn Maldonado," Castillo said. "I am his ball rep on the regular tour, so kind of flipped the script a little bit. He said, 'man you have got to get them off of that spot on the fresh because you are not going to beat them playing their game."
Maldonado told Castillo to put a lot of surface on his equipment and try to play right of the track. Castillo knew he had to try something because he didn't feel confident in his own reaction on the fresh oil pattern. But he also worried that in trying to move Barnes and Jurek off their spots it could be a double-edge sword for him. In scoring up the lanes, he figured that might even help Bohn III on the left side. Immediately during Castillo's practice time on the TV pair with Barnes, he noticed the look for Barnes was changing a little bit. Castillo wasn't sold on his own reaction early but clearly it worked out as he shot 300.
"I was like, 'oh, maybe this is going to work out for me," Castillo admitted. "I then moved Jack off his spot, and I took full advantage. I never looked at the score."
He got past Bohn III on his way to rolling an 812 series for his first three games. Then it came down to a Texas showdown. Castillo had lost to Warren 708-655 in the winners bracket which forced him into a longer path to get to the stepladder finals.
Castillo grew up idolizing Warren who was also living in Texas at the time. With Castillo needing to beat Warren twice because he was the number one seed, Castillo focused on playing his game and keeping everything in front of him. He relied on his support system, best friends, Paul Enright, Mark Anderson and his wife who were there to keep him feeling comfortable during the title match. It was a monumental victory at one of the most challenging tournaments and it was something Castillo never expected would happen. And when it became a reality, he felt a sense of relief.
"I am not really an emotional guy when it comes to bowling on tour anymore," Castillo said after defeating Warren 253-201 and 216-169. "I let it out for the first time in God knows how long. Four or five years ago, never did I think I was going to win but I didn't care because it didn't define who I was."
During his first five years on the PBA Tour starting in 2005, the Texas native was hoping to win his coveted first title like everyone else. His priorities changed once he had kids. His drive to win came in behind his dedication to his family and his pro shop ownership. He enjoyed bowling so he continued to compete but just felt like he didn't have the same drive and determination as others on tour. He felt his directive was and always has been to take care of people which is why he gets so much gratification out of being a Brunswick ball rep.
"People winning with the balls that I give them to me is equally as satisfying as me winning," he said. "When I was a ball rep in 2006, I did that for Tommy Jones and Jason Couch. I was equally as emotional every time they won. It is hard to say what this win means for me because in a roundabout way I already felt it by my guys winning."
"I am excited, elated and I felt like I could breathe," he said. "More than anything, it is the people that supported me in all of this over the years. I am happy that they got to experience it with me."
Castillo is thriving on the PBA50 Tour and loving every minute of it.
"There is a resurgence of love for bowling in me because I actually enjoy it more now," he said about the difference between competing on the PBA Tour and PBA50 Tour. "I enjoy it because nobody out there is out for blood. They give each other five. It makes me enjoy the game way more because everybody is friendly."
Castillo and the rest of the B squad will take to South Plains Lanes after the A squad, starting at 2 p.m. EST live on BowlTV.com.
"Whether or not I am in contention for rookie of the year or bowler of the year, I just want to go out and let the pieces fall where they may," he said. "I still need to put in the work."
From here on out, Castillo will be introduced at PBA50 tournaments and pro-ams as USBC Senior Masters champion and he can't wait to see his name on a banner – either metallic gray or silver with navy blue - that will show his undying love and support for his Dallas Cowboys. He may even try to get a special twist added to his banner too.
The PBA Senior U.S. Open field will bowl seven games of qualifying today and Monday before all cashers advance on Tuesday. Match play rounds will take place Tuesday and Wednesday before the stepladder finals are scheduled to start at 7:30 p.m. EST Wednesday all on BowlTV.com. Follow live scoring here: PBA Senior U.S. Open | PBA
Tom Hess is the defending champion.