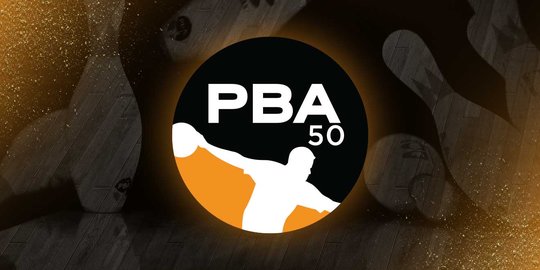 Chris Barnes takes over the lead at PBA50 Odessa Open
June 25, 2022
Jill Winters
Odessa, Texas – When Chris Barnes won his first PBA50 Title last year in Lubbock, Texas it was his son, Ryan that "had a little impact on the outcome" at the 2021 PBA50 Cup.
Ryan noticed his dad was getting a little bit forward in his second step, relayed that valuable information to his dad, and Chris went on to beat Pete Weber in the championship match. Once again, Ryan is helping his dad out on the lanes.
Heading into his final game of qualifying on Saturday, Barnes was just two pins behind Walter Ray Williams Jr. for the top spot. Barnes decided to change balls from a Storm Phaze III to a Storm IQ Emerald to take a "home run swing" at the lead. It's a ball he had yet to use, but he really likes to go to it when the lanes hook. This ball however, used to belong to Ryan.
"I stole it from him about three weeks ago," Barnes admitted, after seeing it sitting in the garage. "I went, 'Hey, do you throw this? Well, you are not throwing it anymore.'"
Barnes plugged and redrilled the ball for himself. After a first frame spare, Barnes and his new IQ put together a bunch of strikes for a 269 game to move into first place. He started the block with 244 to take the lead over Brad Angelo, then shot 187, 248, 236, 186, 225 and 196.
"I enjoyed yesterday way more than today," Barnes said after shooting 1,877 on Friday compared to 1,791 on Saturday. "The middle of the house today Tom (Hess), Brad (Angelo), Walter and I struggled in the same section. There were definitely some tricky pairs."
There are a lot of poles between lanes inside Diamond Lanes and for Barnes, he thought that on the pairs directly next to the poles the lanes tend to slant towards the poles causing some confusion.
"You just have a lot of pairs where you have a couple of boards difference between the two lanes," the Texas native said. "It was not always the right lane or the left lane, it goes back-and-forth. That keeps all of us off balance and it is just how fast can you adjust to it."
At the end of 16-games of qualifying, the field was cut to the top 24 with Michael Haugen Jr. being the last player in at 3,312, a 207 average. Barnes and the rest of the top-eight earn first-round byes as the tournament now moves into match play Sunday, starting at 11 a.m. ET. All matches will be three-games total pinfall with the winners advancing.
Match play will continue until the top four winners are determined based on their bracket seed number. The highest seed losing in the round of eight will be the fifth seed in the stepladder finals, set to begin at 6 p.m. ET Sunday, all exclusively on BowlTV.com.
Amleto Monacelli, who is currently in ninth place, is the defending champion.
Follow PBA50 Odessa Open scoring at PBA50 Odessa Open | PBA
Top 10 PBA50 Odessa Open standings:
Chris Barnes 3,668
Walter Ray Williams Jr. 3,616
Dino Castillo 3,575
Brad Angelo 3,543
Tom Adcock 3,500
Tom Hess 3,498
Tony Lanning 3,493
Dan Knowlton 3,490
Amleto Monacelli 3,486
Bryan Goebel 3,474