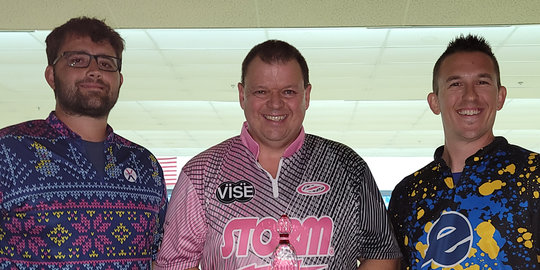 Tom Hess wins PBA50 Highland Park Lanes Open
July 3, 2022
Jill Winters
Greeley, Colorado – Tom Hess found himself in a familiar place on Sunday at the PBA50 Highland Park Lanes Open. After earning the top seed, Hess was one match away from winning his third PBA50 title and he was beyond motivated to finish the job.
"I have a bunch of second place finishes in regionals and twice out here already this year," the 2021 PBA50 Player of the Year said.
This was the fourth show Hess has made in 2022. He finished second twice and fourth at the PBA50 Odessa Open just a couple of days ago. This time he would face good friend Tom Adcock in the title match.
Seeing how the lanes had broken down from the previous match between Adcock and Michael Haugen Jr., Hess knew he would be able to hook the ball and play further left than Adcock, which he felt was an advantage.
"I felt pretty confident going into the match," Hess said. "Trusted myself and my shot-making ability that it was going to work."
Adcock started with a strike, while Hess slammed the pocket leaving a 7-pin which he converted. Hess then put together three strikes-in-a-row and was fired up. He held a 10-pin lead through four frames. Both players converted single-pin spares in the fifth before Adcock answered with three straight strikes.
In the eighth frame, Hess left a solid 10-pin and got the spare, holding a one-pin lead heading into the always important foundation frame.
Adcock struck for the fourth straight time on the right lane before going light and leaving the 2-8 sleeper in ninth frame. He picked it up.
"Tom gave me the chance there to step up and close him out," Hess said.
Finishing first, Hess struck in the ninth followed by his first shot in the 10th. He got really excited and then immediately asked for a rerack.
"I had to bring it all back in and just regroup," he admitted.
After multiple deep breaths, Hess calmed himself down and delivered two more strikes for the 248-237 win.
"It feels amazing to end this swing on a high note," he said. "Put myself right back into the Player of the Year race, I believe."
With five more PBA50 Tour stops on the schedule, and all of them being in the Midwest, the Iowa native is optimistic about the rest of the season.
"Going back to centers I had good success at last year, so let's just see what we can do," the three-title PBA50 winner said. "It is not easy to win out here. You are bowling Hall of Famers every week. If I keep doing my job, hopefully I will be one of those Hall of Famers one day."
The opening match featured Carlos Denot of Mexico against Haugen Jr. There were three splits in the first two frames before each player settled in. After Haugen Jr.'s back-to-back open frames he remained clean. Denot led going into the ninth frame but missed a 10-pin to open the door for his opponent. Haugen Jr. capitalized with four straight strikes for 204. Denot still had a chance to get the win. He doubled and then left the 3-4-6-7 to lose 204-201.
Haugen Jr. continued to strike in match two against Chris Barnes. He started with four-in-a-row before failing to convert the 1-2-4-10 washout. Barnes, who missed a 10-pin in the fourth frame, followed that up with a turkey to cut into Haugen Jr's lead. Barnes finished first with a 216. Needing a mark to win, Haugen Jr. picked up a 4-pin and struck for 222.
In the semifinal match, Haugen Jr. took on Adcock. They each had just one strike through five frames. Adcock was then able to put together two doubles over the final five frames for the 216-201 win.
The next tournament on the schedule is the PBA50 Cup in Westland, Michigan July 18-20, seen only on BowlTV.
View the full PBA50 Highland Park Lanes Open results at PBA50 Highland Park Lanes Open | PBA
2022 PBA50 HIGHLAND PARK LANES OPEN FINAL STANDINGS:
1. Tom Hess $7,500
2. Tom Adcock $4,500
3. Michael Haugen Jr. $3,000
4. Chris Barnes $2,500
5. Carlos Denot $2,000
MATCH SCORES
Match 1 – Haugen Jr. def Denot 204-201
Match 2 – Haugen Jr. def Barnes 222-216
Match 3 – Adcock def Haugen Jr. 216-201
Championship match – Hess def. Adcock 248-237