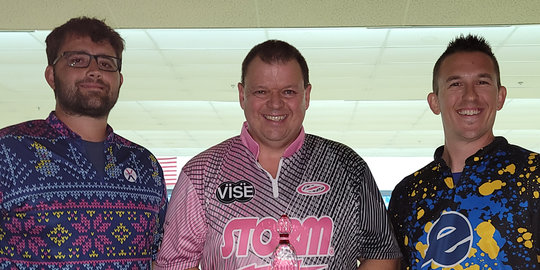 Tom Hess leads qualifying at PBA50 Highland Park Lanes Open
July 2, 2022
Jill Winters
Greeley, Colorado – During the second day of qualifying at the PBA50 Highland Park Lanes Open, Tom Hess took over the lead and never relinquished it.
Hess stormed out of the gates with 257, 278 and 222 for 757 to pass day one leader Glenn Smith. Hess added games of 194, 238, 257 and 199 to end the day averaging 235, while holding a 114-pin advantage over Tom Adcock in second place.
The Iowa native used his 900 Global Zen to start out his seven-game block on Saturday followed by his 900 Global Altered Reality.
"It was carrying phenomenal, and it made the pocket big," Hess said about his Zen. "I was playing a part of the lane that I was comfortable with, so I was able to relax and make some good shots."
The past week has been a bit of a whirlwind for Hess. After a fourth-place finish at the PBA50 Odessa Open, he drove all night to Denver then flew out to Las Vegas to watch his wife and daughter bowl, followed by his attendance at International Bowl Expo 2022 also in Las Vegas. He missed the practice session on Thursday and admits he was tired during Friday's first round of qualifying.
"I got lined up at the end of Friday and bowled a big game, so I came in with a much better mindset today," he said.
Looking ahead to Sunday's five-game advancers round Hess has his game plan ready to go.
"It is huge this week to lead after those five games," he said. "I'll use the Zen and play a little bit straighter. Just stay in the moment and take it one shot at a time."
Adcock, Smith, Brad Angelo and James Campbell round out the top five.
The top 15 will bowl five games in the advancers round starting at 11 a.m. ET Sunday. The field will then be cut to the top 12 who will bowl bracket match play beginning at 2 p.m. ET, consisting of three-game total pins matches. The top four players will get a first-round bye. The stepladder finals are scheduled to start at 6:30 p.m. ET. Watch the final day all on BowlTV.com.
Follow PBA50 Highland Park Lanes Open scoring at PBA50 Highland Park Lanes Open | PBA
Top 10 PBA50 Highland Park Lanes Open
Tom Hess 3,280
Tom Adcock 3,166
Glenn Smith 3,120
Brad Angelo 3,118
James Campbell 3,115
Chris Barnes 3,078
Carlos Denot 3,077
Parker Bohn III 3,043
Dennis Brown 3,028
Tom Carter 3,027