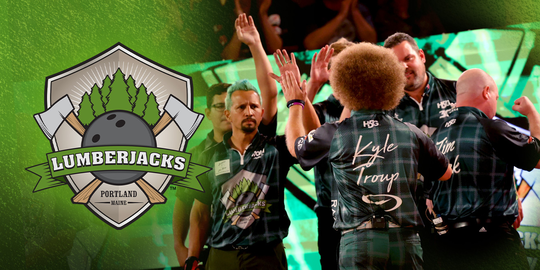 Portland Lumberjacks Win Third Straight Elias Cup
July 10, 2022
Nolan Hughes
In stunning fashion, the Portland Lumberjacks came back from a 2-0 deficit to win their third consecutive PBA League Elias Cup title.
Kyle Troup, Kris Prather, Wes Malott and manager Tim Mack have been a part of all three Lumberjack titles. Packy Hanrahan won his second straight title with Portland, while Arturo Quintero raised the Elias Cup in his PBA League debut. Troup earned Mark Roth MVP honors.
Portland and Dallas exchanged single-pin leaves throughout a nauseating, back-and-forth opening game. Hanrahan's strike in the third frame unleashed the Bayside Bowl crowd, and gave Portland a slim lead.
The Lumberjacks clung on to a two-pin lead entering the ninth frame. Tommy Jones' strike and Prather's 10-pin leave put the game in Strikers' anchor Matt Ogle's hands.
Ogle needed a strike and seven pins to secure the win. His Brooklyn strike didn't impress Jones or Bill O'Neill, but it did the job and the Strikers seized a 1-0 lead.
Early in Game 2, Norm Duke followed Ogle's Brooklyn strike with one of his own, marking his first televised strike of the PBA League. The two teams sat tied through five frames.
Following a 10-pin conversion from Troup, Duke missed a 2-10 split to open the door for Portland. Quintero stormed through that door. Hanrahan and Kris Prather followed to give Portland a 15-pin lead entering the 10th frame.
Malott needed a strike and eight pins to shut out Dallas. His 7-pin leave once again turned the game over to Ogle, who needed a double to steal the win.
This time, Ogle punished the pocket and buried all three strikes. The Strikers took a commanding 2-0 advantage.
Duke and O'Neill knew the Lumberjacks wouldn't go away quietly and opened Game with with an all-business double. After Santtu Tahvanainen spared a 9-pin, Jones and Ogle doubled to give Dallas the early lead.
The Lumberjacks moved in front after Duke's crafty 3-10 conversion. Dallas briefly retook the lead after a devastating 7-pin leave from Hanrahan, but Jones' errant shot in the ninth frame, a super-washout, handed it right back to Portland. Malott matched Ogle with a spare in the tenth to secure the Game 3 win.
The Lumberjacks rode their momentum into an opening triple before Prather and Malott spared back-to-back single pins. After Ogle's 10-pin conversion, Dallas held a one-pin lead through five frames.
Quintero, Hanrahan and Prather delivered a massive three-bagger, then Jones' open frame in the ninth magnified the Lumberjacks' lead. Malott spared a 10-pin to send the Elias Cup Finals to a decisive Game 5.
Three consecutive splits from Quintero, Tahvanainen and Hanrahan descended the fifth game into chaos.
After Prather missed a nine-pin in the ninth frame, Ogle had the opportunity to double for the win. He left a seven-pin, and missed it.
Malott only needed six pins to secure the win, but he wanted more. He converted a single-pin, then paved the way for Duke to throw the final shot.
Of course, Duke aced a perfect strike to end his PBA League career in storybook fashion.
Match Scores
Game 1: Dallas wins 226-195
Game 2: Dallas wins 243-237
Game 3: Portland wins 223-209
Game 4: Portland wins 235-214
Game 5: Portland wins 185-180