PBA Regional Recap: McCune, Jones Earn Career Regional Title #2, Vault Up Regional Standings
July 14, 2022
Chase Kaufman
After the regional bowling population took Independence Day week off, the tournaments rolled right on the next week. A PBA50 regional transpired in Washington, a PBA regional happened in Florida, and a PBA50 and PBA regional took place in Missouri. The standings seem to take shape each weekend, until someone always comes along and wins their first title of the season during the following week to shake everything up.
PBA Bowlero Spring Hill Open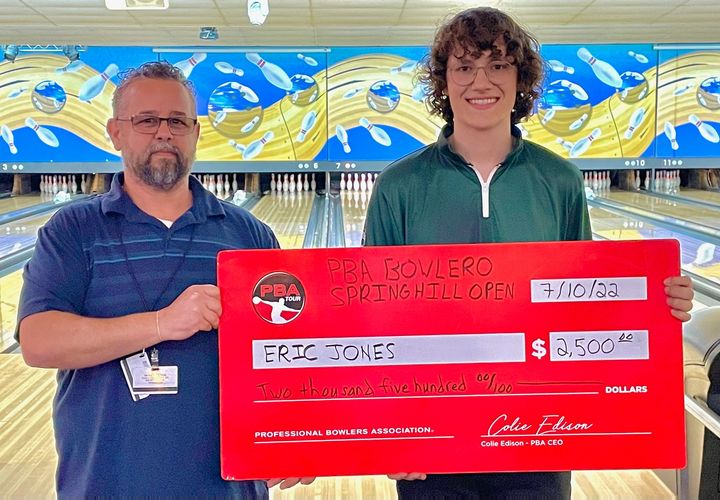 Beginning in the Sunshine State, 124 bowlers rolled their equipment into Spring Hill Lanes for a two-squad, two-day event. Squad B proved to be a bit stronger, as the top six came from said squad, along with 21 of the top 41 moving onto the first advancers round.
Even after sleeping on the lead, Eric Jones walked in on Sunday morning, unfazed. After five more games, Jones maintained the lead with Sean Connolly and Patrick Dombrowski close behind. Three games later, Jones remained on top, with Connolly and Dombrowski still hot on his trail. Those three stayed in the top four to advance to the stepladder, while Tom Hankey Jr. snagged the 4-seed.
Hankey and Connolly led off the stepladder with a tight match through most of the battle. Hankey was the first to double in the match, but through eight frames Connolly stayed clean and found himself down just single digits. However, Connolly split in the ninth and after striking in the tenth, he split again, handing Hankey the win 203-184.
Hankey faced seven-time titleist Dombrowski in the semi-final. Both bowlers opened in the first frame, but Dombrowski doubled shortly after while Hankey struggled to strike in the middle of the game. Hankey finally doubled in the 9th frame, but it was too late. Dombrowski would move on to face Jones after winning 214-176.
In the finals, Jones took an early two-mark lead, which turned out to be all he needed. After Jones picked up his second double in the fifth frame, all Dombrowski could do was match him the rest of the way. Jones claimed his second career title, 2,500 points and $2,500.
PBA Bowlero Spring Hill Open Final Standings:
Eric Jones, 2,500 points, $2,500
Patrick Dombrowski, 1,500, $1,800
Tom Hankey Jr, 0, $1,500
Sean Connolly, 950, $1,200
View the South Region standings here.
PBA50 St. Charles Lanes Midwest Dual Dynamite Open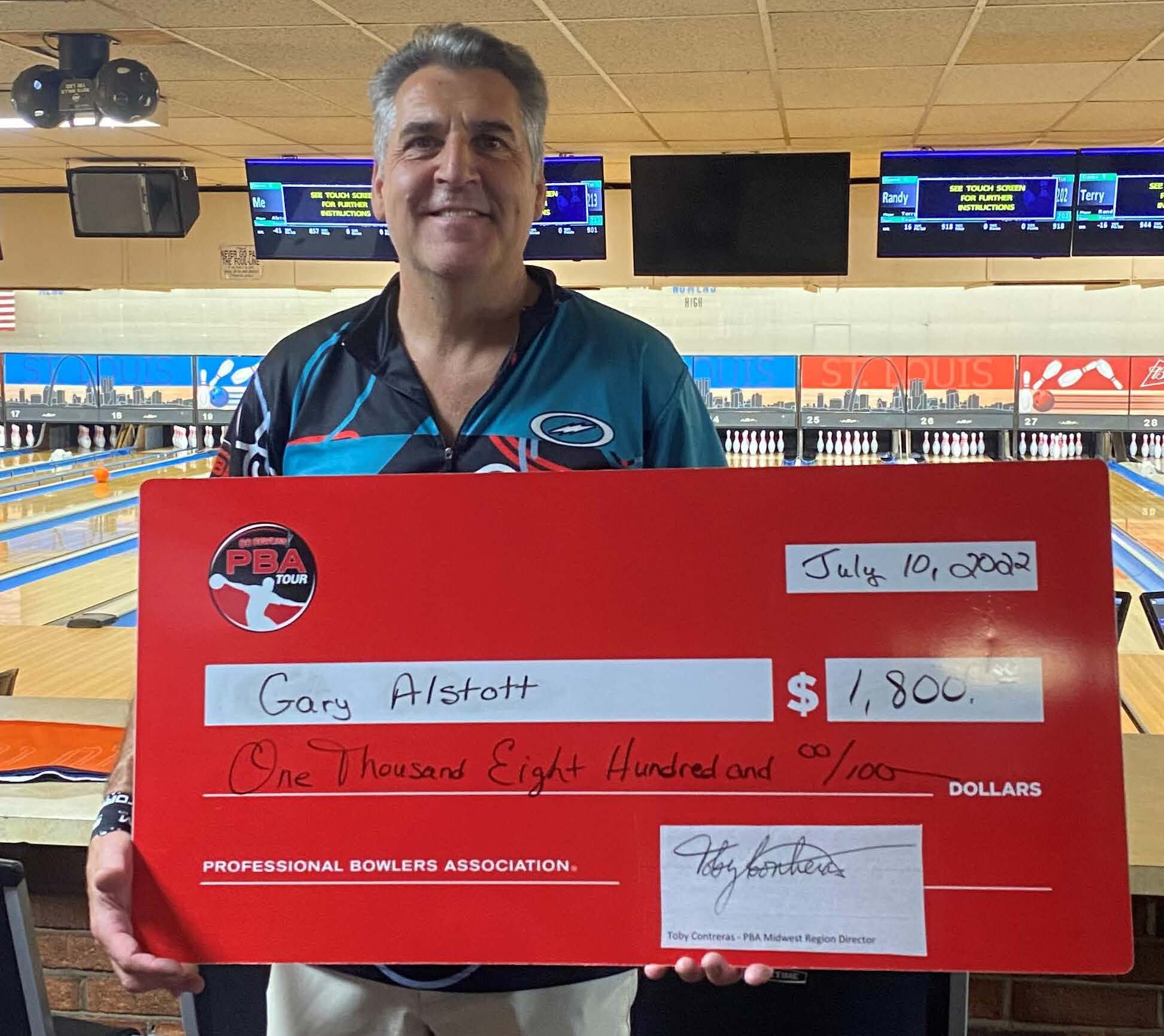 Moving over to the Midwest region, 20 bowlers competed for a PBA50 title in St. Charles, MO. The top six bowlers moved onto bracket play, with the top two grabbing a bye, while the remaining four duked it out in a best-of-five match.
In the quarterfinals, Eugene McCune dropped the first game to Jeff Johnson but promptly took the next three games to move on. The other matchup had the same story as Paul LeMond won the first game, but Terry Jones fought back to secure the next three games to move on.
Bye recipients Gary Alstott and Randy Robertson now stepped to the plate and delivered. Although both semifinal matches went the distance, Alstott and Robertson grabbed the rubber game as the one and two-seeds moved to the finals.
Unfortunately, fans didn't get as tight of a match in the finals as Alstott made it as easy as one, two, three. The No. 1 seed Alstott swept Robertson in three games, 195-172, 196-165 and 210-174. This title marked Alstott's second PBA50 title, and his first since 2019.
PBA50 St. Charles Lanes Midwest Dual Dynamite Open Final Standings:
Gary Alstott, 2500 points, $1,800
Randy Robertson, 1,500, $1,000
Terry Jones, 0, $700
Eugene McCune, 950, $700
PBA St. Charles Lanes Midwest Dual Dynamite Open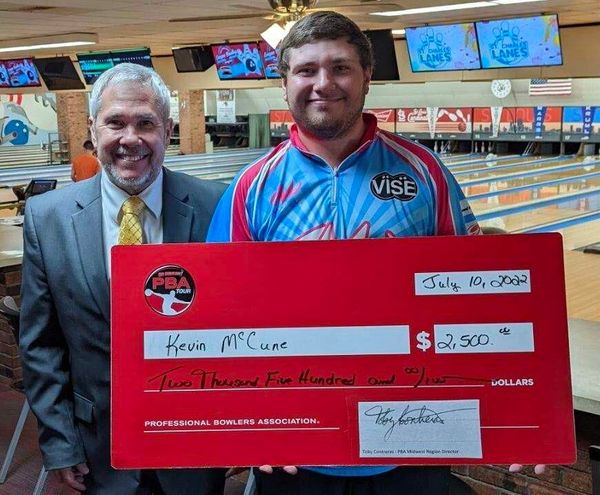 St. Charles Lanes hosted not only a PBA50 regional but a PBA regional as well. Forty entrants pursued a regional title in Missouri, but only eight had a chance after Saturday.
Zach Wilkins led the field on the 38' Marshall Holman pattern at +158, but Kevin McCune hung in there, just one pin back. In the round-robin match play, Wilkins struggled out of the gate, shooting just one game above 200 in his first four matches, handing the lead over to McCune. Wilkins fought back to give himself a chance in the position round, but when Wilkins delivered a 232 in game six, McCune did him one better, launching a 246. Brenden Sramek snuck into the cut at +24 and made a spectacular run but just fell short.
McCune eventually accumulated over a 100-pin lead with just one match left and held on to win regional title number two, just 26 titles behind his father. 
PBA St. Charles Lanes Midwest Dual Dynamite Open Final Standings:
Kevin McCune, 2,500 points, $2,500
Brenden Sramek, 1,500, $1,700
Zacharay Wilkins 1,150, $1,250
Tom Hess 950, $1,000
View the Midwest Region standings here.
PBA50 Tower Lanes Doubles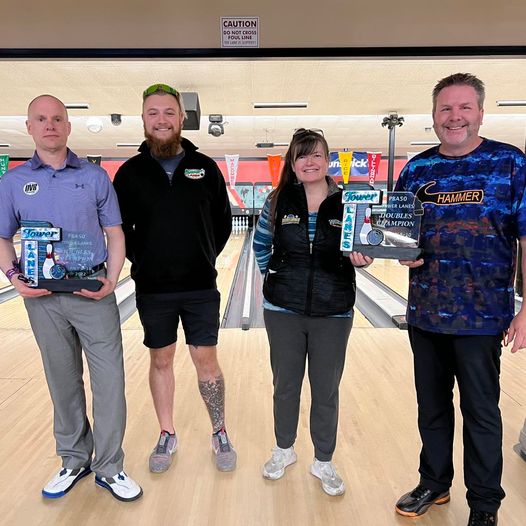 The weekend's final event transpired on the West coast, utilizing a doubles format for players 50 and older. Nineteen teams filled the alley, but only eight teams shot high enough to come back the next day.
Rich Corwin, who won his first regional title earlier this year, qualified first with his partner Blaine Weninger at +179, followed closely by Darron Peters and teammate Ron Mohr at +166. Those top eight teams came back on Sunday for round-robin match play, each hoping to fill a spot in the top three for a mini stepladder. 
The Peters/Mohr duo earned the No. 1 seed, Corwin and Weninger dropped to the No. 2 seed, while Michael Kennedy and Lance Lorfield secured the final spot. The first match went to Corwin and Weninger as they narrowly defeated Washington natives Kennedy and Lorfield, 200-191.
The Corwin/Weninger duo met the Mohr/Peters duo in the finals, where all four bowlers looked to add another title to their resumés. Although Mohr dominated the lanes all weekend, he left some pins on the deck in the final match as he and Peters dropped the closing game to Corwin and Weninger 181-171.
Corwin picked up his second title of this season and his career, while Weninger snagged his fourth career title and his first in over a decade. 
PBA50 Tower Lanes Doubles Final Standings:
Rich Corwin/Blaine Weninger, 2,500 Points, $2,200
Darron Peters/Ron Mohr, 1,500, $1,500
Michael Kennedy/Lance Lorfeld, 1,150, $1,200
Kevin Croucher/Hugh Miller, 950, $900
View the Northwest Region standings here.
If four events didn't hit your bowling quota, have no fear. Over the next two weeks, 10 more regional events will hit the books all across the United States.
To check out where those events will take place, head over to PBA.com. For regional standings in both the PBA and PBA50 divisions, you can go to r2sports.com.