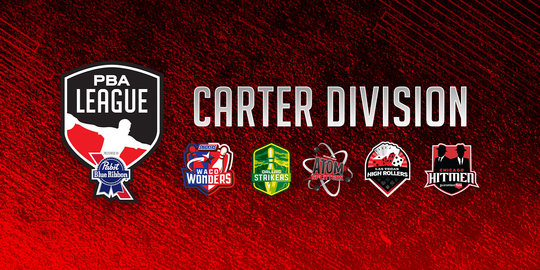 PBA League Power Rankings: Carter Division
July 6, 2022
Nolan Hughes
The Portland Lumberjacks will bowl for their third consecutive PBA League Elias Cup title on Sunday afternoon. They will face the winner of the Carter Division Finals, which will be determined today.
The qualifying round will air on the PBA's YouTube channel at 10 a.m. ET. Later, the stepladder finals will begin at 8 p.m on FS1.
The Las Vegas High Rollers will look to avenge their runner-up finish to Portland in 2020.
The Silver Lake Atom Splitters, three-time Elias Cup champions, brought back Jesper Svensson, Tom Daugherty and Chris Via. The Dallas Strikers also have championship pedigree across their lineup with Norm Duke, Tommy Jones and Bill O'Neill.
The Chicago Hitmen and Snickers Waco Wonder will be firmly in the mix as well.
So which team is the favorite to join Portland in the championship match?
These power rankings are an attempt to answer that seemingly simple question. The rankings reflect the average of each team's cumulative points rank, total points and top-five finishes during the 2022 season.
Cumulative points rank underscores the depth of each team, as one low ranking can drag a team's total down. Conversely, each team's total points can be bolstered by one player's dominant season
Top-five finishes better reflect how well a player bowled throughout the duration of a tournament, as opposed to focusing on wins and championship round results. However, any ties were decided by each team's total number of wins.
Take a look at how the Carter Division looks on paper:
1. Guaranteed Rate Chicago Hitmen
Roster: Dom Barrett, Shawn Maldonado, Jake Peters, Nicholas Pate, Tom Smallwood, Jason Couch (manager)
Stats: Points rank: 1st (overall) | Total points: 3rd | Top-5 finishes: 2nd
The Hitmen are the only team whose entire roster earned a championship round appearance in 2022. Additionally, all five Hitmen finished inside the top-23 of the regular season points list.
Led by TOC champion Dom Barrett, Chicago boasts the PBA League's deepest roster.
2. Dallas Strikers
Roster: Tommy Jones, Bill O'Neill, Norm Duke (player/manager), Matthew Ogle, Santtu Tahvanainen
Stats: Points rank: 5th | Total points: 5th | Top-5 finishes: 5th
It's been five years since the Strikers won back-to-back titles in 2016 and 2017. To inject some new blood into the team, Norm Duke brought in Santtu Tahvanainen, the young Finish talent whose name literally translates to "defender of mankind."
Tommy Jones, who racked up three championship round appearances in majors this season, will aim to lead Dallas back to the Elias Cup.
3. Silver Lake Atom Splitters
Roster: Jesper Svensson, Tom Daugherty, DJ Archer, Chris Via, Brandon Novak, Mark Baker (manager)
Stats: Points rank: 4th | Total points: 6th | Top-5 finishes: 9th
The PBA League's winningest franchise is looking to power their way to a fourth Elias Cup. Literally. With Jesper Svensson, Chris Via and Tom Daugherty at the helm, the Atom Splitters have the blueprints to detonate the pins.
Much like Chicago, Silver Lake runs deep. All five players cracked the tour's top-30 in points.
4. Las Vegas High Rollers
Roster: AJ Johnson, Matt Russo, Andrew Anderson, Francois Lavoie, Ildemaro Ruiz Jr., Amleto Monacelli (manager)
Stats: Points rank: 7th | Total points: 7th | Top-5 finishes: 6th
The High Rollers return four starters from their runner-up squad in 2020. The new addition is Matt Russo, the 2021 Harry Golden PBA Rookie of the Year.
Led by former Player of the Year Andrew Anderson, three-time major champion Francois Lavoie and the ascending AJ Johnson, the High Rollers aren't relying on the luck of the draw.
5. Snickers Waco Wonder
Roster: Jason Sterner, Thomas Larsen, Parker Bohn III, BJ Moore, Walter Ray Williams Jr., Johnny Petraglia (manager)
Stats: Points rank: 10th | Total points: 10th | Top-5 finishes: 8th
The more grey on a player's head, the better for Johnny Petraglia's Wonder. This collection of savvy vets have seen it all.
If the PBA League was a video game and you could import early 2000s Walter Ray and Parker Bohn, Waco would rank significantly higher. Norm Duke proved at the Masters that turning back the clock is possible, but lightning would have to strike twice for Waco.
PBA League Presented By Pabst Blue Ribbon Schedule
Bayside Bowl – Portland, Maine
July 7 at 10 a.m. ET on PBA YouTube – Carter Division Qualifying
July 7 at 8 p.m. ET on FS1 – Carter Division Finals
July 10 at 1 p.m. ET on FS1 – Elias Cup Finals