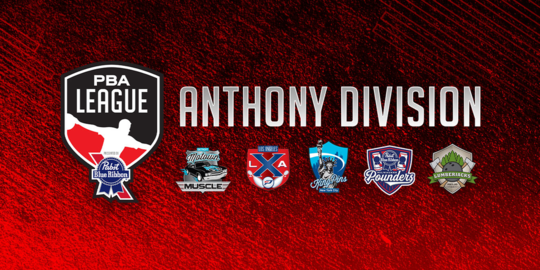 PBA League Power Rankings: Anthony Division
July 5, 2022
Nolan Hughes
The PBA League kicks off today at Bayside Bowl in Portland, Maine.
Nine of the top-13 players during the 2022 season, including Jason Belmonte, Anthony Simonsen and EJ Tackett, will be in action as the Anthony Division takes center stage. The Carter Division gets going Thursday, July 7.
You can stream the qualifying round on the PBA's YouTube channel at 10 a.m. ET. The stepladder finals will begin at 8 p.m on FS1.
Before the Anthony Division begins qualifying, I wanted to address one seemingly simple question: Which team should be the favorite?
It has to be the two-time defending champion Portland Lumberjacks, right? What about Belmonte's L.A. X or the Simonsen and Tackett-led Motown Muscle?
These power rankings are an attempt to answer those very questions.
The rankings reflect the average of each team's cumulative points rank, total points and top-five finishes during the 2022 season.
Cumulative points rank underscores the depth of each team, as one low ranking can drag a team's total down. Conversely, each team's total points can be bolstered by one player's dominant season.
Top-five finishes better reflect how well a player bowled throughout the duration of a tournament, as opposed to focusing on wins and championship round results. However, any ties were decided by each team's total number of wins.
Take a look at how the Anthony Division shakes out:
1. Motown Muscle
Roster: Anthony Simonsen, EJ Tackett, Brad Miller, Keven Williams, Mitch Hupé, Del Ballard (manager)
Stats: Points rank: 3rd (overall) | Total points: 1st | Top-5 finishes: 1st
With Tackett and Simonsen, arguably two of the world's three best players, Motown features the PBA's equivalent of the 2017-2019 Golden State Warriors.
The Muscle are the only team with three champions this season (Simonsen, Tackett, Williams), and one of just two teams with three PBA Playoff finalists (Simonsen, Tackett, Miller).
Leading the PBA League in total points and top-five finishes, it's not hard to see why Motown tops the power rankings.
2. L.A. X
Roster: Jason Belmonte, Jakob Butturff, Stu Williams, Chris Barnes, Martin Larsen, Andrew Cain (manager)
Stats: Points rank: 6th | Total points: 2nd | Top-5 finishes: 2nd
Any conversation about L.A. X starts with the one-two punch of Belmonte and Jakob Butturff. Belmonte's five titles this season are more than any team's total, breaking L.A.'s tie with Portland.
L.A.'s acquisition of Chris Barnes, a two-time Mark Roth MVP, not only unites the "Beef and Barnzy" tandem but brings needed depth to the team. As long as Martin Larsen can stay upright, this team should be a strong contender for the Elias Cup.
3. Portland Lumberjacks
Roster: Kris Prather, Kyle Troup, Patrick Hanrahan, Wes Malott, Arturo Quintero, Tim Mack (manager)
Stats: Points rank: 2nd | Total points: 4th | Top-5 finishes: 4th
Portland is the only team featuring four players that earned multiple top-five finishes this season. The lone player without a top-five finish is Malott, who was the Mark Roth PBA League MVP in 2019 and 2020.
So how on Earth do they rank third in their own division?
Outside of their top-five finishes, neither Prather nor Quintero racked up a top-10 finish during the regular season. Similarly, Troup's terrific postseason isn't reflected in his regular season points.
Regardless of these rankings, the two-time reigning champs will walk into Bayside Bowl as the team to beat.
4. PBR Milwaukee Pounders
Roster: Sean Rash, AJ Chapman, Dick Allen, Anthony Lavery-Spahr, Ryan Ciminelli, Marshall Holman (manager)
Stats: Points rank: 8th | Total points: 8th | Top-5 finishes: 6th
The Pounders kept Ryan Ciminelli and Dick Allen, who saves his best for the PBA League. AJ Chapman and Anthony Lavery-Spahy's fiery attitudes should thrive at Bayside Bowl.
If Rash can channel his inner Jimmy Butler, there may be no stopping this team of bulldogs.
5. NYC KingPins
Roster: Darren Tang, Marshall Kent, Michael Tang, Matt Sanders, Pete Weber, Carolyn Dorin-Ballard (manager)
Stats: Points rank: 9th | Total points: 9th | Top-5 finishes: 9th
Without Kyle Sherman, who had to withdraw with an injury, the KingPins don't have a player who qualified for the PBA Playoffs, nor a player with a singles title in 2022. Perhaps Roth/Holman doubles champion Marshall Kent can carry over his cohesion with Tackett to NYC.
What the KingPins lack on paper this season, they make up for with charisma. Chemistry matters in team bowling, and NYC has it.
PBA LEAGUE PRESENTED BY PABST BLUE RIBBON SCHEDULE
Bayside Bowl – Portland, Maine
July 6 at 10 a.m. ET on PBA YouTube – Anthony Division Qualifying
July 6 at 8 p.m. ET on FS1 – Anthony Division Finals
July 7 at 10 a.m. ET on PBA YouTube – Carter Division Qualifying
July 7 at 8 p.m. ET on FS1 – Carter Division Finals
July 10 at 1 p.m. ET on FS1 – Elias Cup Finals