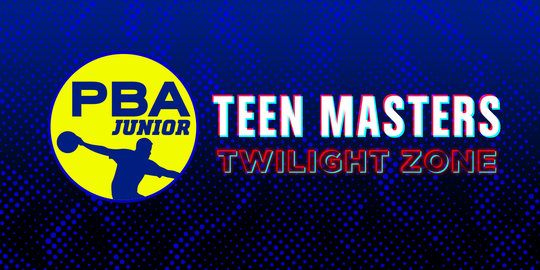 PBA Junior To Sponsor Teen Masters Twilight Zone
July 26, 2022
Professional Bowlers Association
PBA Junior partners with one of the nation's most prestigious youth bowling tournaments.
Richmond, VA - The Professional Bowlers Association (PBA) and PBA Junior announced today a partnership with Teen Masters, a national youth bowling tournament renowned for its signature low-volume oil patterns and one-ball limit.
The $5,000 PBA Jr. Teen Masters Twilight Zone will take place on Friday, Aug. 5 at Thunderbowl Lanes in Allen Park, Mich. The first squad will begin at 9 a.m. ET squad and will be free. The 10 a.m. squad will cost $20 per bowler.
"We are thrilled to partner with Teen Masters on this event," said Mike Sledz, director of membership for the PBA and PBA Jr. "Teen Masters has long been known as an event for elite youth bowlers, which aligns perfectly with our vision for PBA Jr."
The Twilight Zone event is only open to players who finish outside the match play cut in the Teen Masters tournament. It will utilize the PBA SKILL 3.02 bowling ball and a low-volume oil pattern, but will foster an "out of this world" scoring pace, said tournament director Gary Beck.
Registration for the 9 a.m. squad will occur onsite, while registration for the 10 a.m. squad is available here. Players who advance from the 9 a.m. squad but paid for a 10 a.m. spot will be issued a cash refund.
Learn more at TeenMasters2022.com.
About the PBA
The Professional Bowlers Association (PBA) is the world's preeminent organization dedicated to the sport of bowling and its professional competition, with thousands of members and millions of fans throughout the world. The PBA plays host to bowling's biggest tournaments from the PBA Tour, PBA Regional Tour, and PBA50 Tour. In 2020, the PBA launched PBA Jr., a club for elite youth bowlers under the age of 17 and the PBA Pinsiders, a membership for fans of the sport. For more information, please visit PBA.com.