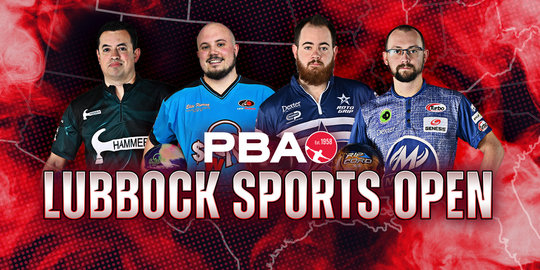 Lubbock Super Regional Preview: Tackett, Maldonado Headline Roster
July 22, 2022
Nolan Hughes
When EJ Tackett returns to South Plains Lanes in Lubbock, Texas this weekend, his first course of action will be to walk down lane 19 and dismantle the 9-pin with a sledgehammer.
Earlier this season, Tackett finished as the runner-up to Jason Belmonte at The Storm Cup: Lubbock Sports Open. He needed a double and nine pins to shut out Belmonte, but left an agonizing stone-9 instead.
Tackett, who won his first career PBA title in Lubbock many moons ago, will seek vengeance this weekend at the PBA Lubbock Sports Shootout Presented by South Plains Lanes and Storm 2022.
On Saturday, players will bowl eight games of qualifying before cutting to the top one-third of the field. A-squad will bowl at 10 a.m. ET and B-squad hits the lanes at 3:30 p.m. ET.
On Sunday, pinfall will carry over from qualifying as advancers bowl four more games at 8:30 a.m. in the cashers round. The top 12 players will advance to round robin match play at 1 p.m. ET.
After match play, total pinfall will determine all final standings. The champion will receive $10,000.
The first PBA Super Regional is going down this weekend in Lubbock!

Don't miss any of the Matchplay finals action, streaming live on the PBA YouTube for FREE!

Watch here: https://t.co/PCM97G8tp0 pic.twitter.com/tPJKE79mDe

— PBA Tour (@PBATour) July 22, 2022
While a national PBA title won't be at stake this year, Shawn Maldonado will look to follow up on his win in Lubbock last summer. Jakob Butturff, a 2016 and 2019 champion in the northwestern Texas city, will also be in action.
Additional PBA stars competing in Lubbock: Anthony Simonsen, Dom Barrett, François Lavoie and Jake Peters, who finished as runner-up to Maldonado last summer.
Alex George, fresh of his singles win at the USBC Open Championships, will look to parlay his success in one sweltering American city to another.
View the full PBA Lubbock Sports Shootout Presented by South Plains Lanes and Storm 2022 roster here.
More information on the tournament is available here.
Schedule
Saturday, July 23
10 a.m ET | 9 a.m. local time — A-squad qualifying, 8 games
3:30 p.m ET | 2:30 p.m. local time — B-squad qualifying, 8 games (cut to top 1/3)
Sunday, July 24
9:30 a.m. ET | 8:30 a.m. local time — Cashers round, 4 games (cut to top-12)
1 p.m. ET | 12 p.m. local time — Round robin match play, 12 games