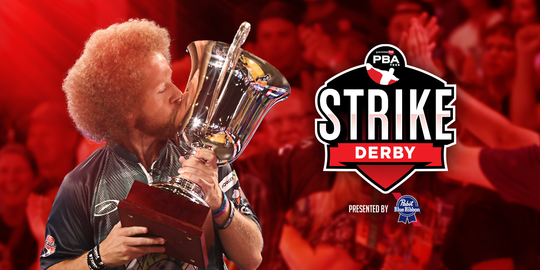 Kyle Troup Thrills Crowd to Win PBA Strike Derby
July 16, 2022
Nolan Hughes
Kyle Troup captured the PBA Strike Derby presented by Pabst Blue Ribbon crown and the $25,000 prize with a dazzling performance against Matt Ogle.
The greatest showman in bowling put on yet another magnificent performance in front of the exhilarated Portland, Maine crowd at Bayside Bowl. The Portland Lumberjack's twelfth and final strike sent the crowd into a euphoric frenzy. 
"These are the moments that we bowl for and live for," Troup said. "To throw a strike there at the end and just yell at the crowd, I've got goosebumps thinking about it."
The six players who threw the most strikes during the Anthony Division and Carter Division qualifying, respectively, advanced to the Strike Derby. Ogle led the Carter Division with 49 strikes, while Packy Hanrahan paced the Anthony Division with 45.
Troup escaped the opening round against fellow Lumberjack, Wes Malott, on a tiebreaker. He defeated Motown's Mitch Hupé in the second round, then another Lumberjack in Packy Hanrahan in the semifinal.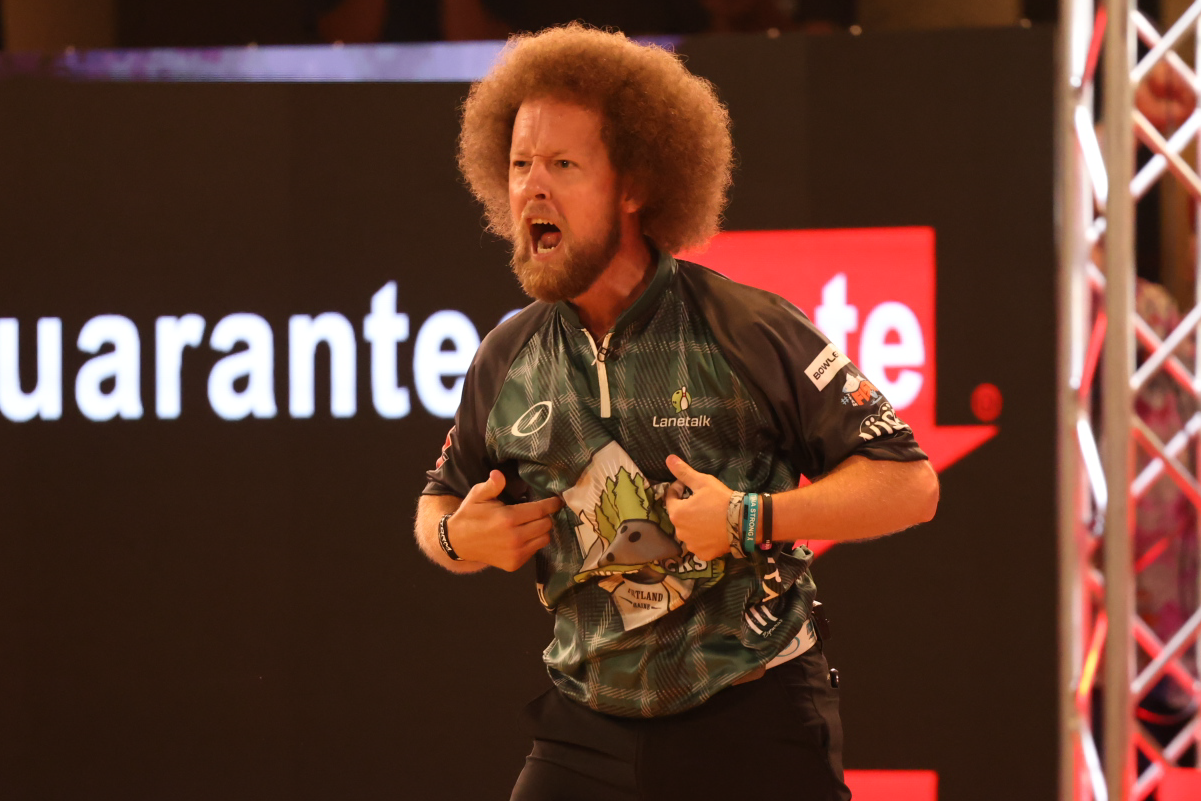 With this being Troup's third appearance in the Strike Derby, he said he's gained valuable experience that helped him win the matches. He rotated through an assortment of four balls per lane, while other competitors deployed more limited arsenals. Some of the players who use their thumb, including Matt Russo and Darren Tang, were limited to three balls.
A one-hander without such restrictions was defending champion Andrew Anderson, who made a valiant effort to reclaim his title. He defeated High Roller teammate François Lavoie in the first round and Dallas' Santtu Tahvanainen in the second round.
In the Carter Division Final, dreadful pin carry plagued his two-minute binge against Ogle. Anderson said there isn't time to watch pin action in this format, but could tell from the crowd's reactions that his hits weren't pretty.
He knew his eight-strike performance stood little chance, especially after Ogle delivered back-to-back messengers on his first two shots.
Ogle earned a first-round bye, then defeated Las Vegas' Russo before taking down Anderson to reach the finals.
In the championship round, top-seeded Ogle opted to bowl second. He faced a tall order after an early six-bagger propelled Troup to a dozen strikes, but his confidence never wavered.
"I knew he was gonna have at least 10, 11 strikes — 12 was a lot," Ogle said. "I knew I was gonna get more shots off than him. He takes a little bit more time on the approach. He slides; I plant. I can get off and go on the next one."
Ogle rallied to reach 11 strikes with 20 seconds to go, but a miss right and a pesky 10-pin stifled his furious comeback attempt. Though he tied Troup with a twelfth strike on his final shot, he couldn't match Troup's longest string and lost via tiebreaker.
Troup said the win served as redemption following his three-strike, second-round exit in 2021.
He paraded around with the trophy as the Portland crowd put an eponymous spin on Tag Team's iconic single "Whoomp! (There It Is)."
"I love this environment," Troup said. "I thrive off of it. As soon as I hear those fans cheer for the first time in Bayside, I've gotta do my job and that's to get the win for Portland."
PBA Strike Derby presented by Pabst Blue Ribbon Results
Round 1
Darren Tang def. Martin Larsen, 10-7
Kyle Troup def. Wes Malott, 9-9 (5-3)
Matt Russo def. Tommy Jones, 8-7
Andrew Anderson def. François Lavoie, 10-10 (6-5)
Round 2
Packy Hanrahan def. Darren Tang, 9-7
Kyle Troup def. Mitch Hupé, 8-6
Matt Ogle def. Matt Russo, 8-5
Andrew Anderson def. Santtu Tahvanainen, 9-5
Round 3 — Division Finals
Kyle Troup def. Packy Hanrahan, 9-5
Matt Ogle def. Andrew Anderson, 10-8
Round 4 — Championship
Kyle Troup def. Matt Ogle, 12-12 (6-5)
Final Standings
Kyle Troup, $25,000
Matt Ogle, $14,000
Andrew Anderson, $10,000
Packy Hanrahan, $10,000
Santtu Tahvanainen, $4,000
Mitch Hupé, $4,000
Matt Russo, $4,000
Darren Tang, $4,000
Martin Larsen, $3,000
François Lavoie, $3,000
Wes Malott, $3,000
Tommy Jones $3,000