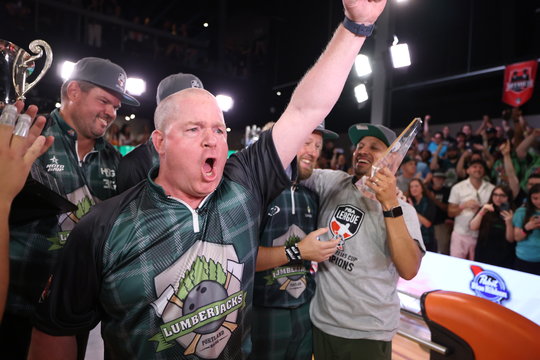 How the Lumberjacks Built a Dynasty
July 11, 2022
Nolan Hughes
The Lumberjacks had their backs against the wall. Down 2-0 to the Dallas Strikers, Portland's aspirations of winning a third straight Elias Cup appeared bleak.
"We've been here before. We've faced adversity," manager Tim Mack said. "I don't think we've faced adversity quite like this though."
Mack built this Lumberjack squad for these moments. Wes Malott was the first piece of the puzzle, joining the Lumberjacks in 2016. Malott is the King of Bowling and a Hall of Famer; he is "The Franchise."
He may not be the impervious force he once was, but he still has plenty of nasty in him. The guys alongside him today are even nastier.
Kyle Troup followed Malott to Portland one year later. While the Troup that Mack selected in 2017 rocked his signature afro and radiant style, he wasn't quite the all-world, major champion, Player-of-the-Year caliber Kyle Troup of today.
"If you look at his growth as a bowler from the last five years, it's been exponential," Mack said. "He's grown as a bowler and as a human over these last five years, and it shows in the growth of our team."
Since Troup's joined the team, Portland has been to four of five Elias Cup Finals; since Kris Prather joined in 2019, they have won it every year.
Coming off his breakout season, Prather was the top overall selection in the 2019 PBA League Draft. That year, Prather won his first two career PBA titles, including the PBA Playoffs at Bayside Bowl. He has since added three titles, two of which were majors, and has developed into one of the world's finest talents.
"The fact that we got there four of the last five years is a testament to the guys," Mack said. "We've got three of the best bowlers on the planet, three guys that know how to win and know how to get done here."
The Lumberjack's core four met over Zoom several times to prepare for this year's draft. Mack said having a lefty would be "vitally important," and they had their eye on one southpaw in particular: Packy Hanrahan, who helped the Lumberjacks win the 2020 Elias Cup.
Getting Hanrahan back was Portland's first order of business. After Hanrahan's own breakout season, where he finished 13th in the tour's points list and racked up five top-15 finishes at the World Series of Bowling, Mack knew the native New Englander wouldn't be available for long.
Mack had been in contact with Mark Baker, the manager of the Silver Lake Atom Splitters. Baker owned the third overall pick, but felt his top target would be available later in the draft. While on the clock, the two agreed to swap first and second round picks.
Ultimately, the trade backfired on Baker as L.A. X swiped Chris Barnes one pick later. Mack, on the other hand, got his man.
Entering the second round, the Lumberjacks had three names on their draft board: Mitch Hupé, Martin Larsen and Arturo Quintero. Hupé helped Portland win the Elias Cup in 2019, and Larsen did the same in 2020.
Three picks before Portland's 18th overall selection, all three players were available. A potentially tough decision never arose for Portland, as Motown scooped up Hupé and L.A. sniped Larsen with the next two picks.
Quintero, who rededicated himself to the PBA before the season, would be the newest addition to the Lumberjacks' storied franchise.
"I know Arturo a little bit better than most people," Mack said. "He's thrown some big shots in his life. He's been in the big moment. He knows how to throw it when he needs to."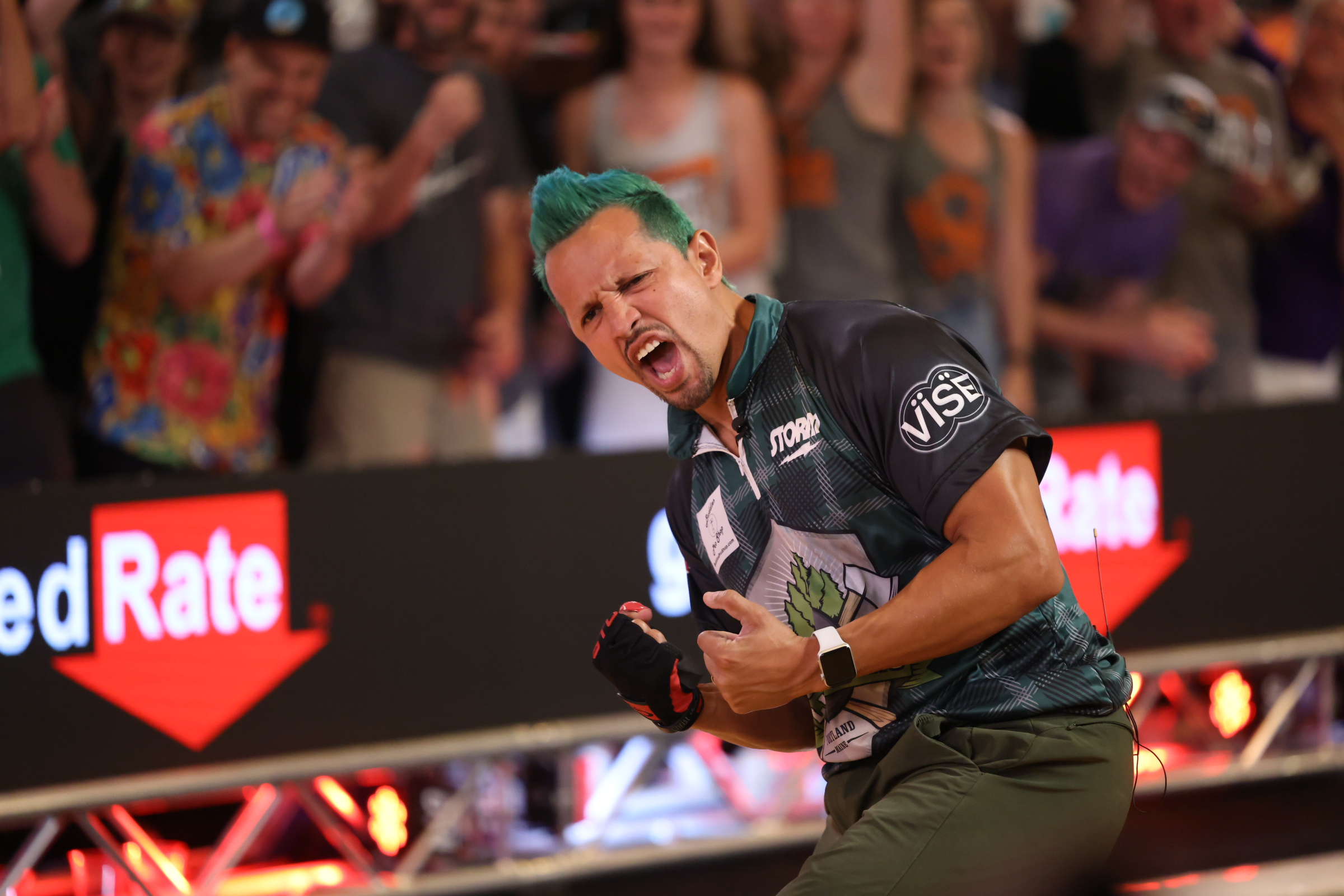 Winning has become the standard in Portland. The two-time reigning champs and hometown team walked into Bayside Bowl this year with a target on their backs.
"It's hard to come in here with no expectations of winning when it's kind of been our thing the last few years," Prather said.
Facing a 2-0 deficit, the Lumberjacks began to show vulnerability for the first time in three years.
"I felt the montra the team was a little down," Troup said of the team's mood after Game 2. "We took a little blow losing the first game to a Brooklyn (strike) and then losing the second game on what we felt like were some good shots."
"I told them, 'Hey, when we walk back over there, we need to walk in head up, chest out, like we're up 2-0. We're against the wall. This is all we got.'"
Troup thrives bearing the responsibility of bowling leadoff. He said it's his job to set the tone for his team and get the crowd going.
Through two games, Troup hadn't been able to do much of the latter. He couldn't strike early; starting with urethane was a poor gameplan, he said. While he figured the lanes out, Quintero and Hanrahan helped carry the striking burden.
After sparing twice in the opening game, Quintero struck on six of his next seven shots. "El Niño," as the Bayside Bowl crowd dubbed him, provided Portland bounds of energy, flexing his neon green faux hawk and mimicking Cristiano Ronaldo's "Siu" celebration.
Quintero said he was nervous during qualifying and the Anthony Division Finals. He wasn't confident in his physical game, so he practiced for two hours during each off-day to prepare for the Elias Cup Finals.
"This is what I want to be," Quintero said. "This is what I belong to, this is what I was working for all my life."
Hanrahan, with the crowd emphatically chanting "Packy! Packy!" during each of his shots, exhibited the left-handed prowess that Portland coveted. He struck on seven of his first nine shots, only leaving a 4-pin and 7-pin.
Uncharacteristically poor ninth and tenth frames from Dallas' Tommy Jones and Matt Ogle, respectively, helped the Lumberjacks win Game 3.
Quintero's strike in the seventh frame, where he spun around on the approach after falling down celebrating, sparked another Lumberjack rally in Game 4. Malott's 10-pin conversion in the tenth frame preserved Portland's plans for a three-peat.
"If we win one, then all of a sudden the pressure meter goes up," Mack said. "Win two and now it's anybody's game."
Troup's strike to start Game 5 amped the Portland faithful. His Lumberjack teammates followed suit. Quintero and Hanrahan struck, then Prather knew he had the fourth strike before the ball left his hand.
Riding an opening hambone, Malott spared another 10-pin to give Portland the lead through five frames.
Norm Duke, in what appeared to be his final shot of his PBA League career, kicked off the second half. The bowling gods reached down and ensured all 10 pins fell, even as Duke's shot went through the face.
"I love you, Norm. But not today," said Troup, after answering with a flush strike of his own.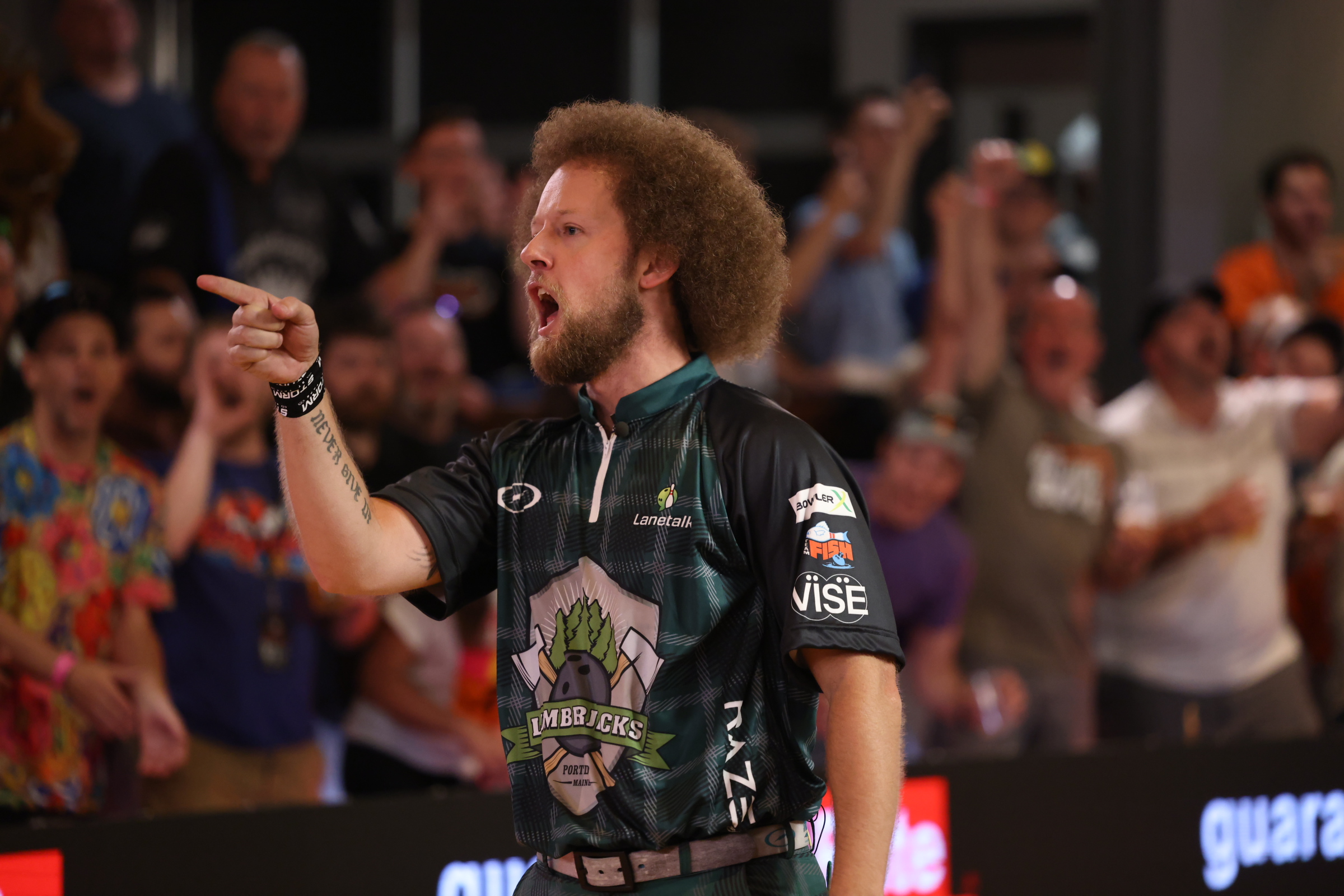 The Lumberjacks had all the momentum. With a lead, plus Quintero and Hanrahan due up, Portland could almost taste the title.
"You never count your chickens until they hatch," Troup said.
Quintero's shot in the seventh came in light, and left a swisher 4-10 split. After going for pin count instead of a potential spare, Dallas briefly seized the lead.
Santtu Tahvanainen, a rookie who flashed immense potential in his PBA League debut, left a 2-10 and handed the lead back to Portland.
"That is why we chose the right lane," Mack said. "When you have to get really far in on that left lane and throw it firm, it can fly through (the breakpoint) and that's what happened."
Looking to capitalize on Dallas' mistake, Hanrahan packed the pocket. A demoralizing 7-10 split remained. He felt flashbacks to the beginning of the match, where seemingly every break fell Dallas' way.
After open frames for Portland and Dallas, the Lumberjacks led 166-152 through the eighth frame. Jones struck in the ninth, shifting the onus back on Portland.
Prather zeroed in on making a quality shot. In pressure situations, he said he moves a little to the left as a precaution. His adjustment likely prevented a split, but not the 9-pin.
"As long as we have ball in hand, I'm good," said Mack, knowing the Lumberjacks could not be shut out with a spare conversion. "Then he missed it."
Portland had managed the onslaught of chaos well, but the whiffed single-pin took the wind out of their sails. If Ogle doubled in his tenth frame, the match was over. Dreams of a historic three-peat evaporated in an instant.
"It was an ultimate low for me," Prather said. "I felt like I just let everyone down, the whole city of Portland."
Ogle led qualifying by nearly 100 pins, then came up clutch to win Games 1 and 2. Now with a chance to win Game 5, Mack said he knew Ogle would make a good shot. And he did.
However, fortune was on Portland's side. The 7-pin outlasted Ogle's marksmanship, perhaps as karmic revenge for his Brooklyn game-winner.
Before Malott even had time to prepare himself for a double-or-nothing tenth frame, Ogle missed the spare.
After two and a half hours of their championship hopes flickering on and off like a hallway light in a horror film, the Lumberjacks, for all intents and purposes, had won the Elias Cup.
Not a soul inside Bayside Bowl could believe their eyes. Few could articulate the emotions of those chaotic final frames.
"If you only showed me the back half of the scoreboard I would have never thought we won," Hanrahan said.
The first player who seemed to comprehend the situation was Quintero, who leapt into Malott's burly arms after his first shot in the tenth. The first-time Elias Cup champion relished the moment decades in the making.
Dozens of other PBA stars stuck around to watch the match. Many stayed to witness the farewell of Duke; others stayed "because they want a taste of that," said Mack, describing the championship-winning scene.
"That is something that you can't bottle and give — you gotta go earn it. That's what makes it special to be able to do it."