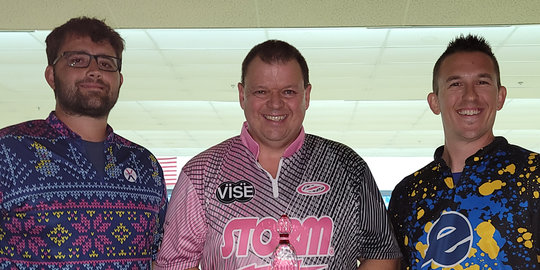 Glenn Smith leading at PBA50 Highland Park Lanes Open
July 1, 2022
Jill Winters
Greeley, Colorado – Glenn Smith is loving his time bowling in Colorado.
On Tuesday, the New York native won his second PBA50 regional title at the PBA50 Loveland Southwest Open. He followed that up by shooting a 300 game to start his seven-game qualifying block Friday at the PBA50 Highland Park Lanes Open.
"Coming off my regional win and throwing 300 in my next game in competition was quite a thrill," he said. "In that game, I had a lot of forgiveness. A couple of shots I pitched a little bit left and got a nice carry. I tripped 4-pins and carried some 10-pins, so forgiveness."
The right-hander averaged 238 for the day to claim the top spot on the leaderboard. He added scores of 205, 278, 256, 214, before grinding out a 206 and 207 for 1,666.
He used a 900 Global Zen Master with a little bit of surface on it from a few tournaments ago to roll the only perfect game on the day. He also used a Roto Grip Gem and ended his day with a Storm Phaze II. He thought the lanes played very consistent throughout the house and he was shocked he didn't have to change balls or his line. This is his third time bowling on the 45-feet Dick Weber oil pattern, which he has had previous success on, but he also recalls that after the lanes are reoiled, the look for some of the high rev rate players tends to be better than his look. So, he knows it comes down to making smart choices.
Smith retired in Feb. 2020, and he is focused on trying to make better ball choices and hand position choices while competing on the PBA50 full-time. He has gained a lot of knowledge from fellow New Yorker Brad Angelo while also getting help with his mental game from Amleto Monacelli.
"It's a process every single tour stop, and every single regional stop," he said. "I'm feeling confident and relaxed. I've just got to get the ball on the spot and let the ball do the work."
Smith was disappointed he missed out on getting a super senior check by one spot last week at the PBA50 Odessa Open. He knows that sometimes things don't roll your way, so then it's time to refocus for the next time you get that opportunity.
"This is one heck of a 180-degrees on that note," he said. "To come in and lead the squad today is a dream come true. I beat Chris Barnes and Brad Angelo in the regional Tuesday. You can't make this stuff up."
Tom Hess, Chris Barnes, Tom Adcock, and Brad Angelo round out the top five.
The 46-player field will bowl seven more games of qualifying Saturday beginning at noon ET, before all cashers move on to the advancers round on Sunday. All pins will carry forward. You can see it all on BowlTV.com.
Follow PBA50 Highland Park Lanes Open scoring at PBA50 Highland Park Lanes Open | PBA
Top 10 PBA50 Highland Park Lanes Open
Glenn Smith 1,666
Tom Hess 1,635
Chris Barnes 1,613
Tom Adcock 1,607
Brad Angelo 1,597
Michael Haugen Jr. 1,574
Bobby Robinson Jr. 1,522
Carlos Denot 1,517
Dennis Brown 1,517
Don Herrington and Parker Bohn III 1,510