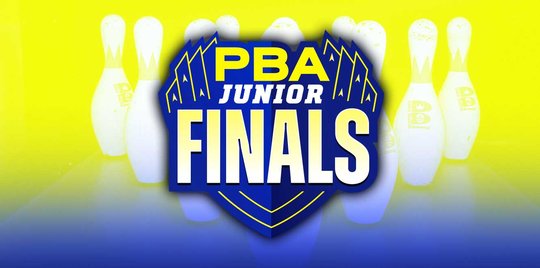 Jordan & Martin win PBA Junior National Championship
January 30, 2022
Jill Winters
Euless, Texas - With some of the best professional bowlers in the world watching, 15-year-old Landin Jordan and 17-year-old Jillian Martin shined as they won the 2022 PBA Junior National Finals in their divisions.
Martin, of Ohio, has been on this stage before, winning the girls championship last year while also becoming the youngest ever to win a PWBA national title at the 2021 PWBA BowlTV Classic.
She faced one of her closest friends, 15-year-old Kayla Starr. Starr worked her way up the stepladder averaging 245 over three games to get into the title match. Through five frames Starr held a 27-pin lead but then lost her look on the right lane.
Martin struck out in the 10th to force Starr to double and get one-pin for the win on the right lane. The Maryland resident left a pocket 7-10 to lose, 201-179.
"It feels amazing," Martin said, "especially going up there in the 10th frame knowing I needed all three to put the pressure on Kayla to get a double. Just to be able to go up there and do it is a big confidence boost."
The boys championship finals featured Jordan and fellow two-hander, 17-year-old Eric Jones. Jones won the 2020 PBA Oklahoma City Southwest Open to become the youngest ever to win a PBA regional.
They combined for 16 strikes in the match. After Jones missed the 2-4-7 in the 10th, Jordan stepped up needing a mark to win. The Illinois native aced yet another shot to win, 257-225. Both Jordan and Martin earned $16,000 SMART scholarship with their victories.
"It was a stunning moment," the two-handed righty said after the win. "Anything is possible. I can compete against some of the greatest bowlers, and I can perform under the bright lights with immense pressure."
With the win, Jordan got the chance to team up with one of his "top-5" favorite bowlers, EJ Tackett to face Jones and PBA Hall of Famer Tommy Jones in the PBA/PWBA Pro/Junior Doubles Competition. Martin partnered with PWBA legend Liz Johnson and Starr bowled with Danielle McEwan. In the five-frame girls match, Martin/Johnson defeated Starr/McEwan, 129-108, while Jordan/Tackett beat Jones/Jones, 108-107.
"I think it is really cool how they include the pros," Martin said. "It's great to have an opportunity to bowl with Liz, have some fun and go out there and strike a lot."
In the doubles championship full game, Team Jordan/Tackett opened in the first frame then were nearly perfect as they topped Martin/Johnson, 267-237.
"He is someone I've always looked up to, so it was cool bowling with him," Jordan said. Both Jordan and Martin also earned an additional $1,000 scholarship from H5G Brands for winning their doubles event.
After the event was over, Martin, who graduated high school in December, raced out of Bowlero Euless to catch her flight to Indianapolis to bowl in the U.S. Open Pre-Tournament Qualifier. She finished in 23rd place earning a spot in the tournament. After the U.S. Open, she plans to bowl some PWBA Tour events and PBA Junior Regional Tournaments when they fit into her busy schedule. This fall, she will attend and bowl for the University of Nebraska.
Next up for Jordan is an elite youth tour event and an Illinois scholarship tournament. "Knowing that I can do it helps my confidence an extreme amount," he said.
This tournament showed this sport is in great hands. Fourteen-time major PBA champion Jason Belmonte first saw Martin compete in a Storm Youth Championship when she was just 13. He has been impressed watching her game evolve and seeing this next generation compete on PBA oil patterns and on national television.
"Jillian coming through the ranks and having these opportunities, it's going to be really exciting to see where her career goes," he said. "It is no wonder why when you do look around the U.S. at the youth in this country how talented and how great these kids are already. It's because they have had so much access to high-quality competition and big event venues."
He predicts Martin will become the best female bowler in the world. And seeing a high number of two-handed youths competing definitely caught his attention.
"Many people know my story and about the difficult times through my career because I bowled a little bit different," he said. "Like 30 percent of the junior players in the U.S. bowl two-handed. Just to know that I had that kind of an impact is pretty awesome."
PBA JUNIOR NATIONAL CHAMPIONSHIP FINALS STANDINGS
Martin def. Starr 201-179
Jordan def. Jones 257-225
PBA/PWBA PRO/JUNIOR DOUBLES COMPETITION
Martin/Johnson def. Starr/McEwan 129-108
Jordan/Tackett def. Jones/Jones 108-107
Championship match - Jordan/Tackett def. Martin/Johnson 267-237