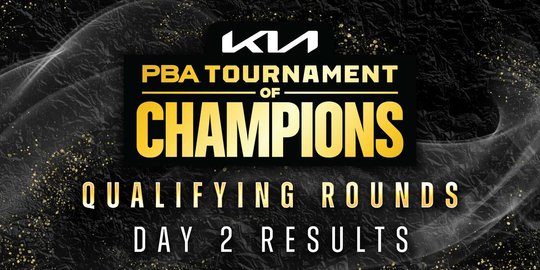 Shawn Maldonado leads after Round 2 of qualifying at 2022 KIA PBA Tournament of Champions
February 23, 2022
Emil Williams Jr.
Maldonado was the only player to reach the 1,400 mark for the second consecutive round
FAIRLAWN, Ohio — After two days and 12 qualifying games at AMF Riviera Lanes, Houston's Shawn Maldonado took the overall lead on Wednesday at the 2022 KIA Professional Bowlers Association Tournament of Champions, the third major of the season.
Maldonado, who began the day 51 pins behind Round 1 leader Dick Allen, tossed games of 221, 280, 209, 236, 258 and 214 for a six-game block of 1,418. His 12-game total sits at 2,844, an average of 237. Maldonado had a 1,426 block in Tuesday's opening round and is the only player to surpass the 1,400 mark both days.
Allen, of Lexington, South Carolina, now is second with 2,799. He is followed in the standings by Jakob Butturff of Tempe, Arizona, (2,785), Bill O'Neill of Langhorne, Pennsylvania, (2,767), and defending champion Francois Lavoie of Canada (2,717).
After 18 games of qualifying over three days, the top 24 players will advance to round robin match play, where an additional 24 games will help determine the five finalists who will compete for the $100,000 top prize on Sunday at 1 p.m. Eastern, live on FOX.
O'Neill and Butturff made major moves Wednesday on the Don Johnson 40 lane condition to enter the top five.
O'Neill used a six-game block of 1,515 to vault up the standings from 37th place. He posted games of 229, 268, 242, 259, 268 and 249.
Butturff moved up from 17th place behind games of 279, 224, 246, 253, 226 and 237 for a 1,465 six-game block.
Lavoie, who is looking to become the first player since Australia's Jason Belmonte in 2015 to successfully defend the PBA Tournament of Champions title, used a 1,394 block to land among the leaders. He began the day in 12th place.
After two days of competition, PBA Hall of Famer and 20-time PBA champion Tommy Jones of Simpsonville, South Carolina, is 24th with a 12-game total of 2,621.
All rounds of qualifying and match play leading up to Sunday's televised finals are being broadcast live on FloBowling.
The KIA PBA Tournament of Champions is the fifth event of the 2022 PBA Tour season, which began in late January with the PBA Players Championship.
Belmonte kicked off the year in memorable fashion with his record 14th major victory, while Anthony Simonsen captured the U.S. Open earlier this month to become the youngest player in history to win three majors titles.
Competition at the 2022 PBA Tournament of Champions will continue Thursday with the second of three qualifying rounds. The action will get underway at 5:30 p.m. ET, live on FloBowling.
Top 10 Through 12 Games
Shawn Maldonado, Houston, 2,844
Dick Allen, Lexington, S.C., 2,799
Jakob Butturff, Tempe, Ariz., 2,785
Bill O'Neill, Langhorne, Pa., 2,767
François Lavoie, Canada, 2,717
Dom Barrett, Great Bentley, England, 2,714
Kyle Sherman, O'Fallon, Mo., 2,702
Tom Hess, Granger, Iowa, 2,699
Osku Palermaa, Finland, 2,697
Jason Belmonte, Australia, 2,690
KIA PBA Tournament of Champions Schedule
AMF Riviera Lanes – Fairlawn, Ohio
All rounds streamed live on FloBowling
All times Eastern
Thursday, Feb. 24
Qualifying Round 3: Noon
Match Play Round 1: 5:30 p.m.-9 p.m.
Friday, Feb. 25
Match Play Round 2: Noon
Match Play Round 3: 5:30 p.m.
Saturday, Feb. 26
PBA Hall of Fame Inductions & 2021 Awards: 6 p.m.
Sunday, Feb. 27
Stepladder Finals on FOX (LIVE): 1 p.m.
About the PBA
The Professional Bowlers Association (PBA) is the world's preeminent organization dedicated to the sport of bowling and its professional competition, with thousands of members and millions of fans throughout the world. The PBA plays host to bowling's biggest tournaments from the PBA Tour, PBA Regional Tour, and PBA50 Tour. In 2020, the PBA launched PBA Jr., a club for elite youth bowlers under the age of 17 and the PBA Pinsiders, a membership for fans of the sport. For more information, please visit PBA.com.