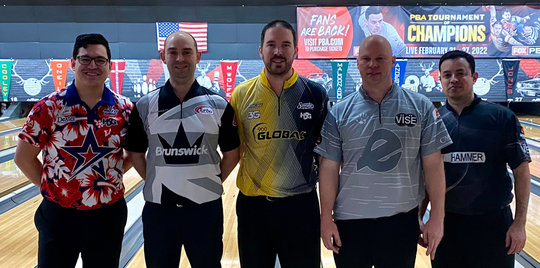 Kristopher Prather earns top seed at 2022 KIA PBA Tournament of Champions
February 25, 2022
Emil Williams Jr.
Prather can win the KIA PBA Tournament of Champions for the second time in three years
FAIRLAWN, Ohio — Kristopher Prather of Plainfield, Illinois, will bowl for his second KIA Professional Bowlers Association Tournament of Champions title and the $100,000 top prize on Sunday after capturing the top seed at AMF Riviera Lanes on Friday night.
The four-time PBA Tour champion moved into the lead following the second round of match play and proceeded to win six of eight matches in the final round to separate himself from the field and lock up the top seed for the televised finals, which will air live on FOX at 1 p.m. Eastern. In all, the 30-year-old right-hander averaged more than 233 and posted a 17-6-1 record in 24 head-to-head matches on the way to a 10,320 total, which included 30 bonus pins for each win in match play.
With a win on Sunday, Prather would join Earl Anthony, Jason Belmonte, Jason Couch, Dave Davis, Mike Durbin, Jim Godman, Marshall Holman, Pete Weber and Mark Williams and become the 10th player in PBA history to win the Tournament of Champions more than once. Durbin, Couch and Belmonte have each won the event three times.
"I love winning," said Prather, who also is a two-time PBA Elias Cup champion with the Portland Lumberjacks. "I don't really care that much about the money. Obviously, money makes the world go round, but for me, I love being able to call my dad and tell him, 'Pop, I got another trophy for you.' To add a second TOC to that trophy case would be a dream come true. For me, any trophy is awesome, but in a place that's historic like Riviera (Lanes) would be just icing on the cake."
In his first victory at historic AMF Riviera Lanes in 2020, Prather ran the ladder as the No. 4 seed and defeated Bill O'Neill of Langhorne, Pennsylvania, in the title match, 280-205, to win his first major title.
On Sunday, Prather will be the top seed in a TV final for the first time in his career. It's going to be a different way of going about business, but there's no place he'd rather be.
"It's going to be different," Prather said. "I've always been the third seed, the fourth seed, the fifth seed, and I've always had to run the ladder to bowl for the title. Normally when you're in the first match, you can dictate how they're going to play or at least break down in some shape or form. Now, I'll be dependent on what they do and how they play them, and that's the game plan I'm preparing myself for. I'll be watching them and trying to make an educated guess and game plan on the fly."
Prather will be joined on the show by No. 2 Dom Barrett of Great Bentley, England (10,103), No. 3 Sean Rash of Montgomery, Illinois (10,087), No. 4 Tommy Jones of Simpsonville, South Carolina (10,049), and Houston's Shawn Maldonado (10,046) in the No. 5 spot.
Jones and Maldonado will square off in the opening match, with the winner advancing to face Rash in Match 2 in the traditional stepladder format. Barrett will take on the winner of Match 2, with Prather awaiting his opponent in the final.
Barrett, who owns eight PBA Tour titles and two majors, has a chance to make some history of his own Sunday. If he claims the title, he'll become just the eighth player in PBA Tour history to win the Triple Crown, which consists of the original three majors. Barrett won the 2013 PBA World Championship and 2018 U.S. Open.
With one Tournament of Champions crown already on his résumé, Rash can enter the same company of multi-time TOC winners with a win. The 17-time PBA Tour champion owns two majors, the other being the 2007 United States Bowling Congress Masters. Rash's first TOC victory came in Las Vegas in 2012, and now the 39-year-old right-hander will have the chance to win inside the historic Ohio venue. He finished fifth at last season's event which was held in Jupiter, Florida.
Jones, a 20-time titlist, two-time major champion and PBA Hall of Famer, is seeking his second career TOC crown. He won the event in 2007 and is making his third TOC telecast overall. Jones' impressive run in majors continues in 2022 as he's guaranteed another top-five finish. He finished fifth at the PBA Players Championship presented by Snickers and just missed making the TV show at the U.S. Open, finishing sixth.
Maldonado will look to take the next step in his career Sunday by claiming his first career major. The 35-year-old two-hander, who attacks the lanes from the right side, broke out in 2021 by winning two titles – the PBA WSOB XII PBA Chameleon Championship and PBA Lubbock Sports Open.
The KIA PBA Tournament of Champions is the fifth event of the 2022 PBA Tour season, which began in late January with the PBA Players Championship.
Stepladder Finals
Match No. 1 - No. 4 Tommy Jones vs. No. 5 Shawn Maldonado
Match No. 2 - No. 3 Sean Rash vs. Match 1 winner
Semifinal - No. 2 Dom Barrett vs. Match 2 winner
Championship - No. 1 Kristopher Prather vs. Semifinal winner
KIA PBA Tournament of Champions Schedule
AMF Riviera Lanes – Fairlawn, Ohio
All times Eastern
Saturday, Feb. 26
PBA Hall of Fame Inductions and 2021 Awards: 6 p.m.
Sunday, Feb. 27
Stepladder Finals on FOX: 1 p.m.
About the PBA
The Professional Bowlers Association (PBA) is the world's preeminent organization dedicated to the sport of bowling and its professional competition, with thousands of members and millions of fans throughout the world. The PBA plays host to bowling's biggest tournaments from the PBA Tour, PBA Regional Tour, and PBA50 Tour. In 2020, the PBA launched PBA Jr., a club for elite youth bowlers under the age of 17 and the PBA Pinsiders, a membership for fans of the sport. For more information, please visit PBA.com.