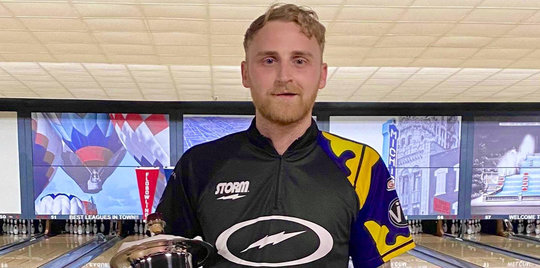 Jesper Svensson Wins THE STORM CUP: David Small's Best of the Best Championship
February 9, 2022
Jef Goodger
Leads throughout the entire tournament and claims his 11th PBA Tour title
Jackson, Mich.—Jesper Svensson won his 11th PBA Tour title by defeating Packy Hanrahan in the championship match of THE STORM CUP: David Small's Best of the Best Championship at JAX60. Svensson was the tournament leader after every round of competition, ultimately rolling 248 in the championship match to claim the title.
"I managed to play to my strengths and do what I like to do," said Svensson. "I was able to play my A game, was lined up, had a good process and threw a lot of good shots. I was comfortable."
Hanrahan, the third seed, advanced to the title match with wins over Dom Barrett and Nick Pate before falling to Svensson.
"After my opening spare, I was able to put the pressure on Packy," said Svensson. "I had the left lane hooking a little bit more and it seemed like we tried to attack it two different ways. This time, my way was more beneficial."
Svensson now owns 11 PBA Tour titles including the 2016 PBA Tournament of Champions, during which he set the record as the youngest player ever to win that event.
Final Standings
Jesper Svensson, earns $20,000
Packy Hanrahan, $12,000
Nick Pate, $7,000
Dom Barrett, $5,500
Match Scores
Match 1 – No. 3 Hanrahan def. No. 4 Barrett, 236-211
Match 2 – No. 3 Hanrahan def. No. 2 Pate, 241-201
Match 3 – No. 1 Svensson def. No. 3 Hanrahan, 248-216
About the PBA
The Professional Bowlers Association (PBA) is the world's preeminent organization dedicated to the sport of bowling and its professional competition, with thousands of members and millions of fans throughout the world. The PBA plays host to bowling's biggest tournaments from the PBA Tour, PBA Regional Tour, and PBA50 Tour. In 2020, the PBA launched PBA Jr., a club for elite youth bowlers under the age of 17 and the PBA Pinsiders, a membership for fans of the sport. For more information, please visit PBA.com.