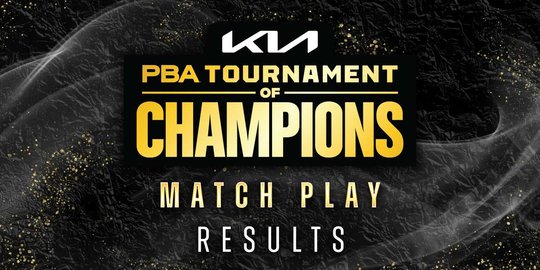 Dom Barrett Takes Lead in 2022 Kia PBA Tournament of Champions
February 24, 2022
Jef Goodger
Averages 229.19 over 26 games to lead the field going into the final 16 games of match play
FAIRLAWN, Ohio—Eight-time Guaranteed Rate PBA Tour champion Dom Barrett entered the first round of Kia PBA Tournament of Champions match play in ninth place, then posted a score of +312 over eight games of match play to take the top spot at +894 going into tomorrow's final 16 games at AMF Riviera Lanes. Over 26 total games bowled so far in the tournament, Barrett is averaging 229.19, nearly two full pins better than anyone else in the field.
Barrett fronts a closely bunched group at the top of the leaderboard, with second-place Kyle Sherman just six pins behind at +888. 2020 Tournament of Champions winner Kris Prather is third, a mere two pins behind Sherman. Three pins back of Prather is three-time Tournament of Champions winner Jason Belmonte, who has already won twice in four events this season. Sean Rash, the winner of the 2012 Tournament of Champions, is fifth, trailing Belmonte by only 24 pins.
Among Barrett's eight titles are two majors: the 2013 PBA World Championship and 2018 U.S. Open. If Barrett can win the Tournament of Champions, he'll become just the eighth player in PBA Tour history to win the Triple Crown, which consists of the original three majors.
Competition will continue Friday with the final two rounds of match play beginning at noon ET on FloBowling. Following match play, the top five players will advance to the stepladder finals airing Sunday at 1 p.m. ET on FOX Broadcast Channel.
Top 10 Through 26 Games
Dom Barrett +894
Kyle Sherman +888
Kris Prather +886
Jason Belmonte +883
Sean Rash +859
Shawn Maldonado +824
EJ Tackett +812
Tommy Jones +777
Carsten Hansen +762
Dick Allen +748
Kia PBA Tournament of Champions Schedule
AMF Riviera Lanes – Fairlawn, Ohio
All rounds streamed live on FloBowling
All times Eastern
Friday, Feb. 25
Match Play Round 2: Noon
Match Play Round 3: 5:30 p.m.
Saturday, Feb. 26
PBA Hall of Fame Inductions & 2021 Awards: 6 p.m.
Sunday, Feb. 27
Stepladder Finals on FOX (LIVE): 1 p.m.
About the PBA
The Professional Bowlers Association (PBA) is the world's preeminent organization dedicated to the sport of bowling and its professional competition, with thousands of members and millions of fans throughout the world. The PBA plays host to bowling's biggest tournaments from the PBA Tour, PBA Regional Tour, and PBA50 Tour. In 2020, the PBA launched PBA Jr., a club for elite youth bowlers under the age of 17 and the PBA Pinsiders, a membership for fans of the sport. For more information, please visit PBA.com.