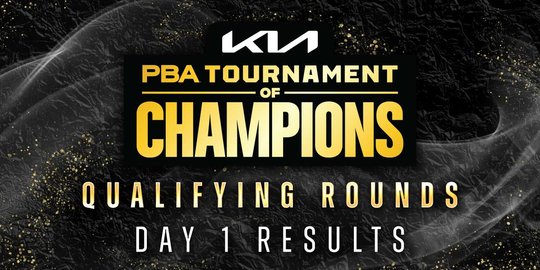 Dick Allen leads after first round of qualifying at 2022 KIA PBA Tournament of Champions
February 22, 2022
Emil Williams Jr.
The seven-time PBA Tour champion holds 51-pin lead after six games
FAIRLAWN, Ohio — Dick Allen of Lexington, South Carolina, fired a six-game block of 1,477 to take the opening-round lead at the 2022 KIA Professional Bowlers Association Tournament of Champions, the third major of the season.
Allen, who is looking for his first major title, opened qualifying at AMF Riviera Lanes with games of 236, 289 and 278 for an 803 series and followed with 222, 239 and 213 to average 246 on the PBA Don Johnson 40 lane condition.
Houston's Shawn Maldonado was second with a six-game total of 1,426 and was followed by EJ Tackett of Bluffton, Indiana, (1,392), Tommy Jones of Simpsonville, South Carolina, (1,385) and Australia's Jason Belmonte (1,383).
Canada's François Lavoie is the defending champion and sits in 12th place with a 1,343 six-game total, an average of 223.83.
After 18 games of qualifying over three days, the top 24 players will advance to match play, where an additional 24 games will help determine the five finalists who will compete for the $100,000 top prize on Sunday at 1 p.m. Eastern, live on FOX.
All rounds of qualifying and match play leading up to Sunday's televised finals are being broadcast live on FloBowling.
This year's event began with a pre-tournament qualifier, which was held on Monday to determine the eight additional players who would advance to the main field.
Zach Weidman of Indianapolis earned the top spot and was joined by Kyle Duster of Scottsdale, Arizona, AJ Chapman of Manchester, Iowa, Patrick Dombrowski of Parma, Ohio, Brandon Runk of Milton, Pennsylvania, Sean Lavery-Spahr of Pasadena, Texas, Nate Garcia of Port St. Lucie, Florida, and Matt Zweig of Tempe, Arizona.
The PTQ was contested on the PBA Harry Smith 41 oil pattern.
The KIA PBA Tournament of Champions is the fifth event of the 2022 PBA Tour season, which began in late January with the PBA Players Championship.
Belmonte kicked off the year in memorable fashion with his record 14th major victory, while Anthony Simonsen captured the U.S. Open earlier this month to become the youngest player in history to win three majors titles.
Competition at the 2022 PBA Tournament of Champions will continue Wednesday with the second of three qualifying rounds. The action will get underway at 5:30 p.m. EST, live on FloBowling.
Top 10 Through Six Games
Dick Allen, Lexington, S.C., 1,477
Shawn Maldonado, Houston, 1,426
EJ Tackett, Bluffton, Ind., 1,392
Tommy Jones, Simpsonville, S.C., 1,385
Jason Belmonte, Australia, 1,383
Kyle Sherman, O'Fallon, Mo., 1,374
BJ Moore, Greensburg, Pa., 1,368
Osku Palermaa, Finland, 1,358
Tom Hess, Granger, Iowa, 1,356
Kyle Troup, Taylorsville, N.C., 1,345
KIA PBA Tournament of Champions Schedule
AMF Riviera Lanes – Fairlawn, Ohio
All rounds streamed live on FloBowling
All times Eastern
Wednesday, Feb. 23
Qualifying Round 2: 5:30 p.m.
Thursday, Feb. 24
Qualifying Round 3: Noon
Match Play Round 1: 5:30 p.m.
Friday, Feb. 25
Match Play Round 2: Noon
Match Play Round 3: 5:30 p.m.
Saturday, Feb. 26
PBA Hall of Fame Inductions & 2021 Awards: 6 p.m.
Sunday, Feb. 27
Stepladder Finals on FOX (LIVE): 1 p.m.