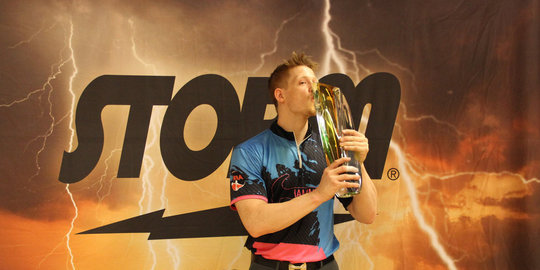 Storm Lucky Larsen Masters Added to 2023 PBA Tour Schedule
December 28, 2022
Nolan Hughes
The Storm Lucky Larsen Masters has been added to the 2023 Guaranteed Rate PBA Tour schedule. The tournament will take place Sept. 1-10, 2023 in Helsingborg, Sweden.
It will be the only international PBA Tour event of 2023 and will award an official PBA Tour title. The winner must be a PBA member to earn a PBA Tour title.
The tournament bears the name of PBA veteran Martin Larsen, a two-time recipient of the PBA's Steve Nagy Sportsmanship award.
"I, if anyone, knows how hard it is to travel to the USA and try to beat the best bowlers in the world," Larsen said. "I love to give the European bowlers a better chance to compete against the best now that we have a tour stop in Europe!"
Next season will mark the return of the Storm Lucky Larsen Masters as a PBA Tour title event for the first time in four years.
"Thanks to a great collaboration between Olympia Bowling, Storm Lucky Larsen Masters and the city of Helsingborg, we're now very much looking forward to welcoming the PBA and the best bowlers in the world to the Swedish Riviera," said Henrik Gidlund, unit manager Helsingborg convention and event bureau.
Carsten Hansen of Denmark (pictured above) claimed his first career PBA Tour title over Chris Via in 2019, the last year the tournament awarded a PBA Tour title.
The 323-player field included 25 full-time PBA Tour players and 15 part-time international PBA Tour players, PBA Commissioner Tom Clark said.
"The Lucky Larsen is one of the top international professional events of the year, and we are happy to include it once again as an official stop on the PBA Tour," Clark said. "Sweden's level of bowling is very strong, and its fan base is growing, so our players will enjoy the experience and opportunity this event provides."
Former PBA Tour champions of the Storm Lucky Larsen Masters include Kyle Troup in 2018 and Jason Belmonte in 2017.
Storm will return as the presenting sponsor of the Storm Lucky Larsen Masters, said Tyler Jensen, the chief international business development officer at Storm Products, Inc.
More tournament details, including livestreaming, will be determined at a later date.