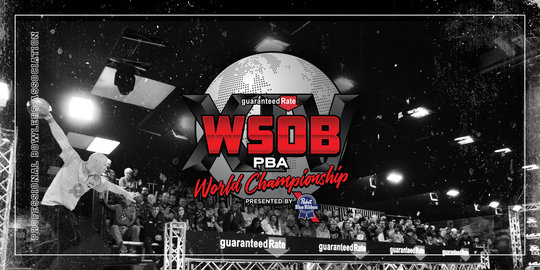 Stage Set for Extraordinary PBA World Championship in 2023
December 29, 2022
Nolan Hughes
Tommy Jones and François Lavoie's pursuit of the Triple Crown headlines the 2023 PBA World Championship.
From Tom Smallwood's Hollywood-worthy conquest at the inaugural World Series of Bowling, to Kris Prather's $100,000 strike in 2022, the PBA World Championship has never lacked the extraordinary.
Dom Barrett's victorious howl in 2013 — when he still needed eight pins on the fill — still echoes to this day.
In 2015, top-seeded EJ Tackett fell to Gary Faulkner Jr., who became the second African American to win a PBA Tour title. Tackett bounced back, returning as the top seed in 2016 to claim his first career major before leaping into his father's arms.
Winning the World Championship requires perseverance on par with any tournament on tour. Two weeks separate the first shot of qualifying from the championship round this April.
No player has mastered this marathon quite like Jason Belmonte. In the WSOB era, he's won three of the 13 World Championships — a three peat from 2017-2020 (no tournament was held in 2018) — while no other player has won more than one.
Belmonte said his versatility and grit have been key to his success at the World Series, and that he enjoys the challenge of playing every board across multiple oil patterns.
"If you feel locked in, there's no guarantee you'll feel locked in on the next pattern," he said. "If you feel a little lost on Day 1, there's no reason why you can't find something on the other days to make a comeback."
Tommy Jones said the tenacity required to emerge with the trophy makes it one of the hardest events to win.
Jones and fellow tour veteran François Lavoie have their eyes on PBA history as the World Series of Bowling enters its 14th iteration in 2023, returning to Bowlero Wauwatosa for the second consecutive year. 
The one-handed righties seek to join the exclusive list of Triple Crown winners with a World Championship win.
After winning the U.S. Open in 2006 and the Tournament of Champions in 2007, Jones has been perched on the cusp of bowling royalty for nearly 15 years. He said the World Championship has been his Achilles heel.
Jones has made multiple championship rounds at the Tournament of Champions, USBC Masters and U.S. Open, but didn't make his first World Championship show until last season. As the No. 2 seed, he fell to Jason Sterner in the semifinal after a pair of open frames derailed his strong start.
The Hall of Famer admitted a pursuit of the Triple Crown weighed on his mind during the match.
"Going into that show, I probably put a little bit too much pressure on the whole thing, especially with Dom (Barrett) completing it the week before," Jones said.
Jones's hunger to win a third career major was evident in his 2022 campaign, in which he made three major shows and finished just shy of a fourth at the U.S. Open. The World Championship, of course, sits atop his list of goals entering 2023.
"To complete the Triple Crown and put my name next to those guys in the record books, it would mean a lot to me," Jones said. "For me, it's the pinnacle."
Lavoie's U.S. Open title in 2019 cemented his status as an all-time player.
After firing 300 en route to his first U.S. Open title in 2016, Lavoie added a second green jacket in 2019. His Tournament of Champions win in 2021 — defeating four future Hall of Famers as the No. 5 seed — placed him on the precipice of the Triple Crown.
Lavoie's finesse style is an outlier in today's game; instead of deploying an explosive rev rate, he outwits opponents with nuanced gameplans and an emphasis on execution.
For a player whose goal was once to win a single PBA Tour title, a Triple Crown is almost unfathomable.
"It would be more than I ever thought I would achieve in this sport," Lavoie said.
Chris Barnes completed the Triple Crown at the 2011 World Championship. Last season, Barrett's predominance at the Tournament of Champions made him the eighth overall and second international member of the elusive club.
"Dom and I were rooming together that week," Lavoie said. "At the start of the week, he goes, 'Frankie, let me win the TOC. I'll let you have the World Championship.' And sure enough that same week, he ended up winning the TOC.
"I hope that things go my way this time."
---
The PBA World Series of Bowling XIV returns to Bowlero Wauwatosa in April. Tickets are now available for all WSOB championship rounds.
Subscribe to BowlTV to catch every shot of qualifying. Subscribe before Jan. 1, 2023 to take advantage of a discounted price.