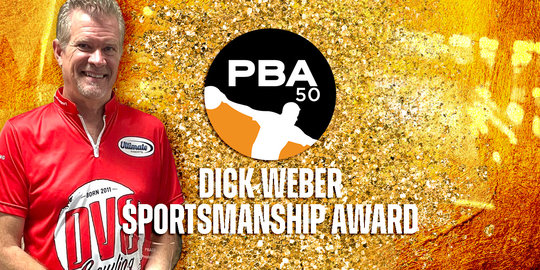 Jeff Johnson Named 2022 PBA50 Dick Weber Sportsmanship Award Winner
December 8, 2022
Jef Goodger
Voted most sportsmanlike by his fellow PBA50 Tour competitors
PBA50 Tour competitors voted Jeff Johnson of Freeport, Ill. to receive the 2022 PBA50 Dick Weber Sportsmanship Award, given to the player who best exemplifies the class and sportsmanship for which Weber was known. Johnson has been a finalist for the award in the past and this is his first time receiving the honor.
"It's very surprising," said Johnson. "Knowing it's a player vote, it was far from my mind I was going to get the award. It means a lot because Dick Weber was the regional director in the Midwest when I started bowling regionals in the mid eighties. His family and my family were and still are friends, and Dick Weber is an icon of the sport so it's definitely an honor to win an award with his name on it."
Voting was open to PBA50 players who participated in at least half the 2022 PBA50 Tour events. After the eligible players nominated deserving candidates, the five finalists with the most nominations were put up for a vote. Johnson was the overwhelming winner, receiving nearly as many votes as the other four finalists—Mark Sullivan, Donald Hogue, Ted Staikoff and Parker Bohn III—combined.
"There's not anything special I'm trying to do to earn an award," said Johnson. "I'm just being Jeff. I'm glad other people apparently view that as something special."
Johnson competed in 13 events on the 2022 PBA50 Tour, cashing in eight of them with a best finish of 12th in the PBA50 David Small's Championship Lanes Open. While on Tour, Johnson also serves as a ball rep for the brands of Brunswick.
"In my position as a ball rep, I'm in the pits with the bowlers all the time, but we also all travel together," said Johnson. "We spend so much time on the road with everybody, being sportsmanlike is especially important. I enjoy being out there, traveling and competing, helping anyone who needs it. If I have a choice between being the good guy and the bad guy, I'd rather be the good guy."
Dick Weber was a founding member of the Professional Bowlers Association and won 30 PBA titles in his career, including four majors. Weber is considered by many to be the greatest ambassador bowling has ever seen and his name is appropriately attached to the PBA50's sportsmanship award, first given out in 2008.
Previous PBA50 Dick Weber Sportsmanship Award Winners
2021 – Mark Sullivan
2020 – no winner (season canceled)
2019 – Sammy Ventura
2018 – Chris Keane
2017 – Ted Staikoff
2016 – Kerry Fulford
2015 – Tom Carter
2014 – Chris Keane
2013 – Robert Harvey
2012 – Dave Soutar
2011 – Ray Randall
2010 – Robert Harvey
2009 – Larry Graybeal
2008 – Fred Baldwin
About the PBA
The Professional Bowlers Association (PBA) is the world's preeminent organization dedicated to the sport of bowling and its professional competition, with thousands of members and millions of fans throughout the world. The PBA plays host to bowling's biggest tournaments, including the PBA Tour, PBA Regional Tour and PBA50 Tour. The PBA has launched a certification program titled, The PBA League Bowler Certification program. This program provides league bowlers access to statistics, digital awards, rules and regulations, and new tournaments, including The PBA LBC National Championships. Other PBA membership programs include PBA Pinsiders, a membership program for the sport's most enthusiastic fans and PBA Jr., a club for elite youth bowlers under the age of 17 that has grown exponentially in the past two years. For more information, please visit PBA.com.