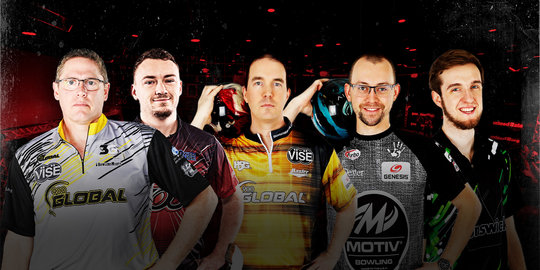 2023 PBA Classic Series Preview
December 13, 2022
Nolan Hughes
From a first-time PBA National Tour host city, to an iconic venue of PBA lore, to the place where dozens of teens matured into professionals, the 2023 Guaranteed Rate PBA Tour schedule is filled with memorable destinations.
While majors are the focus of the 2023 season, the five-tournament Classic Series represents a crucial portion of the schedule. Four Classic Series tournaments fall in between the season-opening U.S. Open and March's Tournament of Champions. The final Classic Series event, a return to Kokomo, Ind., takes place immediately after the Tournament of Champions.
The top eight point earners across the five Classic Series events will earn the chance to compete in July's PBA Skill Ball Challenge. Each of the Classic Series tournaments will be livestreamed in entirety on BowlTV.
These tournaments will be pivotal for players looking to capitalize on an offseason's worth of growth and stay sharp for the remaining four majors. A mix of short, medium and long oil patterns, including dual pattern formats in Jackson and Kokomo, will test players' versatility.
For many players, the locations of the five Classic Series events bear personal significance, whether they are excited about a place filled with precious memories, returning to their old stomping grounds or even welcoming the tour to their home center.
PBA Springfield Classic
Enterprise Park Lanes | Springfield, Mo.
For the first time, the PBA National Tour is heading to Springfield — and no player is happier than Springfield's own Keven Williams.
"I always say I'm the King of Enterprise," said Williams, who has lived in Springfield since the second grade. "I know the center like the back of my hand."
He has spent several years working with Steve Weimer, the proprietor of Enterprise Park Lanes, to bring the PBA to their hometown. Their efforts will pay off in 2023.
Williams said Springfield isn't well known nationally beyond being home to the inaugural Bass Pro Shops. But come February 2023, the town will become the capital of the bowling world for a few days.
"It's going to be cool to have the local bowling community be able to see the actual best of the best in the world," Williams said. "We get a handful of tour guys at the event that I run, but this is full fledged tour season. Everybody's out there."
Packy Hanrahan said that while he has bowled at Enterprise Park Lanes in the past, including a win at Williams's event with Anthony Lavery-Spahr in October, the conditions are incomparable to a PBA Tour event.
The Springfield Classic will exhibit 18 games of qualifying over three rounds before a cut to the top 22 players. After a fourth six-game qualifying round, the top 12 players will advance to round robin match play. The top four players following match play will advance to the stepladder finals.
PBA Shawnee Classic
Firelake Bowling Center | Shawnee, Okla.
The Shawnee Classic could be renamed Seanee, as Sean Rash has won there three times in his career, including the PBA's last two trips to the Oklahoma town. His first win came at the 2014 Wolf Open, where he shot 300 in the opening match and climbed the ladder for his eighth career title.
He said his Roth/Holman Doubles Championship with Matt Ogle in 2019 is one of the most memorable of his career.
"To watch Matt's dreams come true and celebrate with his family, it's something I'll never forget, especially when we were the underdogs and ran the ladder again."
Two more players looking to capitalize on past success in Shawnee are EJ Tackett and Hanrahan. Tackett has made four career shows in Shawnee and claimed his second career major at the 2017 Tournament of Champions, while Hanrahan made his first career show at the 2020 PBA Oklahoma Open in Shawnee.
A pair of eight-game qualifying blocks, featuring A- and B-squads, will begin the Shawnee Classic. The top 12 players after those 16 games will advance to round-robin match play, where four stepladder finalists will emerge.
PBA Wichita Classic
Northrock Lanes | Wichita, Kan.
Northrock Lanes has a rich history as a PBA host center, perhaps most notably when Norm Duke won the 2008-09 World Championship and became the first player to win three consecutive majors.
In fact, bowling just might be the biggest sport in town. Dozens of former Wichita State University players have progressed to the professional ranks.
Many Shockers tend to stick around town after graduation — Rash and Barnes stayed for about a decade each — but Hanrahan said he and François Lavoie are the lone National Tour players currently with a Wichita ZIP code.
"For the past five or six years, I've bowled either league or practice there weekly," Hanrahan said. "I've probably bowled there over a thousand times over the past five years."
His understanding of the center and each lane's unique traits will certainly benefit the lanky lefty, but said that won't be his greatest advantage.
"We don't bowl many tournaments there and (the PBA Tour stop) won't be on a house shot, so it's probably a little less of an advantage than you would think," he said. "I know a bunch of my friends are gonna be there watching and cheering me on. It's just comfortability. I get to sleep in my own bed. It's a very familiar setting."
Familiarity will be an asset shared by Barnes and Rash, two Shocker legends, as well. The two shared a common theme when describing their old college town: home.
"It's always great going back home," said Barnes, who also grew up in Kansas. "I still probably know more people there than even in Dallas (including his son, Ryan, who currently bowls at Wichita State). It's all circling back around again."
The Wichita Classic will feature the same format as Springfield with 24 games of qualifying, 12 games of round-robin match play and a four-player stepladder finals.
PBA Jackson Classic
JAX60 | Jackson, Mich.
Andrew Anderson said JAX60 is a bowling center that everybody in Michigan grows up bowling in. The native of Holly, Mich., which is located about 90 minutes northeast of Jackson, said he's been bowling there since he was about eight years old.
"Everybody knows how much I take pride in being from Michigan," Anderson said. "Bowlers have come before me and I'm just trying to keep that trend going. (Winning in Jackson) would be a good step."
Chris Barnes and Hanrahan found success in Jackson last season — Barnes won on the PBA50 Tour while Hanrahan earned a career-best second place finish at the PBA Tour stop — but that is not the main reason either one is excited to return to Jackson.
"David Small has been a fantastic host for both of the tours," Barnes said. "The renovations that happened in Jackson from the time the regular tour was there to the PBA50 was pretty amazing."
"On top of that, it's literally one of the most accommodating places I know," Hanrahan said. "Going back there with such a good host, everybody is going to look forward to that whether they bowled well or not."
The Jackson Classic will comprise 18 games of qualifying over three rounds before a cut to the top 24 players. A fourth six-game qualifying round will determine the top 12 players and a final six-game qualifying round will decide the four stepladder finalists.
PBA Kokomo Classic
Heritage Lanes in Kokomo, Ind.
Nick Pate nearly captured his first career title in Kokomo last season. Pate said his strike in the seventh frame of the title match, which briefly gave him the lead over Jason Belmonte, sticks with him to this day.
"I was so close," Pate said. "I could almost taste it. It just shows how focused you have to be for every frame. As high as your emotions go, you've got to bring it back until all 12 shots are thrown."
Tackett, who Pate defeated in the semifinals, sought a career milestone in Kokomo. The 30-year-old owns 16 career PBA titles; he's won all across the country and around the world. But one setting has eluded his dominance: He has yet to win a PBA Tour title in his home state.
He said he has three career second-place finishes and one third-place finish in the Hoosier State — half of which came in 2022. The season-opening U.S. Open in Indianapolis is, of course, at the forefront of his mind, but Tackett relishes the opportunity to win at Heritage Lanes as well.
"I'm itching to finally get a national tour win in Indiana," Tackett said.
The Kokomo Classic features the same format as the Jackson Classic: 30 games of qualifying, with cuts to the top 24 and top 12, and a four-player stepladder finals.
---
All rounds of the Classic Series tournaments will be livestreamed on BowlTV. Subscribe here before Jan. 1, 2023 to take advantage of a discounted price.
The 2023 Guaranteed Rate PBA Tour season begins on Jan. 29, 2023 with the U.S. Open.