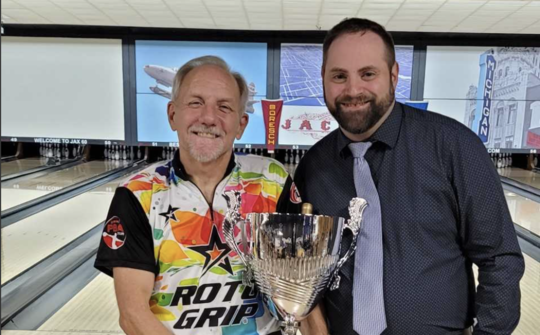 Walt Blackston is day one leader at PBA60 Dick Weber Classic
August 16, 2022
Jill Winters
Jackson, Michigan – During warm-ups at the 2022 PBA60 Dick Weber Classic inside Jax 60 on Tuesday, Walt Blackston couldn't strike. He was worried it was going to be a long day. But then he threw his Motiv Jackal Ghost, watched it go down the lane and immediately had a whole new outlook.
"Once I picked up the Jackal Ghost it was like euphoria," he said. "Everything just opened up. I said, 'Oh, this is great. Trouble for them today."
The California native shot 279, 241, 215, 226, 265, 231 and 201 for 1,658, averaging 236.86 to lead the way. His Jackal Ghost "just blended it out and I could miss to the left and to the right." Toward the end of his block, he switched to a Venom Shock. He had great carry all day and picked up the majority of his spares.
"I crossed with Walter Ray (Williams Jr.) in the last tournament, and he couldn't miss," Blackston said, "so I kept telling myself I am going to channel my inner Walter Ray since my name is Walt."
He is loving being able to compete alongside such legendary players as Williams Jr.
"To see them in person and the way they can roll the ball, their attitudes and the way they approach the game, you learn a lot," he said. "That is the biggest thing for me. I am going to stay hungry and not be satisfied."
Blackston holds a 74-pin advantage over Randy Peterson. Tom Adcock is in third place followed by Jerry Sikora and Michael Lucente, who is in fifth place. Amleto Monacelli rolled a 300 in game five.
The 111-player field will bowl seven more games of qualifying starting at 9 a.m. ET on Wednesday. After that the top 37 will move on to the advancers round. They will bowl five games starting at 4 p.m. Wednesday. The top 24 will advance to bracket match play with all pins being dropped heading into Thursday. Watch the action exclusively on BowlTV.com.
Follow PBA60 Dick Weber Classic scoring at PBA60 Dick Weber Classic | PBA
Top 10 PBA60 Dick Weber Classic
Walt Blackston 1,658
Randy Peterson 1,584
Tom Adcock 1,582
Jerry Sikora 1,577
Michael Lucente 1,572
Pete Kaczmarczyk 1,554
Charlie Tapp 1,527
Lennie Boresch Jr. 1,525
John Dudak 1,521
Rick Francis 1,519