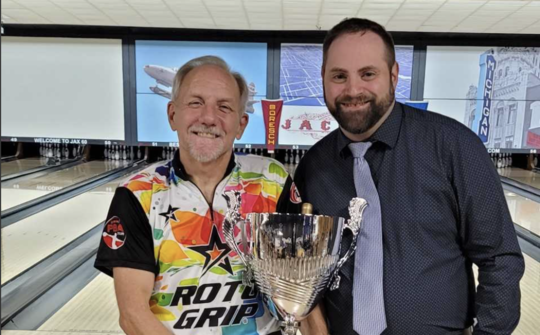 Ron Mohr wins back-to-back titles at PBA60 Dick Weber Classic
August 18, 2022
Jill Winters
Jackson, Michigan – John Kirker Jr. might be a bit superstitious because he was trying to find a way to get even with Ron Mohr after losing in the title match to him last year at PBA60 Dick Weber Classic.
"He said last year, I was the No. 1 seed and I made him finish first, so he wanted to reverse it to see if it would reverse the fortune," Mohr said about Kirker Jr.'s strategy to let Mohr start first. "Obviously the right lane was much more playable than the left lane, so it didn't break my heart that he had me start."
Unfortunately for Kirker Jr. the result was almost identical to last year. In 2021, Mohr won 207-162; on Thursday, Mohr won 211-171.
Mohr started with a spare and Kirker Jr. hooked at a 7-pin and missed it. Both players each doubled and then Kirker Jr. missed a 6-pin followed by a 2-8-10 split, finding himself in a 42-pin hole.
"I could see it was mine for the taking," Mohr said of the early openings from his opponent. "The whole day that pair hooked earlier than anything I had seen. But after the advancers round I had the best look in the building. The only person that could beat me in this building was me, so that was my mindset."
Mohr stayed clean using his Storm IQ Tour until his final shot to become the first two-time winner at the PBA60 Dick Weber Classic. The win also was the 40th in Mohr's professional career, since he began bowling in 2008.
"Anytime you can have anything associated with Dick Weber is both humbling and flattering," the 66-year-old said. "I knew I was going to bowl three stops so to win one already, my arm swing is going to be pretty loose for the next one."
Mohr was emotional after his win last year but this time around the feeling was different.
"It was more overwhelming because it was so unexpected since I have only bowled a couple of tournaments," he said. "As long as I feel like I can win you will see me out here."
In the opening match, Boresch Jr. defeated Tom Carter 242-164. In match two, Boresch Jr. jumped out to a 38-pin lead striking on his first four shots using a different ball on each lane, while Warren Eales aimed to get comfortable on the TV pair. Boresch Jr. continued to control the right lane and had to mark in the 10th frame for the win. He struck on his first shot and won 223-205.
In the third match, Mohr put together a key four-bagger from the fifth through the eighth frames while Boresch Jr. had back-to-back splits resulting in open frames in the sixth and seventh. Mohr went on to win the match 223-180.
View the full PBA60 Dick Weber Classic results at PBA60 Dick Weber Classic | PBA
2022 PBA60 DICK WEBER CLASSIC FINAL STANDINGS:
1. Ron Mohr $7,500
2. John Kirker Jr.$4,500
3. Lennie Boresch Jr. $3,000
4. Warren Eales $2,500
5. Tom Carter $2,000
MATCH SCORES
Match 1 – Boresch Jr. def. Carter 242-164
Match 2 – Boresch Jr. def. Eales 223-205
Match 3 – Mohr def. Boresch Jr. 223-180
Championship match – Mohr def. Kirker Jr. 211-171