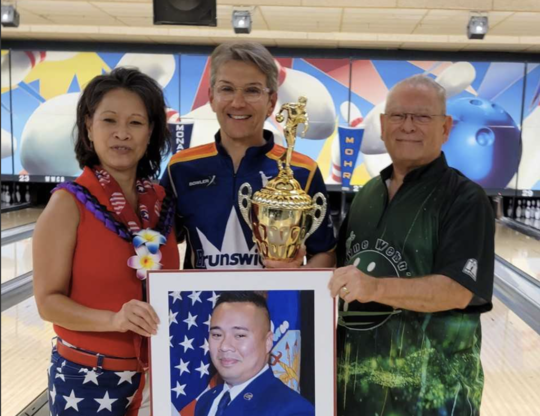 Monacelli never gives up, wins PBA60 Tristan's T.A.P.S. Memorial
August 22, 2022
Jill Winters
Columbus, Ohio – After some long and crazy days that included multiple power outages at the 2022 PBA60 Tristan's T.A.P.S. Memorial, it was really no surprise that the stepladder finals was a wild ride.
And on top of that it makes sense that a bowler who many believe is the most focused and mentally strong on the lanes would end up holding the trophy.
USBC and PBA Hall of Famer Amleto Monacelli dominated early in match play on Monday shooting 804 and then an 802 series using his Hammer 3-D Offset to earn the top seed in the stepladder finals.
However, during his practice shots before the championship match, that ball was hooking too early with little reaction on the backend, so he decided to use a different Track Stealth on each lane in his match against Canadian John Chapman, who was looking to win his first title.
"The first frame, I don't know where that shot even came from," Monacelli said about leaving the 1-2-4. "I was so shocked. But with my experience as bad as it can be sometimes, just tried to let go as soon as you can and fix what needs to be fixed."
He picked up his spare then left a pocket 4-10 in the second frame for an early open. Chapman went with a Roto Grip Gem and took advantage with three strikes in his first four frames.
Monacelli threw four straight strikes to take his first lead in the sixth frame. Then came a pocket 4-9 on a shot he really liked resulting in another open frame in the seventh.
Chapman remained calm and clean. Monacelli finished first. He got a Brooklyn strike in the ninth then missed the head pin for a second time on his first shot in the tenth. He converted the 1-3-6 and struck for 208.
Chapman needed a mark and good count for the win. His shot went through the nose leaving the 4-6-7-10. Monacelli got the stunning 208-200 victory, his second PBA60 title.
"That was something that I never expected," Monacelli said about his opponents shot. "If you look at the whole game, I think I deserved it because I really bowled well."
Monacelli's 'A' game has always been his ability to hook the whole lane, and for the past two years he has been working really hard to add another facet to his game.
"This week what I call my 'C' game, I was doing it as good as my 'A' game," he said. "I was keeping it a lot straighter through the front with a really good forward roll. It felt so good throwing the ball and I just want to keep bowling."
He is so pleased with how he managed his performance during a difficult week feeling like he is 20 years old again throwing the ball. He will turn 61 on Saturday.
"A lot of people give up on their dreams because they don't believe they can do it," he said. "Mine came true because I never gave up."
The rollercoaster stepladder finals began with the first three matches resulting in three different winners. Ron Mohr was trying to win his third straight PBA60 tournament and he faced Germany's Peter Knopp who was seeking his first title.
Mohr had a six-pin lead over Knopp through five frames then Knopp struck on his next six shots to earn the 242-228 win.
Unfortunately for Knopp, the strikes were harder to come by in match two as it seemed like he and Gary Reh, who was also trying to win his first title, had some butterflies. Knopp had back-to-back opens in the fifth and sixth and had just three strikes overall. The lefty Reh picked up six single-pin spares and had a late four-bagger to earn the 226-171 victory.
In the semifinal match, Reh faced Chapman. Reh kept throwing his Brunswick Attitude Control urethane starting with three strikes for an early lead. Then both players had open frames in the fourth.
Chapman switched from a Storm Dark Code to a 900 Global Gem and was able to stay clean heading to the tenth frame. Reh needed a double and five pins to win. He got seven spare and a strike for 187. Chapman then got his chance. Needing a double to advance, he struck out for 194.
View the full PBA60 Tristan's T.A.P.S. Memorial results at PBA60 Tristan's T.A.P.S. Memorial | PBA
2022 PBA60 Tristan's T.A.P.S. Memorial Final Standings
Amleto Monacelli, $7,500
John Chapman, $4,500
Gary Reh, $3,000
Peter Knopp, $2,500
Ron Mohr, $2,000
Match Scores
Match 1 – Knopp def. Mohr 242-228
Match 2 – Reh def. Knopp 226-171
Match 3 – Chapman def. Reh 194-187
Championship match – Monacelli def. Chapman 208-200