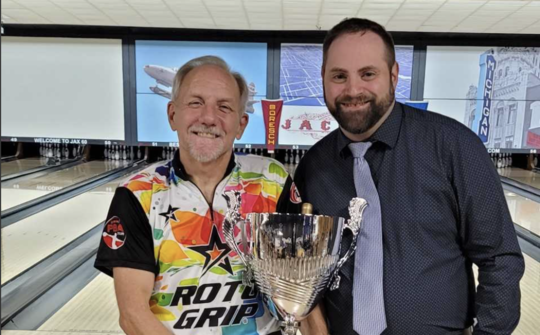 Lennie Boresch Jr. climbs into first at PBA60 Dick Weber Classic
August 17, 2022
Jill Winters
Jackson, Michigan – It was moving day up and down the leaderboard Wednesday at the 2022 PBA60 Dick Weber Classic.
After completing 14-games of qualifying inside Jax 60, Walt Blackston was still the tournament leader. He started off firing 258, 256, 226, 155, 279, 185 and 181 for a total of 3,198. Mitchell Vernon and Charlie Tapp were the final bowlers into the top 37 at 2,876.
In the five-game advancers round that followed after a short break, Blackston shot 225, 222, 173, 249 and 170. For the first time all tournament, he dropped out of first down to third place. Lennie Boresch Jr. climbed from 10th place after qualifying to first place with 227, 278, 237, 258 and 226. He is now at 4,275, averaging 225.
After a slow start to his day, Boresch Jr. was frustrated but reminded himself to stay patient. Throughout the 12-games he bowled on Wednesday, he used two 900 Global Realitys, a Storm Nova and a Storm Proton Physix.
In the advancers round, he put more surface on one of his Reality balls which he felt opened up the lanes for him even more. It was a tough day but he grinded it out.
"I tried to throw it slower and loft it," he said. "That seemed to really help my pin carry and I was able to stay clean the last seven or eight games. So that was the difference."
After his final game he headed out the door only to find out he had moved into first place.
"I knew I had climbed to second because I had big games," he said. "I was watching the games were up and down this round. I am surprised because Walt has been bowling so good. But I had a really good block."
Boresch Jr. already feels like this has been a career season for him, but he isn't done yet.
"I want to win," he said. "I want to stay calm and make good shots. Why not me? It felt good today and maybe I found something."
Darryl Bower had a big day. He started Wednesday in 31st place then shot 1,624 for his final qualifying block to move up to third. After the advancers round, he ended his long day 13 pins behind Boresch Jr.
The 2021 PBA60 Dick Weber Classic winner Ron Mohr made some big moves as well. He was in 26th place after qualifying and now sits in ninth place.
All pins have been dropped as the top 24 will now bowl bracket match play three-game sets with the winners moving on. The round of 24 will start at 9 a.m. ET Thursday. The matches will continue until the top five players are named for the stepladder finals set to begin at 4:30 p.m. You can see it all on BowlTV.com.
Follow PBA60 Dick Weber Classic scoring at PBA60 Dick Weber Classic | PBA
Top 10 PBA60 Dick Weber Classic
Lennie Boresch Jr. 4,275
Darryl Bower 4,262
Walt Blackston 4,237
John Kirker Jr. 4,225
Bob Learn Jr. 4,183
Christopher Keane 4,182
Peter Knopp 4,144
Randy Peterson 4,128
Ron Mohr 4,123
Warren Eales 4,104