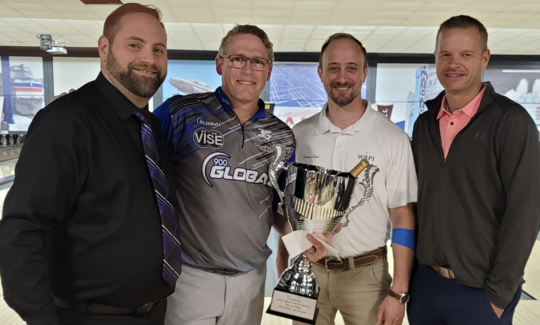 Barnes wins back-to-back titles to end impressive PBA50 season
August 15, 2022
Jill Winters
Jackson, Michigan – Chris Barnes finished his second PBA50 season making his ninth stepladder finals and winning his third title of the year at the PBA50 David Small's Jax 60 Open. He described his day as exhilarating, exhausting, and satisfying.
On Monday, he came into match play as the No. 17 qualifier and all he did was win his way to the top. He had to double in his first match against Jeff Johnson to earn the six-pin win in the round of 24. In an epic match against top seed Walter Ray Williams Jr., Barnes got the win 772-747.
From there he beat Brian LeClair to earn the fourth seed and he just continued to dig deep, winning four matches for his fourth career PBA50 title.
"It's been a day," he said after the show. "Realistically, you don't get to end on a win very many times in your career, so I am going to go home and enjoy it."
It was a long and challenging day, and the stepladder finals didn't make things any easier on Barnes. He felt both lanes kept everyone off balance.
In the opening match, Barnes was in control from the start using his Storm Pitch Black urethane until he left the big four in the eighth frame. LeClair made a ball change in the tenth frame and struck out for 198. Barnes left the 3-6-10, converted the spare and got nine for the 209-198 win.
In the second match, Barnes held a slight lead from the beginning against Bryan Goebel, who was making back-to-back stepladder appearances. Barnes went on to throw the last four strikes for a 206-183 victory. For his final shot, he switched to a 900 Global Burner Pearl, moved left and went slower on the right lane to collect some valuable information.
And in that third match, Barnes faced Michael Haggitt, who had the left side of the lanes to himself. Barnes continued to use urethane holding an early lead through three frames, until he left the 2-10 split for an open. Haggitt then took a one-pin lead in the sixth frame before he left a 4-10 split. After almost leaving another 2-10 split, Barnes picked up his Burner Pearl again to give it a look on his spare attempt.
"I wanted to make sure that the lane wasn't significantly different than what I thought," he said. "It kind of did the right thing so I went with that. In the tenth, I threw one like it was on purpose and it did all of the right things."
Barnes struck out on the right lane for his third win, 216-183.
"In the title match, that became the easier lane for me when I switched to the Burner Pearl," he said. "I had a little surface on it. It blended out that urethane carry down and turned out to be the right answer tonight."
Barnes would continue to throw urethane on the left lane and reactive on the right lane for a winning combination in the championship match. His opponent, top seed Jack Jurek went with a 900 Global Reality Check which provided a good look as he matched Barnes with three straight strikes early.
From that point on, Jurek struggled, and Barnes continued to strike starting with the front six to take a 48-pin lead and he never looked back. Barnes saved his best game of the night for the title, earning the victory 257-186.
With the PBA50 season officially over, Barnes feels like he bowled better week-in and week-out all the way through the 13 tournaments he competed in.
"It is the best I've bowled in several years," Barnes said about his successful season. "I have been very fortunate to win as much as I have but it is not very many in the big scheme of things. You get more disappointments than joys at the end, so I'm very pleased to be able to end up this way."
View the full PBA50 David Small's Jax 60 Open results at PBA50 David Small's Jax60 Open | PBA
2022 PBA50 DAVID SMALL'S JAX 60 OPEN FINAL STANDINGS:
1. Chris Barnes $7,500
2. Jack Jurek $4,500
3. Michael Haggitt $3,000
4. Bryan Goebel $2,500
5. Brian LeClair $2,000
MATCH SCORES
Match 1 – Barnes def. LeClair 209-198
Match 2 – Barnes def. Goebel 206-183
Match 3 – Barnes def. Haggitt 216-183
Championship match – Barnes def. Jurek 257-186