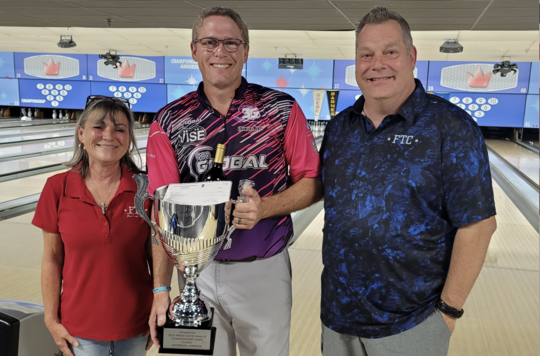 Barnes beats Bohn III at PBA50 David Small's Championship Lanes Open
August 9, 2022
Jill Winters
Anderson, Indiana – Prior to the championship match between Chris Barnes and Parker Bohn III at the PBA50 David Small's Championship Lanes Open, Barnes said he was trying to get a win for his family, and he was able to do just that.
As the top seed, Barnes got another chance to face his main competitor in the PBA50 Player of the Year race, Bohn III. Barnes got off to a shaky start leaving a 4-7-10 split in the first frame for an open followed by a Brooklyn strike using a 900 Global Wolverine Dark Moss.
Bohn III's arsenal was a DV8 Collision on the left lane and a Hammer Dark Web on the right lane. Bohn, the defending champion, started off with a spare and a double before leaving the 2-4-6-7-8 split for an open frame. After that, both players stayed clean for the rest of the game.
Barnes made a key ball change to a 900 Global Zen in the eighth frame.
"I went back to what worked for me most of the week," Barnes said about the decision.
Barnes struck with it in the eighth on the left lane and on the first ball in the tenth before going high and leaving a 4-pin. He got the spare and sat down after posting a 223.
"I got away with a couple of light swishers and Parker left me hanging in there with a chance," Barnes said.
Bohn III needed a double and 2-pins to win, but his first shot in the tenth went high leaving a 6-pin, finishing with 211.
"He is the hottest guy, and he has been bowling the best all year," Barnes said about Bohn III. "To sneak away with one is certainly a gift."
Before starting the final match, Barnes made two important phone calls. One to his son, Ryan and one to his wife, Lynda.
"I always try to talk to her before a TV show," he said. "It's a centering device for me, it is what is really important for me and that is family.
This is the third PBA50 title for Barnes and his second this season.
Bryan Goebel made his return to the PBA50. He threw the last seven strikes to defeat Lennie Boresch Jr. 223-222 in the opening match and rolled nine strikes in match two to beat Brad Angelo 255-213. In his third match, Goebel struck only twice losing to Bohn III, 239-166.
View the full PBA50 David Small's Championship Lanes Open results at PBA50 David Small's Championship Lanes Open | PBA
2022 PBA50 DAVID SMALL'S CHAMPIONSHIP LANES OPEN FINAL STANDINGS:
1. Chris Barnes, $7,500
2. Parker Bohn III, $4,500
3. Bryan Goebel, $3,000
4. Brad Angelo, $2,500
5. Lennie Boresch Jr., $2,000
MATCH SCORES
Match 1 – Goebel def. Boresch Jr. 223-222
Match 2 – Goebel def. Angelo 255-213
Match 3 – Bohn III def. Goebel 239-166
Championship match – Barnes def. Bohn III 223-211