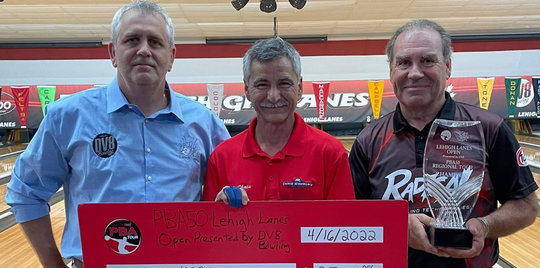 PBA Regional Tour Recap: Chris Warren Wins Regional Title No. 58, One Behind The All-Time Leader
April 21, 2022
Chase Kaufman
The Guaranteed Rate PBA Tour and the PBA50 Tour flip-flopped this month as the PBA wrapped up the national circuit while the Senior Tour maneuvered into their national tour. Over the past few days, the PBA hosted five regional events all over the U.S. and not just the continental 48. Florida, Indiana, Texas, Maryland, and Hawaii opened their doors to many bowlers looking to make a run to the Regional Players Invitational later this year.
SOUTH REGION
PBA50 LEHIGH LANES OPEN
The PBA50 Lehigh Lanes Open in Lehigh Acres, Florida, set itself up as the perfect tune-up event for the first PBA50 National Tour stop of 2022 due to Lehigh Acres' proximity to Fort Myers. Sixty-seven bowlers entered the field, many of whom were ready to make a big run during the PBA50 Tour this summer. After being split into three different squads and bowling six games apiece, the top 22 bowlers moved on to bowl another four games in the Advancers Round on Saturday morning. After that, the top eight bowlers rolled eight more games of round-robin match play to cut the field in half for a stepladder.
When the dust settled, it wasn't particularly close for the final spot as Jeff Johnson finished in 5th at +299 and Gary Faulkner in 4th at +513. Faulkner dropped the first match to the three-seed Chris Warren 237-222, but the real fireworks came a bit later as the 57-time regional champ delivered a 300 in the semifinal match against Amleto Monacelli, who shot a 199. Warren couldn't launch back-to-back perfect games in the finals, but he did grab title 58 with a win over Paul Fleming, 211-185. Chris Warren now finds himself just one title behind the all-time lead of 59, held by Walter Ray Williams Jr.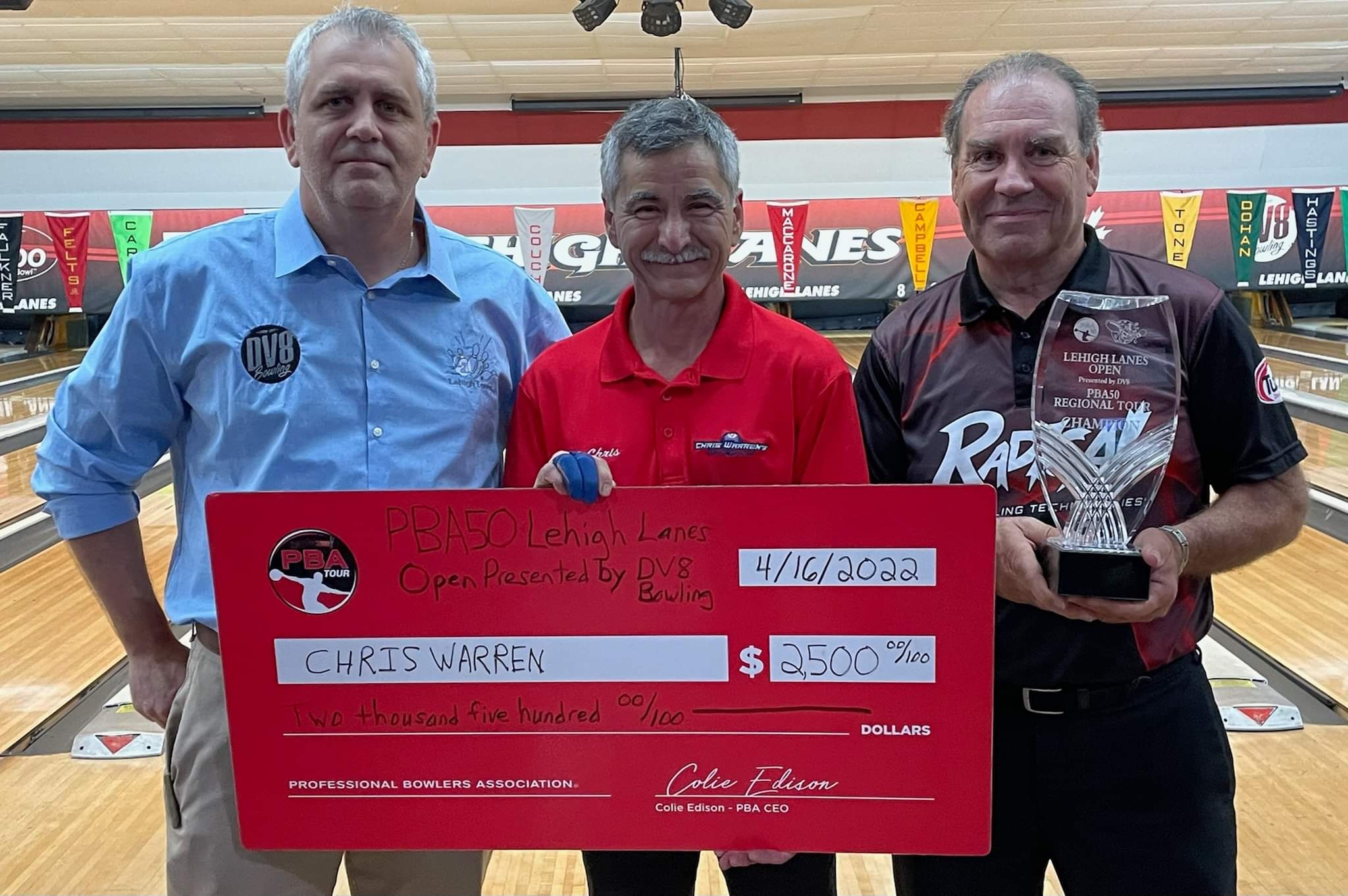 PBA50 LEHIGH LANES OPEN FINAL STANDINGS
Chris Warren, 2,500 points, $2,500
Paul Fleming, 1,500, $1,500
Amleto Monacelli, 1,150, $1,000
Gary Faulkner, 950, $830
Jeff Johnson, 850, $675
PBA50 South Region Points Leaders
Victor Florie Jr., 3,650
Chuck Richey Jr., 2,810
Michael Painter, 2,688
Chris Warren, 2,500
Kip Roberts, 2,500
You can check out the South Region points leaders here.
SOUTHWEST REGION
PBA HOUSTON COPPERFIELD SOUTHWEST CHALLENGE
A non-champions event began the Southwest Region's slate at Copperfield Bowl in Houston, where Eric Jones of Edmond, Oklahoma, headlined the tournament with a wire-to-wire victory. During qualifying, he started with a 769 for his first three games and eventually went +313 for the set, 95 pins higher than second place. After five advancers round games, the lead for Jones ballooned from 95 pins to a whopping 228. In match play, no doubts arose as the margin sat at 332 pins with just the position round to go. Jones rolled a 204 in his victory lap game to claim his first-ever regional title, $2,300, and most importantly, the banner.
PBA HOUSTON COPPERFIELD SOUTHWEST CHALLENGE FINAL STANDINGS
Eric Jones, $2,400
Tyler Wright, $1,850
Garrett Andrus, $1,440
Allen Smith, $1,250
Michael Rachal, $1,100
WEST REGION
PBA LEEWARD OPEN
The first of two Hawaiian events wrapped up on Tuesday in Pearl City, and 70 bowlers gathered to compete at Leeward Bowl. Bowlers began early Tuesday morning for seven games, attempting to secure a spot in the top 16 for single-elimination match play later that day. Keith Odette led the way on the Billy Hardwick Pattern, going +159 with Wesley Low Jr. not far behind at +156. Odette won his first match over Shane Dagdag while Low Jr. drew a worthy opponent in Anthony Simonsen, who made the trip out to The Aloha State for the pair of events. Low ended up taking the match, winning two games to one, but the lefty lost in the next round while Odette lost in the quarterfinals also. In the semifinal matches, Jake Peters defeated Adam Ishman 205-174, while Tim Cagle II moved past Joe Lipan 219-171. Following an open in the first frame, Cagle II dominated the match, throwing the next eleven strikes to take home the win 279-219.
PBA LEEWARD OPEN FINAL STANDINGS
Tim Cagle II, 2,500 points, $2,700
Jake Peters, 1,500, $1,700
Joe Lipan, 1,150, $1,200
Adam Ishman, $1,200
You can check out the West Region points leaders here.
CENTRAL REGION
PBA BOWLERO/EVANSVILLE CENTRAL/MIDWEST OPEN
Players did not have much time to get acclimated in Indiana because of the one-day format, but they needed to figure something out quickly when they hit the lanes. The 41-foot Smith pattern pushed the field of 72 to their limits as the cut line for the top 16 ran at just a 205 average, while Jonathan Schalow qualified first with a 225 pace.
After a lunch break, those 16 bowlers came back for another eight games in a round-robin format. Seven matches later and just the position round to go, two bowlers emerged miles ahead of the field, with Tom Hess at +582 and Graham Fach at +532. Fach already held a title in his back pocket from the Clutch Lanes Central Open Doubles tournament earlier this year, while Hess fought for career regional title number 13. Fach, who ran the table in his first seven games of the day, needed to win the eighth and final game by at least 21 pins to bring home his second regional title and eighth overall. Hess never had a sub-200 during match play until the finale, where Fach got the best of him, 234-193.
Along with grabbing his second title of the season, the undefeated Fach added regional title number eight to his resume and 2,500 points to his Central standings placement.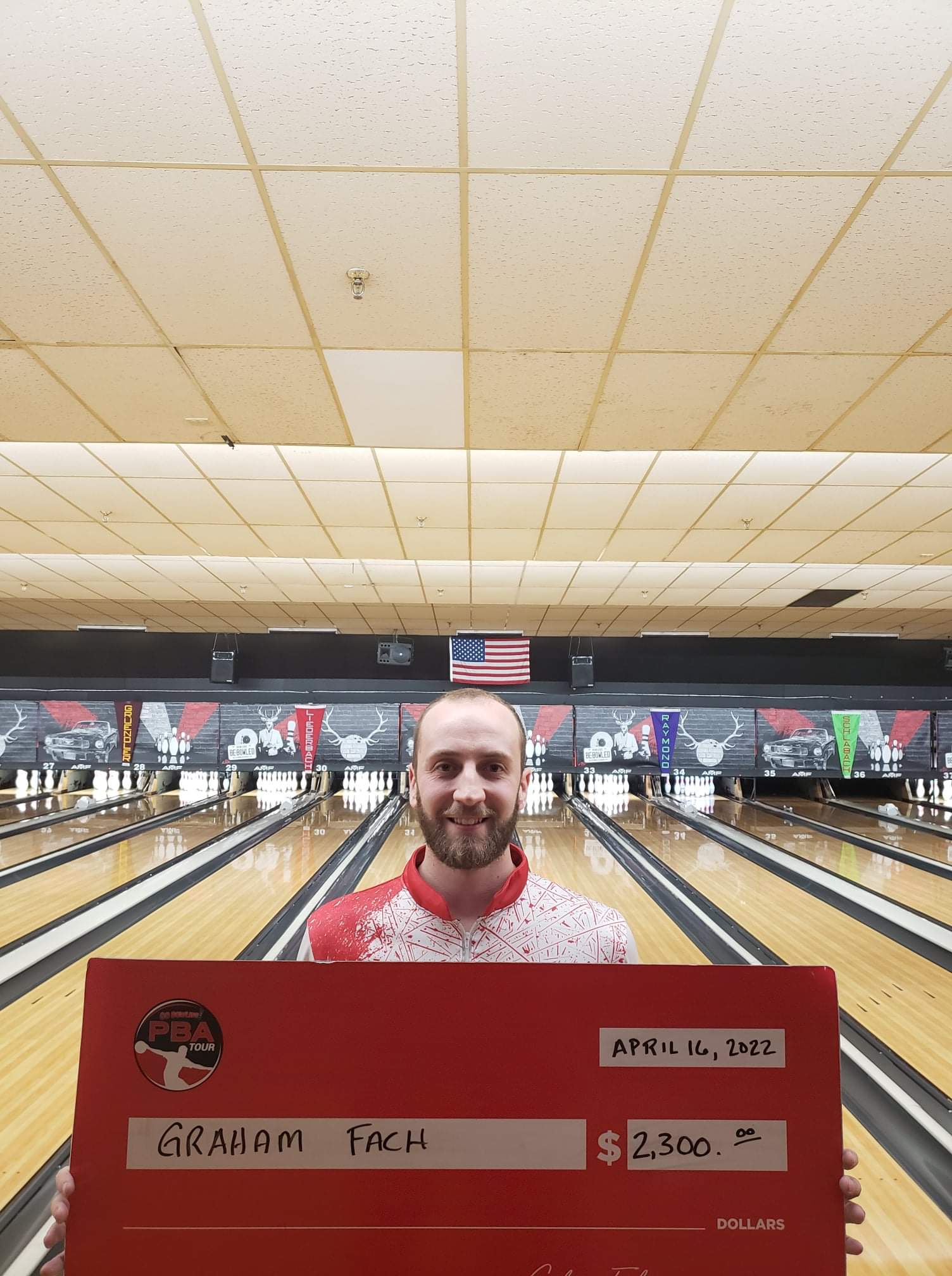 PBA BOWLERO/EVANSVILLE CENTRAL/MIDWEST OPEN FINAL STANDINGS
Graham Fach, 2,500 points, $2,300
Tom Hess, 1,500, $1,325
Patrick Dombrowski, 1,150, $1,100
Jonathan Schalow, 950, $950
Ryan Liederbach, 850, $850
PBA Central Points Leaders
Graham Fach, 5,000 points
Patrick Dombrowski, 1,515
Tom Hess, 1,500
Thomas Larsen, 1,500
Ryan Liederbach, 1,235
You can check out the Central Region points leaders here.
EAST REGION
PBA BOWLERS DISCOUNT PRO SHOP OPEN
In Towson, Maryland, over 100 entrants made their way to AMF Towson Lanes for an entertaining two-day format where the double-bye was in effect. After eight games to start, the top 16 came back on Sunday for single-elimination bracket play. The top four qualifiers received a double-bye, the 5th-8th qualifiers earned a regular bye, and the 9th-16th positions started the day with best 2 out of 3 matches.
The Marshall Holman pattern seemed to be a bit nicer to the players than the 41-foot Smith pattern in Indiana, as it took a 214 average here to advance to bracket play. Michael Sanghi, Paul Smith, John Furey, and Tim Foy Jr. all grabbed ahold of the four double-bye positions, but only Foy Jr. and Furey advanced to the semis when they stepped to the plate. In the semifinals, Foy Jr. lost a close battle to eight-seeded Cody Shoemaker 208-205, while Furey took down Louis Gaudio 250-211. In the winner-take-all finals, the Pennsylvania native Shoemaker clinched his first career title over Furey 195-179 and moved to the top of the East Region leaderboard.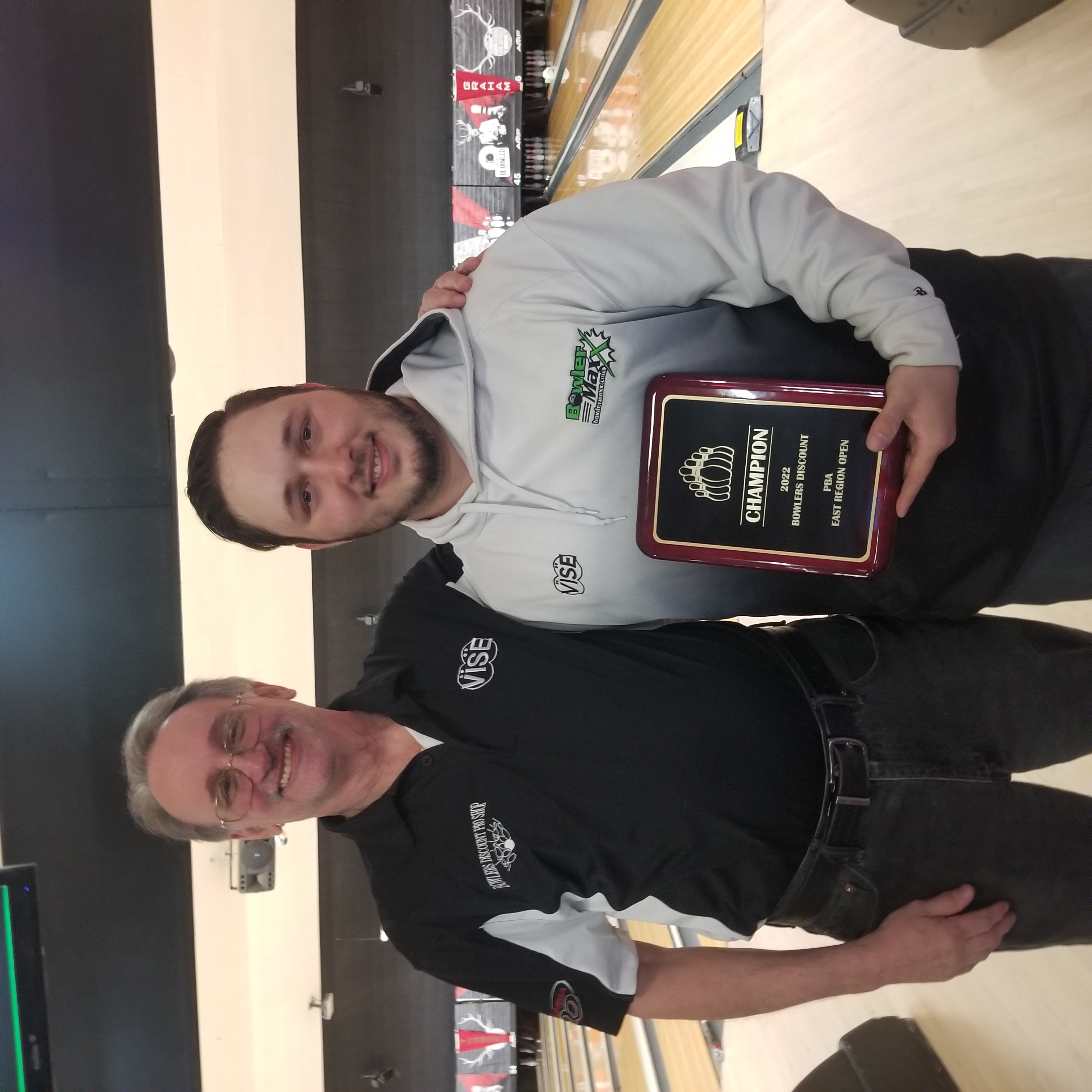 PBA BOWLERS DISCOUNT PRO SHOP OPEN FINAL STANDINGS
Cody Shoemaker, 2,500 points, $3,000
John Furey, 1,500, $1,600
Tim Foy Jr. 1,150, $1,150
Louis Gaudio, 950, $1,150
You can check out the East Region points leaders here.
When the next edition of the Regional Recap comes out, eight more events taking place all over the country will be in the books giving players more chances to move up their respective leaderboards. Plenty of events flood the schedule https://www.pba.com/pba-tour/pba-regional-tour before the Regional Players Invitational commences at the South Point Bowling Plaza in Las Vegas, so check for nearby tournaments to watch some of your favorite bowlers in action as they compete for a share of $114,000.