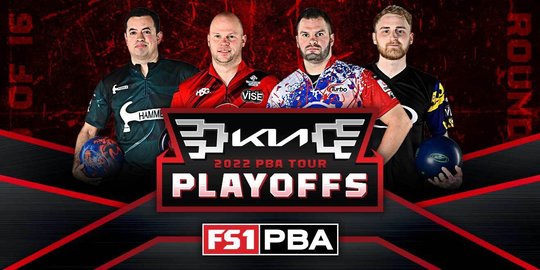 Kia PBA Playoffs Quarterfinals Continue Sunday on FS1
April 26, 2022
Jef Goodger
Four players look to join Kyle Troup and Kris Prather in the semifinals
The last two spots in the 2022 Kia PBA Playoffs semifinals will be determined Sunday at noon ET on Fox Sports' FS1 when AJ Johnson takes on Shawn Maldonado and Tommy Jones faces Jesper Svensson. All four players are looking to make their first appearances in the Kia PBA Playoffs semifinals, while the two players already there—Kyle Troup and Kris Prather—are both past champions of the event.
All quarterfinals matches will be contested in the Race to 2 Points format, with one point going to the winner of each game. If the players are tied at one point apiece, the deciding point will be awarded to the winner of a 9th/10th-frame roll-off.
No. 10 AJ Johnson vs. No. 15 Shawn Maldonado
Two players who upset (and swept) their higher-seeded opponents in the Round of 16 will duel in the quarterfinals. Johnson, the No. 10 seed, took both games from seventh-seeded Jakob Butturff and No. 15 seed Maldonado dispatched the No. 2 seed, Anthony Simonsen. Johnson is looking for his first PBA Tour title and Maldonado is seeking his third.
No. 6 Tommy Jones vs. No. 14 Jesper Svensson
Tommy Jones made it to the Kia PBA Playoffs quarterfinals for the first time in his career by defeating Kyle Sherman in a two-game sweep in the Round of 16. The 20-time PBA Tour champion will face 11-time champion Jesper Svensson, who took out the third seed, EJ Tackett, in a roll-off in the Round of 16.
The winners of these two matches will meet May 8 in the semifinals, live on FOX Broadcast Channel.
The winner of the Kia PBA Playoffs, which conclude May 15 on FOX Broadcast Channel, will earn $100,000 and a Guaranteed Rate PBA Tour title.
Kia PBA Playoffs Remaining Television Schedule
Sunday, May 1 at noon ET on FS1 – Quarterfinals
No. 15 Shawn Maldonado vs. No. 10 AJ Johnson
No. 14 Jesper Svensson vs. No. 6 Tommy Jones
Sunday, May 8 at 1 p.m. ET on FOX – Semifinals
No. 5 Kris Prather vs. No. 9 Kyle Troup
Winner of Maldonado/Johnson vs. winner of Svensson/Jones
Sunday, May 15 at 2 p.m. ET on FOX – Championship
Remaining two bowlers
Kia PBA Playoffs Champions Since 2019
2019 – Kris Prather
2020 – Bill O'Neill
2021 – Kyle Troup
About the PBA
The Professional Bowlers Association (PBA) is the world's preeminent organization dedicated to the sport of bowling and its professional competition, with thousands of members and millions of fans throughout the world. The PBA plays host to bowling's biggest tournaments from the PBA Tour, PBA Regional Tour, and PBA50 Tour. In 2020, the PBA launched PBA Jr., a club for elite youth bowlers under the age of 17 and the PBA Pinsiders, a membership for fans of the sport. For more information, please visit PBA.com.