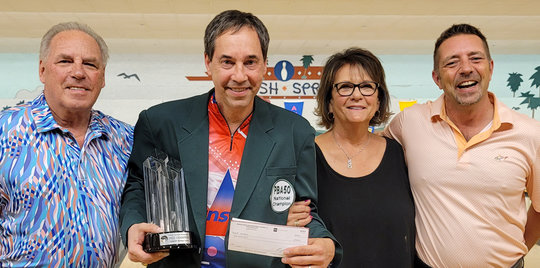 Bohn III maintains lead at PBA50 National Championship
April 27, 2022
Jill Winters
The Villages, Florida – Parker Bohn III started out the final qualifying block on Wednesday similar to how he ended on Tuesday. He had the first 10 strikes, and this time rolled a 287 to begin his block strong.
He added games of 182, 217, 247, 215 and 221 for a three-day total of 4,142 to remain in the lead at the 2022 Florida Blue Medicare PBA50 National Championship.
The lefty continued to rely on the same arsenal using a DV8 Damn Good Verge Pearl and his DV8 Collision.
"Solid block about 170 over," he said. "It helped propel me to where I am still in the lead for the tournament. So, it will be more full steam ahead."
Bohn III feels like he thrives in this tournament format where all of the pins carryover and he is proud of his performance so far.
"It tells me a lot of the things that I was doing were matched up right or close to being perfect," he said about his scores. "I am just going to work really hard to be that No. 1 seed going into the telecast."
Bohn III has a 40-pin lead over 2021 PBA50 Player of the Year and PBA50 Rookie of the Year Tom Hess. Hess carried forward his strong finish in his final two games on Tuesday and ended qualifying with a 279 game. He is looking for some redemption against his friend, Bohn III.
"I lost to him three times in a stepladder, and he has already beat me in a regional, so I am due," Hess said. "Coming off the year I had last year out here and staying sharp bowling on the kids tour has just propelled me."
Hess used a 900 Global Wolverine for the first three games and a Storm Phaze 4 for the final three games. He also enjoyed bowling next to local bowler Mike Zawacki, feeding off of his crowd support.
"This crowd is unbelievable," Hess said about the constant cheering inside Spanish Springs Lanes. "I think of myself as an entertainer, and I love to put on a show. It is extra special for me this week because my wife is with me, too. And it is just fun bowling in front of a crowd full of people."
Just behind Hess is lefty Troy Lint who is also having a great time bowling in The Villages. He is currently in third.
"I am having a blast," the Pennsylvania resident said. "I have got Hall of Famers around me everywhere and it is fun to bowl with them."
The top 63 will bowl five games in the advancers round starting at 11 a.m. ET Thursday. The field will then be cut to the top 24. They will bowl eight games of match play in round one beginning at 4 p.m. ET.
You can watch the PBA50 action exclusively on BowlTV.
Follow Florida Blue Medicare PBA50 National Championship scoring at Florida Blue Medicare PBA50 National Championship | PBA
FLORIDA BLUE MEDICARE PBA50 NATIONAL CHAMPIONSHIP TOP 10 THROUGH 18 GAMES
Parker Bohn III 4,142
Tom Hess 4,102
Troy Lint 4,046
Michael Haugen Jr. 4,040
Brad Angelo 4,012
Rick Graham 3,996
Paul Koehler 3,961
Jason Couch 3,956
Walt Blackston 3,955
Walter Ray Williams Jr. 3,921