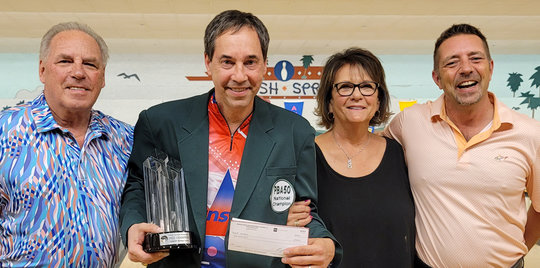 Bohn III full steam ahead at PBA50 National Championship
April 26, 2022
Jill Winters
The Villages, Florida – Parker Bohn III loves to perform and as he sees it, he is in control.
He put on a show during the second day of qualifying at the 2022 Florida Blue Medicare PBA50 National Championship. The lefty averaged 233.5 for the day, finishing with a 288 game as he moved into the lead with a total of 2,773.
In the final game, he headed into the 10th frame having gone light on his previous three shots on the left lane. He again went light and carried, so he decided to move just a smidge.
"I threw it really good but a solid 8," Bohn III said. "It's part of the breaks of the game. You give one, you get one and it goes back-and-forth. I take my chances on that shot every time."
The crowd moaned as everyone was waiting to see the first 300 game of the tournament to no avail. Bohn III just shrugged his shoulders and smirked.
He was part of the B squad that took to the lanes first.
"It seemed like my ball was going and reading the lane like I wanted it to so let's just say, full steam ahead," he said.
He started out with his DV8 Damn Good Verge Pearl and about two-thirds of the way through the six-game block, he turned to his DV8 Collision that he had success with on Monday.
"It seems to me when the oil gets down the lane a little bit more that the Collision is my ball of choice," the PBA Hall of Famer said. "My ball is hitting the pocket a lot and if you are going to bowl good, especially amongst the greatest bowlers in the world - regardless of whether we are the regular tour or the PBA50 Tour - you have to figure out how to get your ball to the 1-2 or 1-3 pocket, respectfully."
When Bohn III "gave the pocket away a little bit" all of a sudden, his ball saw the lane perfectly and started going through the pins the way he wanted.
Troy Lint started out on the C squad with 258, 278 and 280 for 816 and followed that with 232, 200 and 204. He is just seven-pins off the lead. Tom Hess is currently in third, followed by Michael Haugen Jr. and Warren Eales to round out the top five.
Qualifying rounds continue with six more games Wednesday starting with the C squad at 9 a.m. ET, followed by the A squad at 1 p.m. and the B squad will begin around 5 p.m. The field will then be cut to the top 63 bowlers.
You can watch the PBA50 action exclusively on BowlTV.
Follow Florida Blue Medicare PBA50 National Championship scoring at Florida Blue Medicare PBA50 National Championship | PBA
FLORIDA BLUE MEDICARE PBA50 NATIONAL CHAMPIONSHIP TOP 10 THROUGH 12 GAMES
Parker Bohn III 2,773
Troy Lint 2,766
Tom Hess 2,674
Michael Haugen Jr. 2,667
Warren Eales 2,644
Chuck Richey Jr. 2,640
Brad Angelo 2,635
Todd Agee 2,625
Chris Johnson 2,620
Jason Couch 2,617