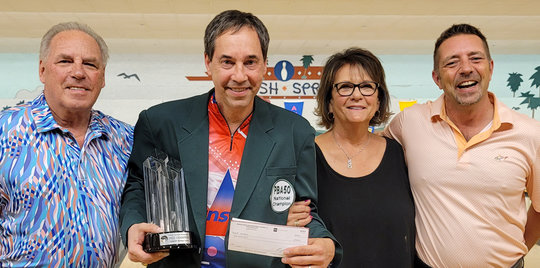 Bohn III battles back to lead at PBA50 National Championship
April 28, 2022
Jill Winters
The Villages, Florida – Parker Bohn III doesn't rattle easily. He battled through the five-game advancers round to start off his Thursday dropping from first to fourth place at the 2022 Florida Blue Medicare PBA50 National Championship.
He went with his DV8 Collision that had been one of his go-to balls during qualifying rounds, but he couldn't get it to see the lanes the right way.
"I was a little bit perplexed by it because I knew how good the ball worked the first couple of days," he said. "I just didn't understand why I couldn't quite figure out what I needed to do."
It was a different story for fellow left-hander Troy Lint who was on the pair with Bohn III. He averaged 251.2 during the round with his trusty Brunswick Purple Hammer.
"I had a really good look in the morning when nobody else had it," the Pennsylvania resident said. "I could shape my ball where I wanted to where most guys couldn't. I had a little more ball reaction and really took advantage of it."
Lint and Rick Graham, who bowl in league together back home, each posted big five-game blocks to move up. Lint took over first and Graham jumped into third place.
The field was cut to the top 24 with Lennie Boresch Jr. being the last to make it in with 4,898 total pins.
The first round of match play flipped the script on the top two lefties in the field. Bohn III shot 258, 235, 258, 223, 235, 257, 275 and 215 for a scratch total of 7,155. He was 6-2 in match play which gave him an additional 180-pins to put him back in the lead at 7,335. He chose a Purple Hammer for the first four games and went back to his DV8 Collision for the last four games.
"I am going to go out there with a very similar game plan," Bohn III said about his strategy going into Friday's final day. "It takes tweaks from day to day, and you have got to be willing to do those changes, because if you don't you find yourself sucked up into the rest of the field and then it is not very productive."
As for Lint, he shot 7,125 scratch. However, his match play record was 4-4, so he is now 90-pins behind Bohn III.
"They seemed tighter where I had to use a different wrist position to try and manipulate the fronts with the urethane more," Lint said. "That kind of minimized the window I was playing in. These guys are phenomenal, and they execute no matter what."
"I love competing against them because it brings the best out of me," Lint said. "I know I can do this, and I want to prove that I can do this."
Pete Weber, who is the defending champion, started his Thursday in 27th, moved up to 9th after the advancers round, and then had the best record at 7-1 to move into sixth place. He also picked up the dreaded 7-10 split in match play.
Sixteen more games of match play are left to determine the top five who will be bowling for a major title. The second round of match play begins at 9 a.m. followed by round three starting at 2 p.m. ET Friday. The stepladder finals is schedule to get underway at 7 p.m. ET Friday and you can see it all exclusively on BowlTV.
Follow Florida Blue Medicare PBA50 National Championship scoring at Florida Blue Medicare PBA50 National Championship | PBA
FLORIDA BLUE MEDICARE PBA50 NATIONAL CHAMPIONSHIP TOP 10 THROUGH 31 GAMES
Parker Bohn III 7,335
Troy Lint 7,245
Tom Hess 7,193
Rick Graham 7,180
Jason Couch 7,162
Pete Weber 7,131
Walter Ray Williams Jr. 7,085
Brad Angelo 7,027
Dan Knowlton 7,018
Michael Haugen Jr. 6,997