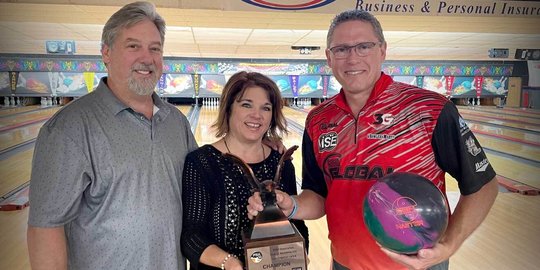 Chris Barnes Wins In Waxahachie, Texas
September 27, 2021
Regional Director
Waxahachie, Texas – PBA Hall of Famer, Chris Barnes, of Denton, Texas, won his first PBA50 Southwest Region title at Hilltop Lanes in the PBA50 Waxahachie Southwest Open Sunday.
Barnes averaged over 253 for the eight games of qualifying, including a 300 game, to grab the top spot, then maintained the top position throughout the rest of the tournament to claim the $2,500 first-place prize.
Though Barnes led throughout, he was challenged throughout the event. Tony Lanning, from Yukon, Okla., started the eight-game match play finals with games of 279, 290, 267, and 256, to vault into contention. Stoney Burke, now living in Wills Point, Texas, also put on a late charge to challenge Barnes. Only 54 pins separated these three heading into the final game position round. Barnes closed out the event defeating Lanning 212-211 to claim the victory.
The PBA Southwest Region's next tournament will be the PBA Oklahoma City Southwest Open at Planet Bowl, October 1-3. The PBA Odessa Super Open at Diamond Lanes follows October 15-17. The Odessa event will offer a projected first-place prize of $5,000.
PBA50 WAXAHACHIE SOUTHWEST OPEN
Hilltop Bowl, Waxahachie, Texas, Sunday
Final Standings (after 21 games, including match play bonus pins):
Chris Barnes, Denton, Texas, 6-2, 5,196, $2,500
Tony Lanning, Yukon, OK, 4-4, 5,116, $1,600
Stoney Burke, Jr., Wills Point, Texas, 5-3, 5,086, $950
n-Derek Williams, Groves, Texas, 5-3, 5,074, $782.50
ss-Pete Thomas, Oklahoma City, 5-2-1, 5,074, $782.50
John Burkett, Fort Worth, Texas, 5-3, 4,977, $700
Jeff Atkins, Hot Springs Village, Ark., 2-6, 4,911, $650
John Austin Jr., League City, Texas, 4-4, 4,880, $600
Chris Warren, Grants Pass, Ore., 3-4-1, 4,876, $575
n-Gerry Gentry, Jr., Topeka, Kan., 3-4-1, 4,861, $550
Keith Lesko, Prosper, Texas, 1-6-1, 4,704, $525
Stephen Keblish, Arlington, Texas, 3-5, 4,699, $500
n-denotes non-PBA member
300 Game: Chris Barnes, Pete Thomas