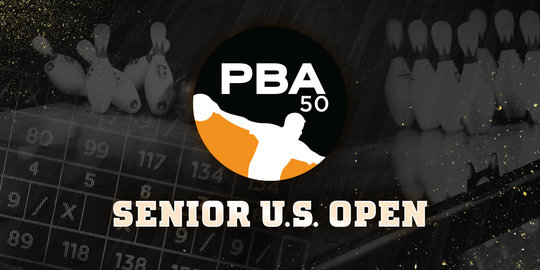 Amleto Monacelli leads PBA50 Senior U.S. Open after first round
September 5, 2021
Johnny Campos
Brentwood, Calif. – Becoming a super senior last month did nothing to slow down PBA Hall of Famer Amleto Monacelli in Sunday's first round of the PBA50 Senior U.S. Open.
Bowling in his first tournament since turning 60 on August 27, Monacelli averaged better than 230 for the first eight games to lead the 78-man field at Harvest Park Bowl.
He had games of 205, 267, 233, 198, 258, 222, 258 and 202 for a pinfall total of 1,843, giving him a 28-pin lead over three-time PBA50 champ Hugh Miller of Mercer Island, Wash., who was second at 1,815.
David Leverage of Peoria, Ariz., was in third with 1,810, 15 pins better than Tom Hess of Granger, Iowa, at 1,795. Former Major League pitcher John Burkett of Fort Worth, Texas, rounded out the top five with 1,741.
Monacelli said he tried to focus on just making good shots on the tough conditions in the major event.
"Maybe because they're a little tougher, so it makes my game sharper because I'm more aware that I have to make really good shots," the 10-time PBA50 champion said. "So I can read the lanes properly and make better decisions. When the lanes are a little more open, it's more about carrying and you pay less attention to make really good shots.
"My focus is always about making every shot the best possible. I never felt good in practice, but in the tournament I went to my fundamentals. I knew that I needed to get the right timing and the right state of mind. It's a combination of both."
Monacelli said he used the same ball, the Hammer Obsession Tour, for all eight games.
PBA Hall of Fame bowlers Ron Mohr (10th), Chris Barnes (12th), Pete Weber (19th), and Walter Ray Williams Jr. (21st) also were among the top 24. But Norm Duke had to withdraw midway through the first session because of an injury.
The 78-player field will bowl another eight-game qualifying round on Monday to determine the top 24 players who will advance to two rounds of match play on Tuesday at 9 a.m. and 2 p.m. Pacific time. That will determine the top five for the stepladder finals scheduled for 7:30 p.m.
PBA Senior U.S. Open
Top 10 (after 8 games)
Amleto Monacelli, 1,843
High Miller, 1,815
David Leverage, 1,810
Tom Hess, 1,795
John Burkett, 1,741
Rob Rosenau, 1,740
Jason Couch, 1,738
John Marsala, 1,737
Ron Case, 1,735
Ron Mohr, 1,730