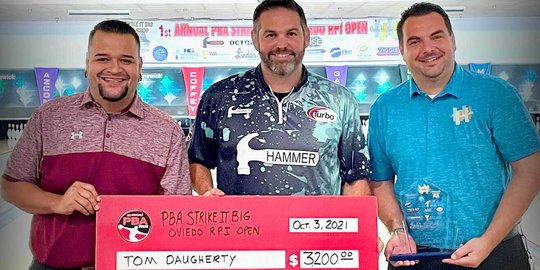 Tom Daugherty is Victorious in PBA Strike It Big Oviedo RPI Open
October 3, 2021
Regional Director
OVIEDO, FL. – PBA Tour National Champion Tom Daugherty of Riverview, Fla., defeated Ryan Ciminelli of Monroe, N.C., 234-221, to win the PBA Strike It Big Oviedo RPI Open for his 19th PBA Regional title on Sunday at Oviedo Bowling Center.
Daugherty qualified in the number two position for the four-man stepladder finals with a 17-game total of 3,824 pins, 177 pins behind the leader Ciminelli, with 4,001. In third was Gary Faulkner Jr. of Memphis, Tenn., 3,802 followed by n-John Janawicz of Winter Haven, Fla., in fourth with 3,799.
In the opening match, Faulkner Jr. defeated Janawicz 203-199, Faulkner Jr. then lost to Daugherty 268-242, which allowed Daugherty to advance to the Championship match.
In the title match, both players started with a double. Ciminelli split and opened in the third frame while Daugherty stayed clean and doubled in the tenth to secure the win. Daugherty earned $3,200 for the first-place prize.
Ciminelli pocketed $1,700 for second, Faulkner $1300 for third, and Janawicz earned $1100 for fourth.
Four players earned berths into the PBA Resident Pro Invitational (RPI) in Las Vegas on January 2-5, 2022 including Ciminelli, Faulkner Jr., Mike Coffey, and Sean Connolly. Tour players in the Top 50 points list are not eligible to compete in the RPI.
The PBA South Region's next event will be the PBA50 Cherokee Lanes Canton Open on Oct. 8-10, 2021 at Cherokee Lanes in Canton, Ga.
PBA STRIKE IT BIG OVIEDO RPI OPEN
Oviedo Bowling Center, Oviedo, Fla., Sunday
Final Standings:
Tom Daugherty, Riverview, Fla., $3,200.
Ryan Ciminelli, Monroe, N.C., $1,700.
Gary Faulkner Jr., Memphis, Tenn., $1,300.
n-John Janawicz, Winter Haven, Fla., $1,100.
Stepladder Results:
Match One – Faulkner Jr. def. n-Janawicz, 203-199.
Semifinal – Daugherty def. Faulkner Jr., 268-242.
Championship – Daugherty def. Ciminelli, 234-221.
Final Qualifying Standings (after 17 games, top 4 advanced to stepladder finals):
Ciminelli, 4,001.
Daugherty, 3,824.
Faulkner Jr., 3,802.
n-Janawicz, 3,799.
Mike Coffey, Melbourne, Fla., 3,776, $1,000.
Sean Connolly, Apopka, Fla., 3,714, $900.
Dick Allen, Lexington, S.C., 3,688, $875.
Toby Sambueno, Orlando, Fla., 3,635, $850.
Kenneth Ryan, Farmingdale, N.J., 3,236, $825.
Brandon Curtis, Manson, N.C., 3,206, $800.
Adam Monks, Conway, S.C., 3,135, $775.
Nate Garcia, Port St. Lucie, Fla., 3,127, $750.
Mike Moore, Orlando, Fla., 3,087, $725.
n-Logan Harvey, Titusville, Fla., 3,078, $700.
Nick Christy, Newport, N.C., 3,065, $675.
n-Mark Thomas, Oviedo, Fla., 3,041, $650.
300 Games: Kenneth Ryan
n-denotes non-PBA member.