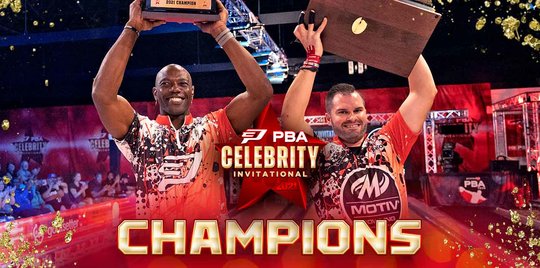 Terrell Owens, AJ Johnson Win CP3 PBA Celebrity Invitational
October 18, 2021
Jef Goodger
Owens also takes the title in the Celebrity Super Clash
Phoenix, Ariz.—Pro Football Hall of Famer Terrell Owens was the big winner in the 2021 CP3 PBA Celebrity Invitational, earning victory in the main event along with PBA Tour player AJ Johnson as well as outlasting all other celebrities to win the Celebrity Super Clash. The 11th edition of the CP3 PBA Celebrity invitational, hosted by Phoenix Suns star Chris Paul to benefit the Chris Paul Family Foundation, paired athletes and entertainers with professional bowlers in a doubles bowling tournament at Bowlero Gilbert.
"I came here for two things," said Owens. "Obviously to support Chris' foundation, but the other one, I came here for the hardware. We accomplished that. I'm very happy for this moment."
It was the second win for Owens in both the doubles event, which he won with Pete Weber in 2016, and the Celebrity Super Clash, which Owens won in 2018. Johnson was making his CP3 PBA Celebrity Invitational debut.
"This is incredible," said Johnson. "I can't say enough about (Owens') spare shooting. He was pretty clutch. It made it easier for me to do my job."
Owens and Johnson struck six times in two minutes in the Doubles Seeding Round to qualify for the No. 2 seed in the stepladder finals. The duo eliminated Paul and Sean Rash in the semifinal match before defeating the top seeds, comedian Hannibal Buress and 13-time PBA Tour champion Bill O'Neill, for the title.
In the Celebrity Super Clash, each celebrity rolled one shot, with the low score eliminated each round, until only one player—Owens—remained as the winner. Owens outlasted Buress, Paul, The Bachelorette star Rachel Lindsay and Charles Paul Sr., Chris' father, to win the Celebrity Super Clash.
PBA Tour players included Johnson, Rash, O'Neill, Gazmine Mason, Darren Tang and Andrew Anderson.
Anderson, the reigning PBA Strike Derby champion, had two minutes to roll as many strikes as he could in the Chris Paul Family Foundation Fundraiser, with PBA parent company Bowlero Corp. donating $1,000 per strike to the Chris Paul Family Foundation. After Anderson rolled 11 strikes, PBA CEO Colie Edison announced Bowlero would double the donation amount to $22,000.
CP3 PBA Celebrity Invitational Final Standings
Bowlero Gilbert – Phoenix, Ariz.
Terrell Owens and AJ Johnson
Hannibal Buress and Bill O'Neill
Chris Paul and Sean Rash
Charles Paul Sr. and Darren Tang
Rachel Lindsay and Gazmine Mason
Match Scores (Five-frame Games)
Match 1 – No. 5 Paul Sr./Tang def. No. 4 Lindsay/Mason, 108-54
Match 2 – No. 3 Paul/Rash def. No. 5 Paul Sr./Tang, 129-83
Match 3 – No. 2 Owens/Johnson def. No 3. Paul/Rash, 108-86
Match 4 – No. 2 Owens/Johnson def. No. 1 Buress/O'Neill, 109-84
Celebrity Super Clash Final Standings
Terrell Owens
Hannibal Buress
Chris Paul
Rachel Lindsay
Charles Paul Sr.
Round 1
Owens, 8
Buress, 7
Lindsay, 8
Paul Sr., 6 (Paul Sr. eliminated)
Paul, 9
Round 2
Owens, 9
Buress, 6
Lindsay, 4 (Lindsay eliminated)
Paul, X
Round 3
Owens, 9
Buress, 7
Paul, 6 (Paul eliminated)
Round 4
Owens, 9
Buress, 7 (Buress eliminated)
About the PBA
The Professional Bowlers Association (PBA) is the world's preeminent organization dedicated to the sport of bowling and its professional competition, with thousands of members and millions of fans throughout the world. The PBA plays host to bowling's biggest tournaments from the PBA Tour, PBA Regional Tour, and PBA50 Tour. In 2020, the PBA launched PBA Jr., a club for elite youth bowlers under the age of 17 and the PBA Pinsiders, a membership for fans of the sport. For more information, please visit PBA.com.