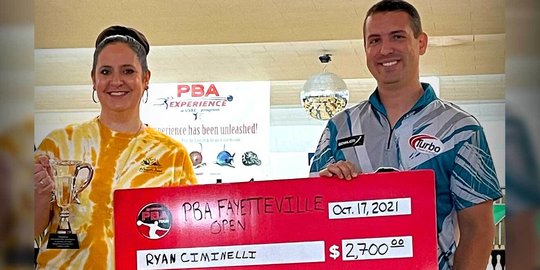 Ryan Ciminelli Wins 18th Annual PBA Fayetteville South Open
October 17, 2021
Regional Director
FAYETTEVILLE, N.C. – Ryan Ciminelli of Monroe, N.C. defeated Colin Champion of Spring Hill, Fla., 279-268, to win the 18th annual PBA Fayetteville South Open presented at Lafayette Lanes.
Ciminelli qualified in the number one position for the four-man stepladder finals with a 16-game total of 3,933 pins, 28 pins ahead of Gary Faulkner Jr. of Memphis, Tenn., with 3,905. In third was Kenneth Ryan of Farmingdale, N.J. 3,859 and Colin Champion fourth with 3,795.
In the opening match Champion defeated Ryan with a double in the tenth 206-204. Champion then disposed of Faulkner 236-224 to advance to the Championship match.
In the title match, Champion started with a spare then struck through the ninth. Ciminelli went double strike nine spare, then off the sheet to force Champion to double in the tenth to win. Champion did not answer the call, leaving a four pin in the tenth frame losing 268-279 to Ciminelli.
Ciminelli earned $2,700 for his 15th PBA Regional title. Champion pocketed $1,400 for second, Faulkner Jr. took home $1,100 for third place and Ryan earned $1000 for fourth.
The PBA South Region's next event will be the PBA50 PLYGEMS Rocky Mt. Open on Oct. 22 at Rocky Mt. Bowling Center in Rocky Mt., Va.
PBA FAYETTEVILLE SOUTH OPEN
Lafayette Lanes, Fayetteville, N.C., Sunday
Final Standings:
Ryan Ciminelli, Monroe, N.C., $2,700.
Colin Champion, Spring Hill, Fla., $1,400.
Gary Faulkner Jr., Memphis, Tenn., $1,200.
Kenneth Ryan, Farmingdale, N.J., $1,000.
Stepladder Results:
Match One – Champion def. Ryan, 206-204.
Semifinal – Champion def. Faulkner Jr., 236-224.
Championship – Ciminelli def. Champion, 279-268.
Final Qualifying Standings (after 16 games, top 4 advanced to stepladder finals):
Ciminelli, 3,933.
Faulkner Jr., 3,905.
Ryan, 3,859.
Champion, 3,795.
Bryan Hahlen, Greenwood, S.C., 3,693, $1,000.
Matt Taylor, Zebulon, N.C., 3,673, $900.
Sean Connolly, Apopka, Fla., 3,612, $825.
Shawn Jones, Faber, Va., 3,608, $775.
Chris Collins, Myrtle Beach, S.C., 3,605, $750.
Mark Tarkington, Elizabeth City, N.C., 3,569, $725.
Josh Lewis, Asheville, N.C., 3,554, $700.
Gregory Tack, Port Murray, N.J., 3,518, $675.
Carlos Granados, Orlando, Fla., 3,468, $650.
Brandon Curtis, Manson, N.C., 3,452, $625.
Trevor Roberts, Crystal River, Fla., 3,447, $600.
Roscoe Pretlow, Chesapeake, Va., 3,390, $575.
300 Games: Mark Tarkington, Gary Faulkner Jr.