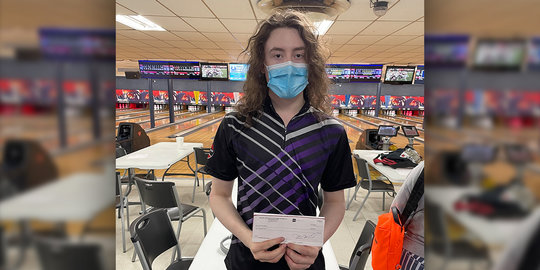 Deo Benard Wins Second PBA Regional Title in Odessa Southwest Open
October 20, 2021
Regional Director
Odessa, Texas – Seventeen year old Deo Benard, of Henderson, Nev., won his second PBA Regional Title at the third annual PBA Odessa Southwest Super Open at Diamond Lanes on Sunday.
Benard battled fellow teen, sixteen year old Eric Jones, from Edmond, Okla., for the lead throughout the qualifying rounds before overtaking him in the match play finals. Benard held an 84 pin lead going into the final game position round, and sealed the victory defeating Jones, 240-202, to claim the $5,000 first-place prize.
Benard finished with a 21-game total of 4,872 pins, including match play bonus pins. Jones had 4,720 total pins to earn $2,800 for second place. Michael Ruben, visiting from Selden, N.Y., finished third with 4,681 pinfall to win $2,100, and Sean Lavery-Spahr, of Pasadena, Texas, collected $1,700 for fourth place.
The PBA Southwest Region's fall schedule will continue with the PBA50 Beaumont Southwest Open, Nov. 27-29.
PBA ODESSA SOUTHWEST SUPER OPEN
Diamond Lanes, Odessa, Texas, Sunday
Final Standings (21 games):
Deo Benard, Henderson, Nev., 6-2, 4,872, $5,000.
(N-Y) Eric Jones, Edmond, Okla., 6-2, 4,720, $2,800 to SMART.
Michael Ruben, Selden, N.Y., 6-2, 4,681, $2,100.
Sean Lavery-Spahr, Pasadena, Texas, 2-5, 4,657, $1,700.
Shawn Maldonado, Houston, Texas, 5-3, 4,569, $1,300.
Ildemaro Ruiz, Jr., Venezuela, 4-4, 4,549, $1,100.
Beau Peterson, McPherson, Kan., 4-4, 4,496, $900.
Mike Bailey, Irving, Texas, 4-, 4,481, $800.
Scott McCleery, Lubbock, Texas, 4-4, 4,392, $750.
Maria Rodriguez, Austin, Texas, 3-5, 4,353, $700.
Noah Gallegos, Denver, Colo., 2-6, 4,227, $650.
(N) Sean Sadat, Wichita, Kan., 1-7, 4,193, $600.
N- denotes non PBA member
Y- Youth bowler
300 Game- Ildemaro Ruiz Jr.