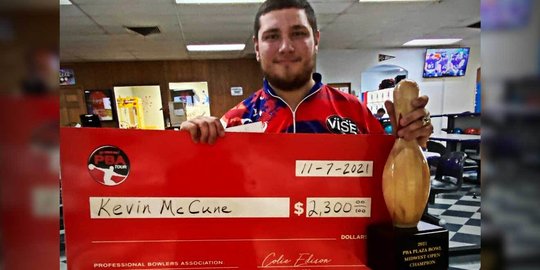 Kevin McCune Wins the PBA The Plaza Bowl Midwest RPI Open
November 10, 2021
Regional Director
Lee's Summit, Mo. – Kevin McCune of Munster, Ind. defeated Jace Meyer of Monticello, Iowa, 242-233, in the championship match to win the PBA The Plaza Bowl Midwest Open RPI. McCune's win earned him a spot in the PBA Regional Players Invitational on January 2-5, 2022 in Las Vegas.
Prior to the final match, five bowlers were in contention during the position round of match play with only 46 pins separating third and seventh place.
In the opening stepladder match, Meyer faced Nathan Michalowski of Mount Pleasant, Wis. Both players were tight through seven frames, but an open split in the eighth frame by Michalowski allowed Meyer to grab a 182-167 victory and move on to face the legendary PBA Hall of Famer Pete Weber, St. Ann, Mo.
In an extremely close second match, Weber hammered the pocket on each shot, but had carry trouble leaving multiple ten pins. In the end, it was Meyer who took home the win, 202-197.
Meyer advanced to the final match against McCune, which ended up being the highest scoring game. Each player opened with three strikes followed by opens in the fifth frame. Meyer rolled the last four strikes to force McCune to stay clean, which he did to capture the win.
The next event is in Freeport, Ill. for the PBA50 Western Bowling Proprietors Insurance Greater Freeport Midwest RPI Open on December 3-5, 2021.
PBA The Plaza Bowl Midwest RPI Open
The Plaza Bowl, Clinton, Iowa, Friday, Nov. 5 – Sunday, Nov. 7
Final Match Play Standings (including match play bonus pins)
Kevin McCune, Munster, Ind., 6-3-0, 17 games, 3,945, 223.24 avg, $2,300
N – Jace Meyer, Monticello, Iowa, 7-4-0, 19 games, 4,136, 209.79 avg, $1,500
S – Pete Weber, St. Ann, Mo., 5-4-0, 17 games, 3,872, 218.94 avg, $1,000
Nathan Michalowski, Mount Pleasant, Wis., 3-6-0, 3,677, 211 avg, $850
N-Y – Landin Jordan, Sycamore, Ill., 5-3-0, 3,501, 209.44 avg, 155 SMART funds points
Chris Hill, Franklin, Wis., 3-5-0, 3,468, 211.13 avg, $725
Nick DeCesaro, Kenosha, Wis., 4-4-0, 3,416, 206 avg, $700
Matt Kuba, Tinley Park, Ill., 2-6-0, 3,364, 206.5 avg, $675
Other Cashers Standings (after eight games)
Dakota Vostry, Romeoville, Ill., 1,731, 216.38 avg, $575
Quinton Bohlen, Spillville, Iowa, 1,725, 215.63 avg, $550
Russ Oviatt, Sioux Falls, S.D., 1,673, 209.13 avg, $525
Ryan Lakota, Shorewood, Ill., 1,661, 207.63 avg, $500
S – Tom Hess, Granger, Iowa, 1,661, 206.13 avg, $475
Key:
N – Designates Non-Member entry
Y – Designates Youth entry
S – Designates Senior entry