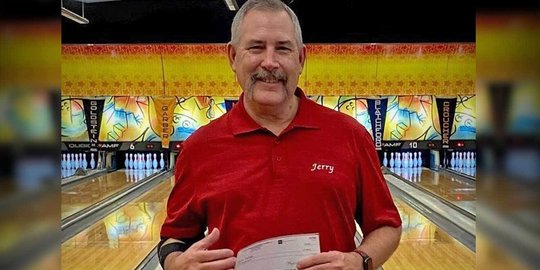 Jerry Vertigan Wins the PBA50 Casino Morongo Open
November 22, 2021
Regional Director
Lee's Summit, Mo. – Jerry Vertigan of Yorba Linda, Calif. defeated Rick Meneley of Santa Maria, Calif., 268-166, in the championship match to win the PBA50 Casino Morongo Open.
Vertigan's win was one word: dominating.
The tournament featured a bracket final with 16 players making the cut and the top four qualifying scores receiving a bye.
In the best of five games Round of 12, Meneley defeated Herman Ferguson of Los Angeles in three games. Ty Dawson of Sunnyvale, Calif. edged Tony Walton of Severn, Md., Don Blatchford of Santa Monica, Calif. defeated Joe Goldstein, Sr. of San Francisco, and Jerry Vertigan bested Joe Petrovich of Tracy, Calif. in four games.
In the best of three games, semi-final round, Meneley and Vertigan defeated Dawson and Blatchford, respectively, in two games, setting up the single game Championship match of Meneley versus Vertigan.
Both bowlers opened the match with two strikes. Meneley then encountered the 4-6-7 split in the third and sixth frame, while Vertigan continued to strike. Vertigan's opening seven frames were strikes and he finished strong with a 268 victory.
PBA50 Casino Morongo Open
Canyon Lanes, Morongo, CA, Friday, Nov. 12 – Sunday, Nov. 14
Final Match Play Standings (including match play bonus pins)
SS – Jerry Vertigan, Yorba Linda, Calif., 6-1-0, 15 games, 3,655, 243.67 avg, $2,000
S – Rick Meneley, Santa Maria, Calif., 5-1-0, 14 games, 3,342, 238.71 avg, $1,300
SS – Ty Dawson, Sunnyvale, Calif., 6-5-0, 19 games, 4,403, 231.74 avg, $900
SS – Don Blatchford, Santa Monica, Calif., 6-5-0, 19 games, 4,353, 229.11 avg, $900
S – Joe Goldstein, Sr., S San Francisco, Calif., 1-3-0, 12 games, 2,783, 231.92 avg, $650
N-S – Tony Walton, Severn, Md., 1-3-0, 12 games, 2,682, 223.5 avg, $650
S – Joe Petrovich, Tracy, Calif., 4-3-0, 15 games, 3,496, 233.07 avg, $650
N-S – Herman Ferguson, Los Angeles, 3-3-0, 14 games, 3,185, 227.5 avg, $650
S – Steve Kenyon, Grosse, Isle, Mich., 2-3-0, 13 games, 2,970, 228.46 avg, $550
S – John Burkett, Fort Worth, Tex., 2-3-0, 13 games, 2,904, 223.38 avg, $550
S – Wayne Garber, Modesto, Calif., 0-3-0, 11 games, 2,324, 211.27 avg, $550
S – Darron Peters, Temecula, Calif., 0-3-0, 11 games, 2,240, 221.82 avg, $550
Other Cashers Standings (after eight games)
S – James Krafft, Anchorage, Ark., 1,750, 218.75 avg, $450
SS – Ron Mohr, Las Vegas, 1,748, 218.5 avg, $450
SS – Doug Kempt, Arcadia, Calif., 1,747, 218.38 avg, $425
S – Dan Long, Bakersfield, Calif., 1,747, 218.38 avg, $425
Super Senior Cashers Standings (after eight games)
SS1. N-SS – Ken Odra, Anza, Calif., 1,741, 217.63 avg, $275
SS2. SS – Mike Mellick, Whittier, Calif., 1,741, 217.63 avg, $275
300 game by Darron Peters
Key:
N – Designates Non-Member entry
S – Designates Senior entry
SS – Designates Super Senior entry