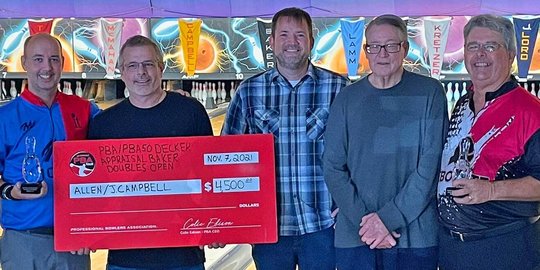 Dick Allen and James Campbell Are Victorious In Decker Appraisal Services Doubles
November 7, 2021
Regional Director
Bristol, Va. – The first time team of Dick Allen, of Lexington, S.C., and James Campbell, of Clearwater, Fla., defeated Zack Brown, of Raleigh, N.C., and Chris Johnson, of Nashville, N.C., 196-157 Sunday winning the PBA/PBA50 Decker Appraisal Services Baker Doubles.
In the opening stepladder match, the team of Brown-Johnson bowled against the team of Bryan Hahlen, of Greenwood, S.C., and James Lord, of Charlotte, N.C. Brown-Johnson had early open frames, but bounced back with five strikes in a row from the seventh frame through the second ball in the tenth frame to advance over Hahlen-Lord, 214-181
In the second stepladder match, Brown-Johnson had an easy win over Brian Kretzer, of Dayton, Ohio, and Jeff Fehr, of Cincinnati, Ohio, 257-225. In that win, Brown-Johnson had a 6-bagger from the fifth frame through the first ball in the tenth.
Allen-Campbell, who were in third place during the qualifying round on Sunday, led the 12-game baker style qualifying on Sunday to qualify for the championship match. In the final, Brown-Johnson started with three open frames, while Allen-Campbell stayed clean through the sixth frame. With only one open frame, it was an easy win for the new champions.
The PBA South Region's next event will be the PBA60 Wilson & Sons Pest Control Super Senior Open, Nov. 12-14, at George Pappas' Liberty Lanes in Gastonia, N.C.
PBA/PBA50 DECKER APPRAISAL SERVICES BAKER DOUBLES
Interstate Bowl, Bristol, Va., Sunday
Final Standings:
Dick Allen, Lexington, S.C./James Campbell, Clearwater, Fla., $4,500.
Zack Brown, Raleigh, N.C./Chris Johnson, Nashville, N.C., $2,500.
Jeff Fehr, Cincinnati, Ohio/Brian Kretzer, Dayton, Ohio, $2,000.
Bryan Hahlen, Greenwood, S.C./James Lord, Charlotte, N.C., $1,800.
Stepladder Results:
Match One – Brown/Johnson def. Hahlen/Lord, 214-181.
Semifinal – Brown/Johnson def. Fehr/Kretzer, 257-225.
Championship – Allen/Campbell def. Brown/Johnson, 196-157.
Final Qualifying Standings (after 20 games, top 4 advanced to stepladder finals):
Allen/Campbell, 4,732.
Brown/Johnson, 4,922.
Fehr/Kretzer, 4,579.
Hahlen/Lord, 4,425.
Tim Foy Jr, Seaford, Del./Chuck Richey, Jr., Concord, N.C., 4,223, $1,600.
Nathaniel Potter, Morristown, Tenn./Greg McMahan, Dandridge, Tenn., 4,222 ,$1,400.
Gary Faulkner, Jr, Memphis, Tenn./Dan Knowlton, Dade City, Fla., 4,177, $1,260.
Jacobi Brinkley, Suffolk, Va./David Martin, Chesapeake, Va., 4,152, $1,180.
Kennon McFalls, Belmont, N.C./Jeffrey Campbell, Newport News, Va., 4,132, $1,100.
Mark Tarkington, Elizabeth City, N.C./Bill Vannoy, Lexington, S.C., 4,094, $1,060.
Ronnie Horton, Christiansburg, Va./Kevin Anderson, Mt. Juliet, Tenn., 4,046, $1,030.
Brandon Curtis, Manson, N.C./Troy McKinney, Yorktown, Va., 3,827, $1,000.